Following the success of the latest ministerial series with the Deputy Chief of National Police, on Tuesday, 13 February 2017, BritCham hosted the next edition of the ministerial series with Indonesian Minister of Industry, Ir Airlangga Hartarto.
Speaking about Indonesia's industry outlook, Airlangga gave some insight to the participants about the current state of the industry and upcoming policies.
Airlangga explained that in Indonesia, there are top five industry sectors on the rise, including F&B, Minerals, Machine & Manufacturing, Pharmacy and Non-Migas. But with the increasing number of e-commerce users, Airlangga highlighted that the key products in the center of the attention this year are F&B, Metal, Jewelry, Pharmaceutical and Cosmetics.
Those insights may seem that Indonesia's industry is dazzling, but in reality, Indonesia is still at a disadvantage when it comes to export to other countries. "Vietnam, for instance, is benefitting from its FTAs (Free Trade Agreements). Indonesia will focus on its FTAs in particular, but not only, with Australia and the EU," Airlangga explained.
Indonesia recognizes that there are many reasons as to 'Why Not Indonesia?' - this may be because we are on a path of deregulation and President Jokowi has incentivized his ministers to reduce the burden of over-regulation.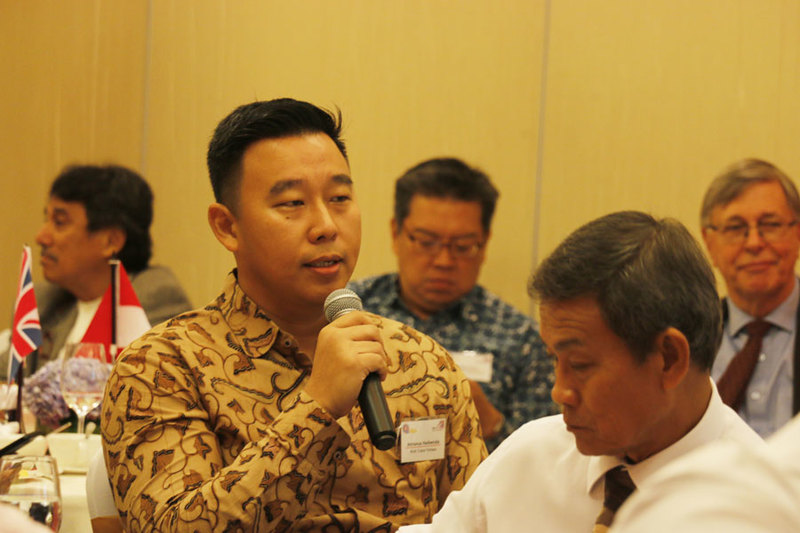 To counter that, industry policy will be updated: the government will focus on tax allowance in garments, textiles, jewelry, furniture and foodware, based on the number of employee employed by the companies.
The event ended with a Q&A session that was enlivened by the enthusiastic participants. Furthermore, Ir Airlangga Hartarto was presented with a BritCham "Giving Kids A Sporting Chance" souvenir - a bamboo speaker, made by talented local artisans from Yogyakarta. We would like to thank Ir Airlangga Hartarto for his time.
Get some valuable insights from expert speakers in our upcoming events. Visit www.britcham.or.id to find out more.