The manufacturing industry in Indonesia is something that scores highly on the current government's agenda in Indonesia. In the age of the fourth industrial revolution or 'industry 4.0', the sector is rapidly changing with the rise of technology, the Internet of Things, and the integration of the Internet into the production line.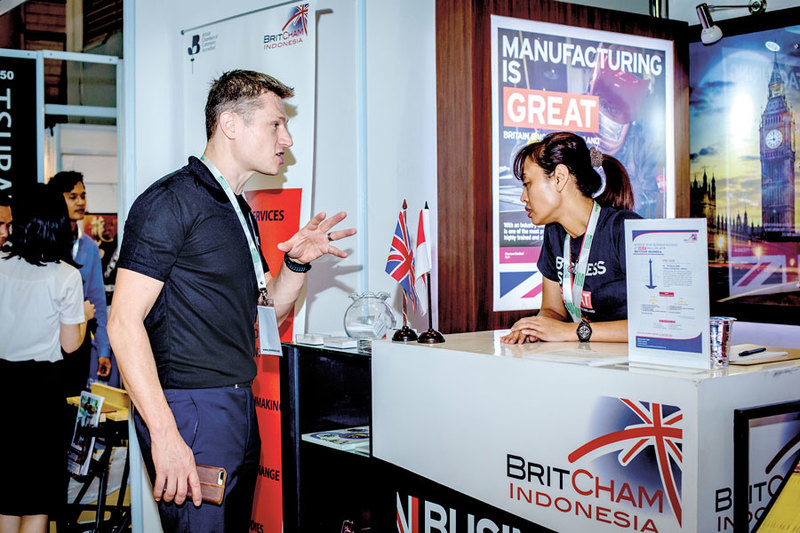 British business is therefore well-placed to assist in the development of the Indonesian manufacturing industry, with a reputation that links us to the birth of the first industrial revolution. Moreover, BritCham Indonesia has therefore recognised this sector a priority, and have been facilitating the success of British business in developing the domestic manufacturing industry in Indonesia, through introducing the latest technology and information about market development.
From 6 to 9 December, BritCham Indonesia attended the final exhibition of our hectic calendar year, exhibiting at Manufacturing Indonesia at JIExpo Kemayoran, alongside four British companies that have successfully established themselves in Indonesia. These companies were:
Kuma: Established in 2013, Kuma has grown rapidly across the world to become a leading manufacturer of leisure industry products. Kuma researches, designs, manufactures and delivers their range to customers in Indonesia. Ensuring their products are innovative and reliable, they focus on state-of-the-art manufacturing processes and deliver the best technology that is built to last. With high standards and specifications throughout its supply chains, Kuma therefore provides a great opportunity for not only themselves, but also for Indonesian manufacturing companies, as their expertise expands across the globe.
LPCB by Bre Global: The Loss Prevention Certification Board, run by Bre Global, has been working with industry and government for over 100 years to set the standards needed to ensure that fire and security products and services perform effectively. They offer third party approval confirming that products and service standards have been met.
Sterling Sensors: Having been manufacturing temperature sensors for over 45 years, Sterling Sensors is one of the UK's leading manufacturers of temperature sensors supplying to all sectors including food & beverage, chemical, plastic and automotive. Sterling is a perfect fit for the Indonesian manufacturing industry in supplying high standard sensors to help the industry develop alongside the rest of the economy.
Mabey Bridge: Mabey helps construction and infrastructure customers to deliver their projects more quickly, safely and efficiently. Delivering their expert engineering across the world, they digitally design and deliver modular bridging and temporary work solutions. This includes temporary and permanent bridge construction, propping and jacking, groundworks equipment etc. In the age of technology and the urgent need for infrastructure in Indonesia, Mabey are proving to be a valuable asset.
The exhibition was a great way to round off another successful year here with the Overseas Partner Delivery team at BritCham. As partners of the Department for International Trade, our aim at the expo was to promote British business and source more export opportunities for companies in the manufacturing sector who are looking to expand into the Indonesian market. This is an important task for BritCham Indonesia, as part of the Britain is GREAT campaign is the new export opportunities portal, where locally-based chambers, embassies and the like upload business opportunities for British business onto an online portal. Still in its first year, we are seeing this platform as an important way to connect businesses with the global marketplace, something that in a post-Brexit climate is paramount for British businesses.
Our booth saw us gather around 20 new export opportunities for UK companies, with 10 visitors seeking membership. All in all, BritCham Indonesia continues to see the worth of exhibiting at such events. We believe it has raised our brand awareness in Indonesia, and has helped us as an organisation to expand our networks within the domestic industry in Indonesia. We can't wait to participate in the upcoming exhibitions for 2018. See you there!
For more information: [email protected] or visit our website www.britcham.or.id