On 27 December this year, Australia and Indonesia will celebrate the 70th anniversary of diplomatic relations. As close neighbours in good terms, the two shares many stories, especially on how they start the relationship that full of inspirations through an exhibition called Two Nations: a Friendship is Born, curated by the Australian National Maritime Museum.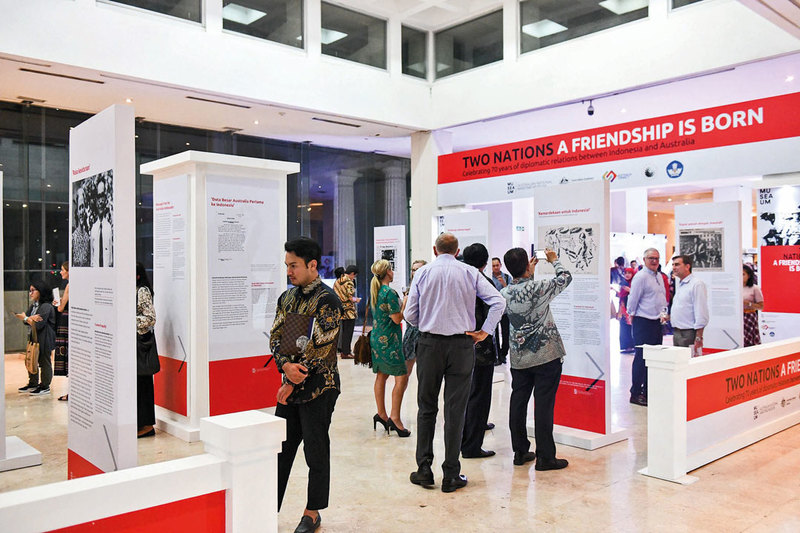 Officially opened by the Australian Ambassador to Indonesia H.E. Gary Quinlan on 13 November, the exhibition showcased important stories of Australia's presence in the stage of Indonesian history. Through a number of photos and historical articles, the exhibition reveals how Australia was a major supporter during Indonesia's struggle for Independence that included helping to negotiate with international community and the United Nations, until it was formally recognized by the world in 1949.
"This part of our shared history is unfortunately not widely known in Australia or Indonesia. I hope that through this exhibition we can be reminded of this inspired beginning of our relations as neighbours whose futures are so closely bound to each other," Quinlan said.
Australia's support transcends political level to the local community in the land of Kangaroos. Quinlan exemplified the Black Armada 1945-1949 protest movement, when Indonesian sailors in Sydney staged a strike. They refused to deliver cargo (including weapons) owned by the Dutch who wanted to supply their troops to re-colonize Indonesia after the proclamation. The strike was known in historiography as the 'Black Ban (s)' phenomenon.
"The Australian Trade Union then supported the Black Ban by the ships," Quinlan said, adding that since then, the majority of ports in Australia have applied Black Ban to the Netherlands.
There were 34 trade unions in Australia supporting the boycott, including four who were foreign trade unions in Australia, and 12 countries who followed in his footsteps - citing Rupert Lockwood, historian author of the book 'Black Armada: Australia and the Struggle for Indonesian Independence'.
A number of photographs and historical articles about the Black Armada and Black Ban in large sizes are also on display.
The exhibition also featured a documentary video on the history of Australia-Indonesia diplomatic relations, correspondence between Indonesian President Sukarno and the Australian prime minister, to a number of other visual historiographic documents.
The exhibition is opened to public at the National Museum until 14 December. The exhibition will also be held in Surabaya, Makassar and Denpasar.
At the same time, Quinlan launched Australia Connect, a series of programmes that showcase Australia's thriving creative sectors through music, film, food and arts. The program is expected to deepen cultural connection of both countries, highlighting Australia's rich indigenous history and culture, as well as Australia's multiculturalism and diversity. Australia Connect will include the performances by indigenous singer-songwriter Dan Sultan, Australia Indonesia Cinema Festival and Taste of Australia and many more.