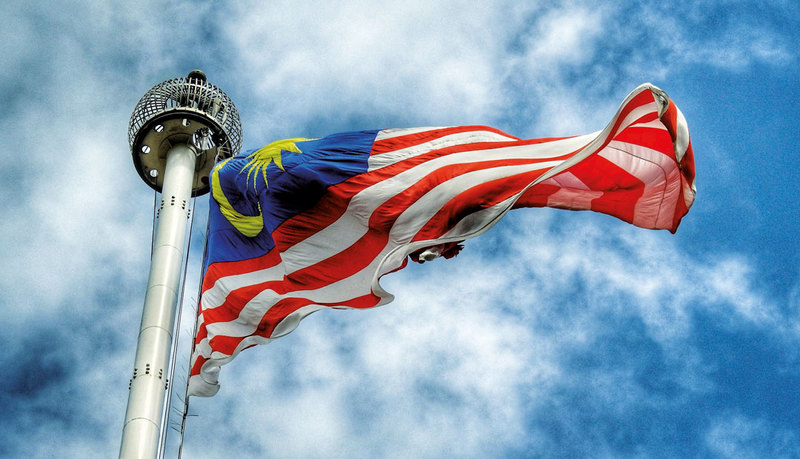 A multi-ethnic, multi-religious country within Southeast Asia, Malaysia and Indonesia celebrated many similarities.
Malaysia boasts one of south-east Asia's most vibrant economies, the fruit of decades of industrial growth and political stability. The country is benefiting from a growth in manufacturing, and is a major tourist destination, and as is the case with many developing countries, the government is ever watchful on multiple fronts for development that could harm the environment, particularly the rainforests of northern Borneo, which are under pressure from palm oil plantations and illegal logging.
Malaysia consists of two geographical regions divided by the South China Sea: the peninsular Malaysia (or West Malaysia) on the Malay Peninsula bordered by Thailand on the north and Singapore in south, and Malaysian Borneo (or East Malaysia) located on the northern part of the island of Borneo in the South China Sea, bordering Indonesia and surrounding the Sultanate of Brunei. The country shares also maritime borders with the Philippines and Vietnam.
Malaysia covers a total area of 329,847sqm, making it slightly larger than Norway, or slightly larger than the U.S. state of New Mexico. Highest mountain is Mount Kinabalu with 4,095 m on the island of Borneo. Mt. Kinabalu and the surrounding Kinabalu Park are a UNESCO World Heritage Site.
Malaysia
Population: 31.6 million (2016)
Largest city: Kuala Lumpur
Spoken languages: Malay (official), English, Tamil and Chinese (Cantonese)
Ethnic groups: Malay, Chinese, Indian
The majority Muslim ethnic Malay are dominant politically and has a major influence in business, education and the civil services while a large ethnic Chinese minority holds economic power. The communities coexist in relative harmony, with the government ever vigilant in keeping the peace.
Leaders
Sultan Abdullah of Pahang was elected paramount leader in January 2019, after the unprecedented abdication of his predecessor Sultan Muhammad V of Kelantan. The post of paramount ruler is rotated every five years among the sultans of the nine Malay kingdoms.
Mahathir Mohamad became prime minister in May 2018 following his shock election victory over the coalition that has ruled the country for six decades since independence from Britain. Mr. Mahathir ruled Malaysia with an iron fist from 1981 to 2003. He started his new term at the age of 92 - the oldest elected leader in the world. His alliance of four parties trounced the Barisan Nasional coalition of Prime Minister Najib Razak, who was once Mr. Mahathir's protege but became his most bitter rival.
Tourism
Indonesian tourists have become the third-largest group of foreigners contributing to the Malaysian tourism industry after Singapore and China. In 2018 alone, Indonesian tourists spent some RM 2.83 billion (nearly USD 700 million) in the country, according Malaysia's director of tourism in Indonesia, Roslan Othman.
Roslan went on to explain that Tourism Malaysia was now focusing on more promotional activities to attract Indonesian tourists to Malaysia. One of them is the "Miss Sophia: Shopping Hunt" programme, which is a new activity for Indonesians and is seen to have great potential to attract them to visit Malaysia.
"A total of 44 teams participated in the "Miss Sophia: Shopping Hunt: Road to Malaysia" programme held at the Kota Kasablanka City Shopping Complex in Jakarta in mid-2019. "This Shopping Hunt programme is something new, and it was first introduced in Jakarta, and received a great response. "The winner of this programme became Indonesia's official representative, fully sponsored by Tourism Malaysia, to participate in the Miss Sophia: Shopping Hunt 3.0 programme which was held in Kuala Lumpur last September," he said.
Malaysia's tourism industry players regard Indonesia as a major market. "Last year (2018), Indonesian tourists were the third largest contributors to the Malaysian tourism industry at RM2.83 billion after Singapore (RM6.17 billion) and China (RM3.7 billion). The target for Indonesian tourists travelling to Malaysia this year, in conjunction with the Visit Malaysia Year 2020, four million Indonesian tourists," Roslan explained.
With positive hopes and expectations in 2020, Malaysia-Indonesia relationship is set to enter a whole new level of dynamic cooperation for a better future based on compromise and solid mutual understanding on all fronts.
Sources:
New Straits Times
BBC News