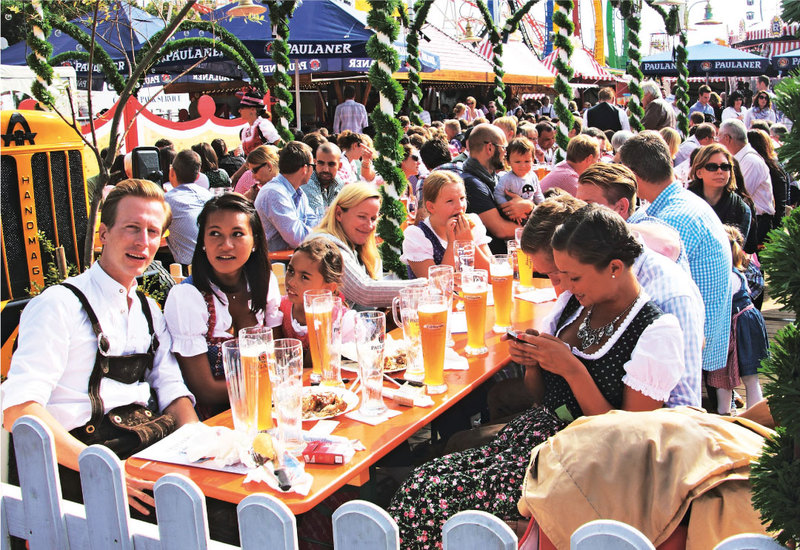 Get to know the origin of Oktoberfest, a Bavarian tradition that's over 200 years old, where celebration centres around food, beer, music and unique fun and games.
It all started in 12 October 1810, with a royal wedding. King Ludwig I and Princess Therese of Saxe-Hildburghausen decided to celebrate their union by inviting the citizens of Munich to a grand festival on the fields in front of the city gates. Horse races were the primary attraction back then, followed in the years after by other games and celebrations to accommodate the working class: tasting of various wine and beer started to take place, and so did the singing of a student choir to add a musical touch to the festivities. Costume displays showcasing apparels unique to surrounding Bavarian townships and other regions were also added.
By 1818, the name Oktoberfest was coined for the annual event as the event turned into a public festival that included tree climbing, bowling alleys, swings, carnival booths with games awarding silver, porcelain and jewellery, agricultural shows and more. Amidst a tumultuous era of war and political instability, the festival provided a much-needed respite for commoners and royals alike that it persists as an annual festival, despite odd disruptions in some years.
Modern Oktoberfest
This year's Oktoberfest ran from 21 September to 6 October in the same place—the fields of Theresienwiese in Munich. Events have greatly evolved to include the parade of Wiesn landlords and breweries, a mass costume parade, souvenir photo booths, strong and skillful games, a number of exciting rides, such as the world's tallest mobile tower drop at 80 metres high, a number of Bavarian food events and offerings, and, best of all, tasting of hundreds of beers.
Jakarta celebrates Oktoberfest with the same enthusiasm, albeit on a much smaller scale. Paulaner Bräuhaus at Hotel Indonesia Kempinski Jakarta celebrated Oktoberfest by flying in the famous Edelweiß Band playing traditional live music and favourite party songs as party-goers drank and ate the evening away. A round-trip ticket sponsored by Turkish Airlines was among the prizes given away during the event, which was held from 2 to 5 October. Guests enjoyed Paulaner's most favourite sausage and meat platters, free-flow Oktoberfest special brew and other deliciously festive food and drinks.
Popular lifestyle destination Pizza e Birra celebrated with Oktobeerfeast, where beer lovers can enjoy free flow beer, German food, as well as participate in fun games, such as bull riding, oversized beer pong, giant pizza-eating competition, bercules and beer-drinking competitions. The two-day festivity was celebrated at Pizza è Birra, Gandaria City on 27 and 28 September.
Oktoberfest has gained popularity over the years, and we are looking forward to celebrate this Bavarian tradition yet again next year on an even bigger scale!