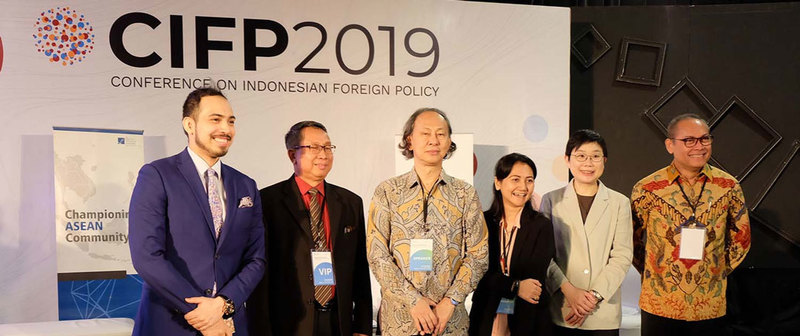 History was made when the Conference on Indonesian Foreign Policy (CIFP) 2019 was hosted in Jakarta on 30 November 2019.
The event was described as the country's biggest festival of diplomacy, which also happened to be the world's largest foreign policy conference that gathered more than 12,000 enthusiastic participants.
The chosen main theme for CIFP 2019 was Cooling Off The Hot Peace: Strategic Opportunities and Economic Remedies for a Distressful World because it addresses the global issues of geostrategic rivalries, mistrust, disruption and brinkmanship in today's world affairs. The "hot peace" surrounding many countries around the world represents the biggest threat to the current endeavor for world peace.
Including the opening and closing plenaries and the Nation Building In the Age Of Globalism talkshow, there were 15 conferences grouped into three parallel sessions, rounding up around 50 speakers from Indonesia and the world.
Parallel Session I:
How Do We Cool Off The Hot Peace: Brainstorming The Possibilities
Ideas And Remedies To Save The World From An Economic Meltdown
ASEAN, ASEAN Centrality, And The Indo-Pacific: Can They Change The Geostrategic Chessboard?
Diplomacy As The Art Of The Possible: Renewing The Primacy Of Multilateralism In A Time Of Rivalry And Populism
Parallel Session II:
Indonesian Foreign Policy under President Jokowi's 2nd Term: New Priorities, New Expectations, New Initiatives?
Return Of The Angels Part IV: Things That Worry Me, Things that excite
Managing The Conflicts In The Middle East: How to turn Hostility into Harmony
The Prospects For Permanent Peace In The Korean Peninsula: The Next Steps Towards A Peace Deal, Denuclearization, and Reunification
Parallel Session III:
The New Strategic Contest: Addressing The Emerging Rivalries In Technology, Cyber Security, Artificial Intelligence, Etc.
The Best Ideas I've Ever Heard: Bright Minds Speak About Mind-Blowing Solutions To Fix Our Broken World
Advancing Abrahamic Peace: Can Muslims, Christians, And Jews Live In Permanent Peace Globally In The 21st Century
Can The 21st Century Economic Architectures Turn Rivalries Into Cooperation?
Several notable speakers included Vice Minister of Foreign Affairs Indonesia, Mahendra Siregar, Governor of West Java, M. Ridwan Kamil, Ambassador of Germany to Indonesia, H.E. Peter Schoof, Former President of Timor Leste and Nobel Peace Laureate, Jose Ramos Horta, Deputy Governor of Jakarta, Sandiaga Salahudin Uno, British Foreign Policy Group Executive Chair, Tom Cargill and many more.
Visit www.cifp2019.com for more information and the full agenda.