The atmosphere is warming, and the climate is changing with each passing year. One million of the eight million species on the planet are at risk of being lost. Forests and oceans are being polluted and destroyed.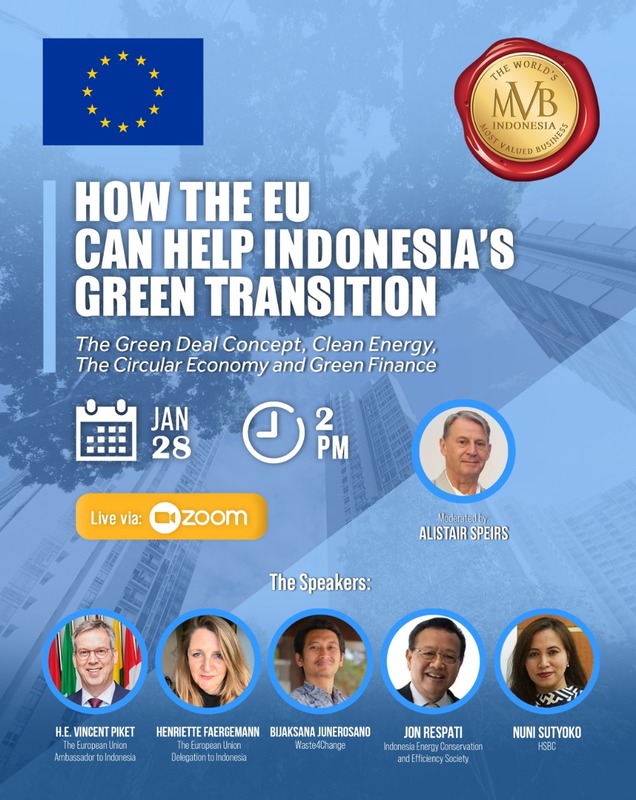 The environmental ambition of the Green Deal will not be achieved by Europe acting alone. The drivers of climate change and biodiversity loss are global and are not limited by national borders. The EU can use its influence, expertise and financial resources to mobilise its neighbours and partners to join it on a sustainable path. The EU will continue to lead international efforts and wants to build alliances with the like-minded.
The purpose of the webinar is to introduce participants to the concept and workings of the Green Deal and to see how this experiance can translate to Indonesia. We will also seek private sector opportunities to see how they can and should participate in this new paradigm. We will keep it short and focused , with only four areas to be covered: The Green Deal Concept, Clean Energy , The Circular Economy and Green Finance. The webinar will focus on how HSBC has introduced their Climate Strategy which is very much in line with the EU's Green Deal.

Presenting Speakers:
H.E. Mr. Vincent Piket - The European Union Ambassador to Indonesia
Josaphat Ritzal Primana - Deputy Minister of the National Planning *TBC
Henriette Faergemann - First Counsellor of Environment, Climate Action & ICT - EU Delegation to Indonesia
M. Bijaksana Junerosano – Founder & CEO of Waste4Change
Jon Respati – Founder & Chairman of Indonesia Energy Conservation and Efficiency Society (IECES, or locally known as MASKEEI)
Nuni Sutyoko – Green Finance expert from HSBC
Moderated by Alistair Speirs (MVB Indonesia)
The virtual seminar is scheduled to be held:
Date : Thursday, 28th January 2021
Time : 14.00 - 16.00 WIB
Via Zoom Register in this link:
https://rebrand.ly/MVBxEU
Shall you have questions or inquiries please contact Miranda at [email protected]