Indonesia's leading hotel group, Archipelago International expands its business to the Middle East region, following the success of its business in Malaysia, the Philippines and the Caribbean.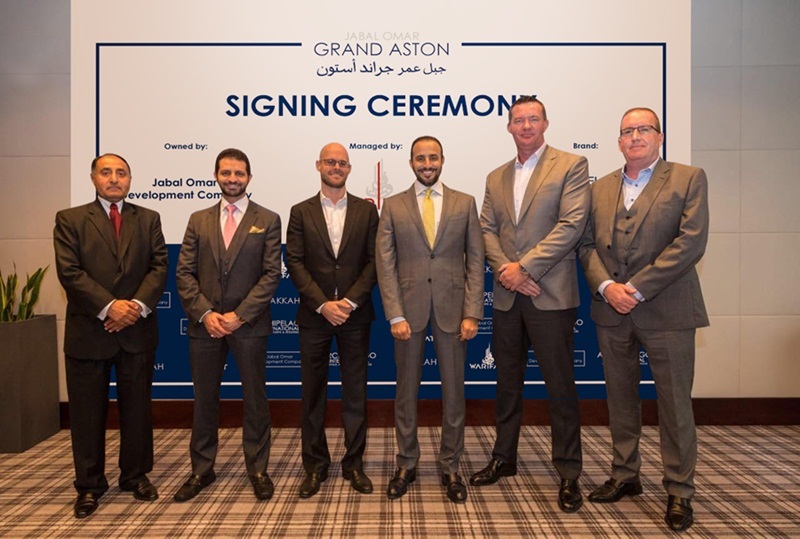 The stage of its development was realised by signing of a long-term franchise agreement on 26 September with Jeddah based Warifat Hospitality Limited, a subsidiary of Jabal Omar Development Company (JODC), one of the largest listed companies on the Saudi Tadawul Stock Exchange. It will be the first Indonesian hotel company in Saudi Arabia's hotel market.
The agreement grants development and branding rights to Warifat Hospitality for three of Archipelago's hotel brands, Grand Aston, Aston and Harper. This will enable the roll out of these brands, not only at JODC's flagship development in Makkah but throughout the Kingdom of Saudi Arabia.
The first hotel being developed is Jabal Omar Grand Aston which is due for completion in July 2019. The hotel will offer 560-room located in a prime location within JODC's Development in Mecca, adjacent to the Grand Mosque, al-Masjid al-Haram's complex which comprises 40 high rise towers, 15 international hotels, more than 12,000 guest rooms, more than 800 commercial units, and over 2.5 million square meters built-up area.
"In strategic terms this is an historic agreement for our company and indeed for Indonesia, as we will be the first Indonesian based hotel company to enter the Kingdom's hotel market. Our hotel brands are the most widely recognised in Indonesia, which is the largest source market for pilgrims to Mecca and Medina. This agreement foresees and caters for significant growth from the Indonesian market and it recognises Archipelago as the hotel group best positioned going forward to cater for the growing numbers of Indonesian and Southeast Asian visitors to the Kingdom.", said John Flood, President and CEO of Archipelago International.
Yasser Faisal Al-Sharif, Chairman of Warifat Hospitality and CEO of JODC said that his company is committed to offering its guests from Indonesia, Malaysia, Brunei Darussalam and Southeast Asia superior hospitality experiences that are customised to the company's specific needs whilst they visit the Grand Mosque of Mecca and the holy capital. By choosing a brand with a proven track record, The Grand Aston Hotel at Makkah shall be a catalyst for growth from the Indonesian and Southeast Asian countries for hajj and umrah pilgrims.