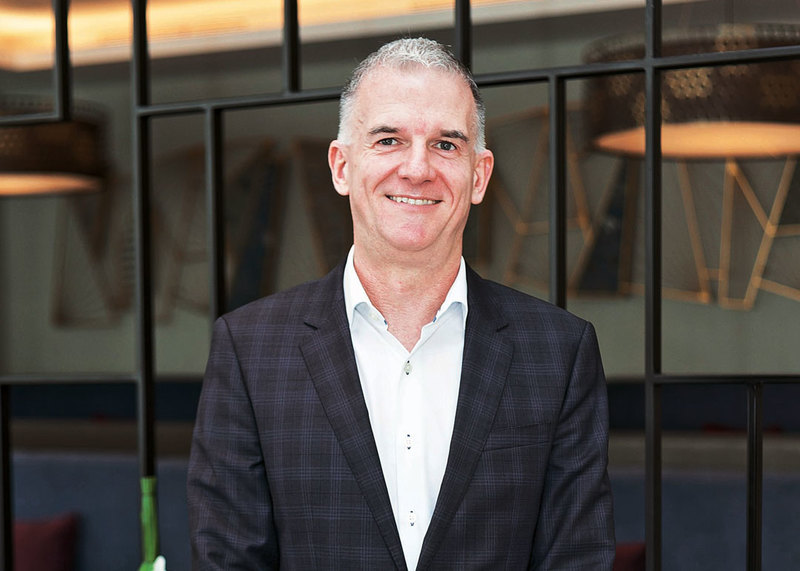 General Manager Brendon Meppem talks to NOW! Jakarta about why Holiday Inn & Suites Jakarta Gajah Mada is the perfect base for those looking to explore West Jakarta and business travellers alike.
What's your take on Jakarta's current hospitality industry?
It's definitely one of the busier markets in Southeast Asia.
In terms of market performance, the first half of the year was greatly affected by the election, but we're certainly expecting a much healthier second half of the year. By year end we should still see growth compared to last year, which is good.
Please tell us a bit about your hotel's unique position in the market.
We have a fantastic longstay product, which is quite different in this area. A mix of studio and one and two bedroom suites for extended stays also for families because the rooms are significantly larger than standard hotels—our biggest room is around 94sqm; even the standard room is 40sqm—so we are definitely positioned well and unique in the market, especially for longstay guests and families. The Holiday Inn brand is also known globally as a family-friendly brand. Kids Stay and Eat Free®, and that's a big selling point.
In terms of meeting spaces, we have 21 meeting rooms. That's almost 3,000sqm of meeting space across three different levels. In terms of being able to cater for small meetings from six people up to between 3,000 to 4,500 people, we certainly have the capacity thanks to our two ballrooms.
We've recently added a new Chinese chef, Chef Toong Kah Chin. This boosts our capability of serving high quality, authentic Chinese cuisine both in our restaurant as well as banqueting, which further enhances our offering to both local and foreign guests.
What are some signature features that first-time guests must experience?
We have a great outdoor pool and bar on level 8, which is the only one of its kind in West Jakarta, and it is a great place to enjoy the sunset, and during special events for watching fireworks. It is a great place to relax and also for outdoor events for up to 400 people. We can set up food stalls and there's a covered area as well to protect from the weather.
What would you like to share regarding your property's upcoming plans/programmes/promotions?
We have plenty of promotions between now and the end of the year. This October, we have special menu and promotions for Octoberfest and Halloween. By the end of the year, we have seasonal events such as Christmas and New Year, with promotions and events to celebrate.
In terms of regular events, we have a number of weddings, monthly F&B promotions highlighting our new Chinese Chef's cuisine for Duta Cafe & Restaurant and some programs at Duta Lounge. We've been working with craft beer suppliers to create new programs, such as tastings and happy hours. Additionally, we have launched live music performances four nights a week at Duta Lounge.
Any message to our readers?
The hotel's proximity to Chinatown and Old Town Batavia is great for those who enjoy exploring Jakarta in an area they've maybe never been before. Stay in and enjoy the melting pot of Indonesian culture.
Holiday Inn & Suites Jakarta Gajah Mada
Jalan Gajah Mada No. 211
T: +62 21 2977 6800
IG: @holidayinnsuites.jakarta
FB: @holidayinnsuitesjakarta
www.ihg.com