Chef Gilles Marx of AMUZ Group Group was awarded the title of Maîtres Cuisiniers de France (Master Chef of France), for his outstanding professional career and for his work in maintaining & promoting french culinary arts, encouraging the learning of cooking & professional development.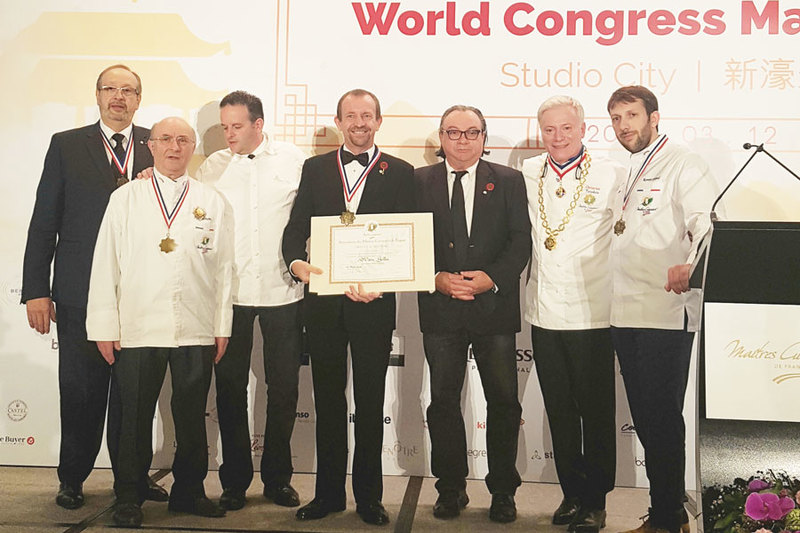 The induction took place at the Annual Congress of the Association on 12 March in Macau. He received the honorary medal and diploma from the the president of the association, chef Christian Tetedoie. The organisation's motto is "to preserve and spread the French culinary arts, encourage training in cuisine, and assist professional development." Many leading chefs, the "Meilleurs Ouvriers de France" and the winners of culinary competitions belong to the Association.
The Association of Maîtres Cuisiniers de France promotes professional excellence through numerous national and international cooking competitions. Its members serve on juries for official competitions: "Meilleur Ouvrier de France", International Pierre Taittinger Prize, Prosper Montagné Culinary Prize, Curnonsky Prize, Bocuse d'Or, National Trophy for Cuisine and Pastry-making, among others. The association also organises competitions for the Best Apprentice Chef in France and the Best Apprentice Chef in Europe.
Chef Gilles Marx has spent many years in pursuing his passion, his international experience include time spent at Michelin–starred restaurants in Lyon, Burgundy and Paris as well as at restaurants in Australia and Southeast Asia.