Since 1992, Australia-based company Coca-Cola Amatil Indonesia (CCAI) has been the power behind Indonesia's favourite and leading beverage brands. CCAI's commitment to grow together with Indonesia is proven by many continuous investments, including integrated corporate social responsibility initiatives and capability building of its people.
At CCAI, the team's spirit to grow is well-supported by comprehensive resources, professional training, career guidance and development opportunities. Let's take for example, the Supply Chain Technical Academy (SCTA) that is specifically designed for the Supply Chain team. Founded in 2014, SCTA is committed to developing Technical People Capability for today and tomorrow in order for the Production team to be able to operate three different machines as certified A3 Associates. In 2016, SCTA has expanded to not only include Manufacturing but also PSD, Supply Planning and the Warehouse team. Production Team leaders and Operators are targeted to be able to operate three different machines in addition to skills in change over, machine care and trouble shooting as A3 Apprentices.
CCAI equips its sales team with various progressive and applicable modules at its Sales Academy which emphasizes the importance of training, benefits for employees, responsibilities and contributions to the company as well as the consequences if training is not performed according to guidance. Providing new skills and knowledge through in-class training, on the job training, and e-learning, CCA Sales Academy was established in collaboration with Coca-Cola University.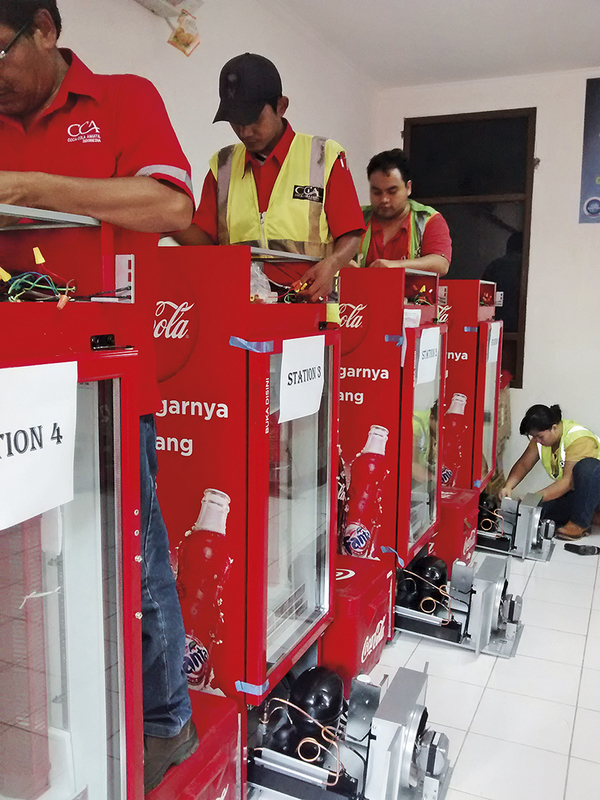 As CCAI's core business is cold beverages, comprehensive understanding about refrigeration systems is extremely important, hence the Cold Drink Equipment and Services (CDES) Academy was set up in 2014. The programme, Refrigeration Technician Certification, developed in partnership with the Professional Certification Agency of Metals and Machinery Indonesia (Lembaga Sertifikasi Profesi Logam & Mesin Indonesia-LSP LMI) and the National Boards of Certification (Badan Nasional Sertifikasi Profesi-BNSP), aims to improve and standardize technician's skills in the field of refrigeration.
The training curriculum includes Safety, Quality, Refrigeration System, Refrigerant Handling, Cooling Diagnostic, Wiring and Electrical Knowledge, Electrical Troubleshooting as well as Brazing Techniques for CDES and External Service Provider that continuously supports CDES activities as well as 300 Certified Technicians and 10 Certified Assessors in 2016. Not only do they pay close attention to their existing employees, CCAI is also expanding its employment in Indonesia through their Graduate Trainee Programme (GTP). Founded in 1995, GTP has been designed to foster top talents for challenging, rewarding management-level roles within the company. In this programme, graduates will benefit from a structured career track within the department and will be given opportunities to take responsibility and have an impact on the business from the beginning.
To read more about Coca-Cola Amatil Indonesia, visit www.coca-colaamatil.co.id