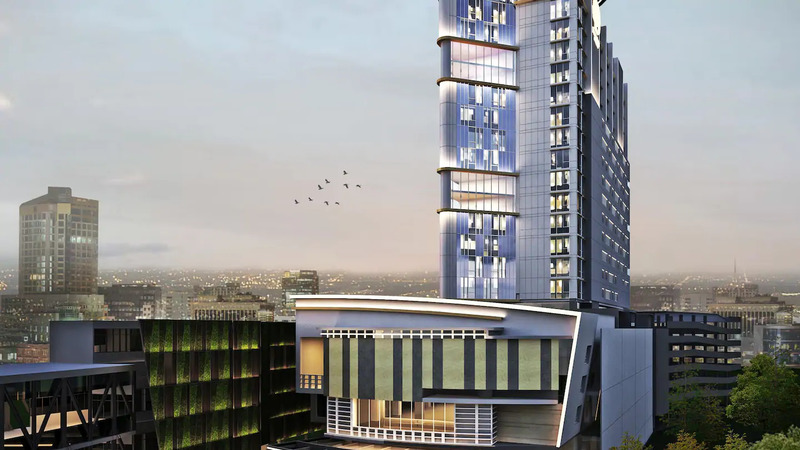 Hilton's upmarket hotel brand will make its long anticipated appearance in Surabaya in February bringing great city views in the centre of Surabaya.
Located on Tunjungan Road in Surabaya city center surrounded by restaurants, shops, and street eats. With Tunjungan Plaza, Heroes Monument, and Siola Surabaya Museum less than a 10-minute walk away, staying at the Doubletree will allow you to savor city views from your room and our open-air rooftop bar. And for the convenience and comfort of both leisure and business travelers the hotel features an outdoor pool, Kids' Club, and a fully equipped fitness center with sauna.
The hotel offers a great variety of dining venues here is a quick overview:
Makan Kitchen offers an enormous diversity of Indonesian cuisine with live cooking demonstrations. Enjoy breakfast, lunch and dinner in the vibrant Makan Kitchen. A true showcase of Indonesian dining with live interactive kitchens that showcase the enormous diversity of Indonesian cuisine. Guests can experience the journey from the raw ingredients to the pan and plate. Each cooking station features iconic specialties from different regions of Indonesia with a focus on Javanese cooking traditions and East Java's local cuisine.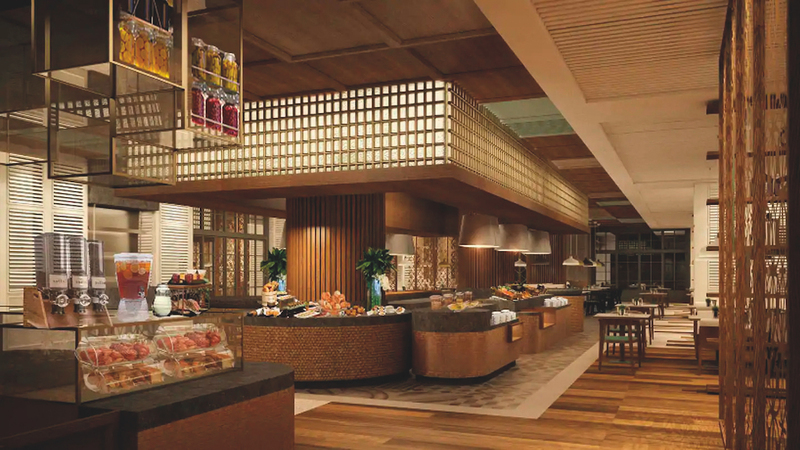 The Koffee is located in the lobby and serves refreshments and light snacks all day. The central gathering space of the hotel, The Koffee is located in the lobby serving specially brewed coffee or tea and fresh juices. By night, the lounge transforms into an evening space where you can wind down with a cool wine or beer and take in the lobby buzz. Enjoy tasty snacks like sandwiches, pastries, cakes and sweets, which are also available to 'grab and go'. A great space for a casual business meeting, afternoon tea or when you just need to relax, The Koffee is always welcoming and inviting.
Cloud 22 Cloud 22 Rooftop Bar is not for the faint hearted. Located on the 22nd floor, this rooftop venue offers an open-air bar with panoramic views where you can unwinding from the hustle and bustle of the city. Nightly entertainment with DJs and bands playing upbeat lounge music make for a great night out without leaving the hotel. Enjoy tasty snacks and a variety of beverages including a range of Iced Pop cocktails. Cloud 22 can also transform to a rooftop event space with catering services.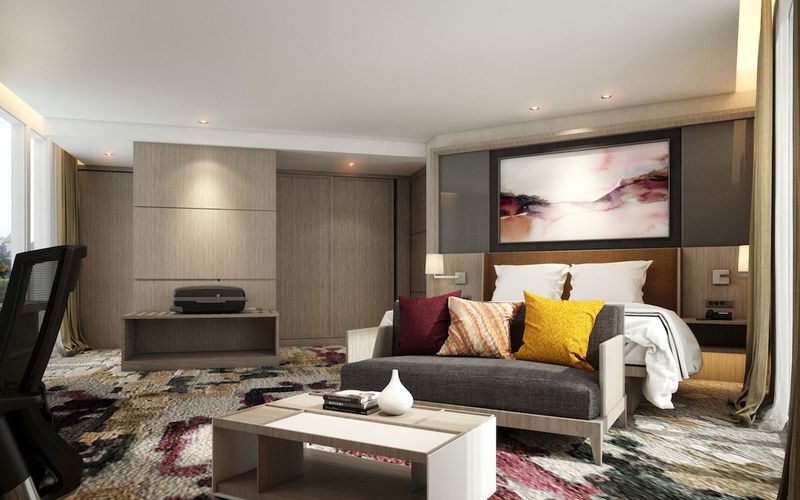 Of course in Surabaya business is always on the agenda so the hotel has created excellent facilities for meetings and events.
The ballroom measures 10,138 sq. ft. and can accommodate over 1,000 guests. There is also a large exhibition floor, 16 meeting rooms, and a 360 degree rooftop conference space. WeOf course the hotel can always can help with event planning, A/V, and catering.
TOTAL EVENT SPACE: 2,824sqm.
LARGEST ROOM SETUP: 803sqm.
MEETING ROOMS: 17
Doubletree by Hilton Surabaya is already taking bookings for their February opening and it would be a good idea to reserve your stay, meeting or function now as it will quickly become one of the most popular places in town.
For more information head to: https://www.hilton.com/en/hotels/subindi-doubletree-surabaya/