Virtual Reality is no longer a stranger to modern society. From marketing to entertainment, many businesses are keen to be a part of this digital trend, and Qantas Airways is no exception. Not long ago, the Australian airline launched its new virtual reality application, Qantas VR.
Qantas VR aims to give customers a new, interactive way to discover and explore their travel destination before flying there physically, taking their traveling experience to a new level. Available for iPhone, Android, Samsung Gear VR, Oculus Rift and HTC Vive, the app showcases Australian distinctive landscapes through virtual videos, including footages of Uluru and Kata Tjuta from the air like never seen before.
There are two modes offered in Qantas VR; a split screen for those who have a VR headset or Google Cardboard, and 2-dimensional landscapes that can be seen easily through customers' smartphones. Customers can also book their Qantas seat directly via this application. This application was first offered in 2015 when the airline did its first virtual reality experiment using Samsung Gear VR headset in Qantas' first class cabin and waiting rooms. Since it was the first VR experiment in the aviation industry, it is only right to say that Qantas VR is a pioneer in its sector.
"We want this virtual reality application to increase travelers' interaction with Australia by showing them unique parts of Australia that they didn't know before," said Olivia Wirth, Qantas' Group Executive Brand, Marketing, and Corporate Affairs.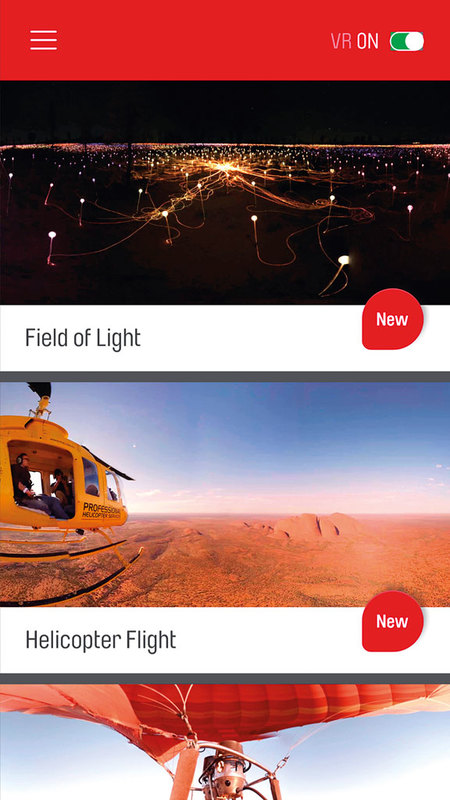 "Our customers loved our VR headset trial, but we want to improve it and make it more accessible. For example, anyone with a smartphone now can experience a virtual tour to Kakdu National Park before seeing it in person, and they can also and book a flight through the app which eases their travel planning," she continued.
Qantas VR was developed by Start VR, a renowned Australian virtual reality company. "This application enables us to share stories of Australia to its international customers with a more intimate, engaging, and interactive way than before. The incredible audio and visual presentation from Qantas VR provides new insights about Austalian heritage and culture," said CEO and Creative Director of Start VR, Cain Tietzel.
Australia is well-known for its fascinating history, diverse culture and of course for its picturesque scenery and exotic wildlife. Since there is so much to explore in Australia, from the vibrant New South Wales to the eclectic Darwin, planning a trip to Australia can quickly become overwhelming. With Qantas VR, you can get inspired before embarking on an exciting adventure in the Land Down Under, all without having to leave the comfort of your seat. Download now!