With more advanced digital analytics, Tavel Insights with Google is a platform that could help the toursim industry with data-driven business decisions.
Popular search engine and tech giant company Google has launched a new online platfrom Travel Insights with Google to help businesses in the tourism indutry to better analyse the market and understand real-time evolving trends in light of the pandemic. It is made to bring more travellers through the doors of tourism-based businesses.
Nowadays, it can be risky to promote destinations or accomodation if it fails to meet expectations, or one is false to read the market, especially for small business owners. Hence, business players need to allocate their available bugdet to perform optimally in a timely manner.
The prolonged Covid-19 pandemic has had a direct impact on the tourism industry; the sharp decline in travel has meant businesses are struggling in the sector. On the other hand, the demand for tourism is not dead, as the trends from October 2020 to January 2021indicates that people have chosen specific times for travelling. This means, the trend is fluctuating and busineses need to be smarter to capture the opportunity.
To recover business during this time is definitely possible especially if there is legitimate tool that can provide reliable data and analysis for stakeholders to read possible rising demand in travel. From dreaming about a trip to booking flights and hotels to exploring local businesses, Travel Insights with Google is here to help you.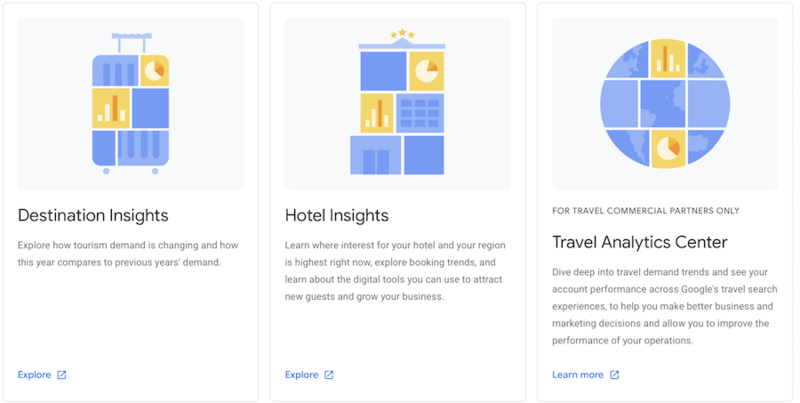 Introduced in late December 2020, the platform offers three available tools namely Destination Insights, Hotel Insights, and Travel Analytics Centre. Those tools have different functional value that can be used for stakeholders to project a more efficient offering and put the business in place to start recovery in the right time.
The first tool Destination Insights gives details about the top sources of demand for a destination, and the destinations within countries that travellers are most interested in visiting.
As spending isolated staycation is gaining its popularity during the pandemic, bussiness might need to use Hotel Insights, second website feature that will help properties of all sizes, especially small and independent hotels, understand where travel demand may be coming from. They can get tools, advice, and tips for making their businesses stand out online.
On the other hand, the webiste also provides a more comprehensive tool with the hosting of Travel Analytics Center which will help organisations to combine their own Google account data with broader Google demand data and insights on how to manage their operations and find new opportunities to reach potential visitors.
Coming as a one-stop solution for tourism industry, the paltform also adds others recources to improve capacity of industry players boost toursim business with data-driven decisions as well as help to those who need online business adaptation to digitisation. These moduls include skills training courses on Grow with Google, Digital Garage and Google for small business, as a series of onlien acceleration programme designed to foster innovation for better tourism planning provided by the UN World Tourism Organisation (UNWTO).
For more information, visit Travel Insights with Google official webpage travelinsights.withgoogle.com