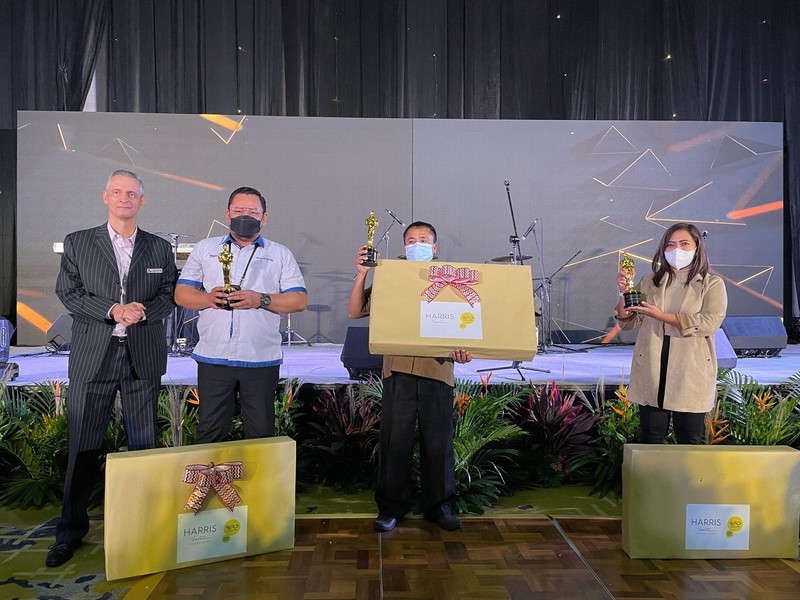 In May 2022, HARRIS Vertu and YELLO Hotels Harmoni organised a Corporate Gathering at the ballroom of HARRIS Vertu Hotel, themed 'Glamping in Harmoni'. This special gathering was organised to help strengthen and fortify the relationship and as a form of appreciation for the corporate and government parties who have been loyal customers and partners of The Ascott Limited (Ascott), the fully owned lodging business unit of CapitaLand Investment Limited.
The momentous event was attended by hundreds of clients and media peers, who were treated to exciting entertainment including the lively opening act by INVASION DC, who performed their speciality K-Pop cover dance. The event was followed with welcoming remarks from Christoph Voegeli, General Manager of HARRIS Vertu & YELLO Hotels Harmoni, along with Edi Sunaedi, Director of Sales. Following the welcoming remarks, there was a brief presentation about the hotel and its development in 2022.
A highlight of the event was the live performance by Indonesian band, Andra Ramadhan and the Project, who serenaded guests with their most popular songs. Moreover, the exceptional night was held to reward the '2021 Top Producing Business Partner' to corporations and governments that have been the top clients for both hotels.
"We held this event as an appreciation to clients and media who have been supporting HARRIS Vertu and YELLO Harmoni. We want to get to know them better so that we can provide services that exceed their expectations," shared Christoph Voegeli.
HARRIS Vertu & YELLO Hotel Harmoni continually strives to present the best experience to guests who stay at these hotels, including providing enticing offers with the best deals.
For more information or reservations, please contact:
HARRIS Vertu Harmoni: +62 21 2203 6000 | WhatsApp | Website
YELLO Hotel Harmoni: +62 21 2203 5000 | WhatsApp | Website
HARRIS Vertu & YELLO Hotels Harmoni
Jl. Hayam Wuruk No. 6, Jakarta