Hospitality management chain, Intiwhiz International, is awarded Tripadvisor Traveller's Choice Awards 2021 through two hotels that it manages. Tripadvisor is the world's largest travel platform that accommodates hundreds of millions of travellers each month, making every trip their best destination.
Tripadvisor Traveller's Choice Awards is the travel platform's annual award, rewarding hotels that provide excellent services and experiences to travellers worldwide. Intiwhiz International is proud to receive the Traveller's Choice Awards 2021 through the Grand Whiz Poins Simatupang – Jakarta and Whiz Prime Hotel Sudirman Makassar – Makassar.
Intiwhiz International expresses gratitude to its loyal guests who have shared their positive reviews and ratings in the past year. The hotel management chain dedicates the award to its loyal employees, who have managed to remain faithful, work hard and provide consistent service to ensure great experiences to guests during the challenging year. The prestigious award motivates Intiwhiz International to maintain and improve its quality of service for the coming years.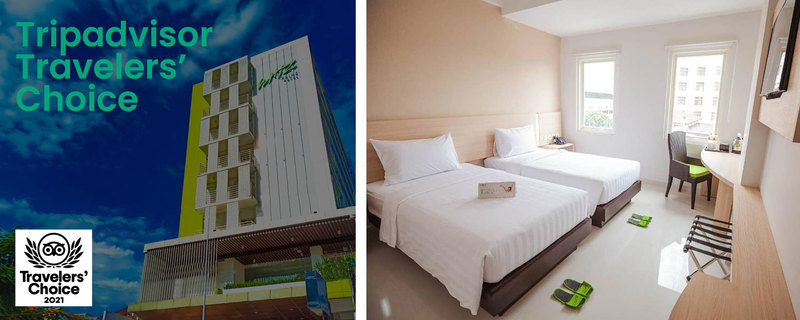 Established in 2008, Intiwhiz Hospitality Management is a hotel management chain that is one of the subsidiaries of PT. Intiland Development Tbk. The brand engages in the hospitality and hospitality business sectors with a vision to become the most popular and fast-growing hotel chain in Indonesia, supported by marketing, reservation and operational systems for all hotel chains managed by Intiwhiz International.
Intiwhiz Hospitality Management began operations in 2010 with four brands: Whiz Capsule, Whiz Hotel, Whiz Prime, and Grand Whiz. The brand also manages the Swift Inn Aeropolis Airport Jakarta. The Grand Whiz is a four-star hotel that prioritises modern luxury with a space featuring natural nuances and simple characteristics. The Whiz Prime is a three-star hotel with a dynamic hotel concept, while the Whiz Hotel, the Whiz Capsule Hotel, and the Swift Inn Aeropolis Airport Jakarta are two-star brands that feature simple, dynamic and smart hotels.
PT. Intiwhiz International
Intiland Tower, M2 floor – Jl. Jendral Sudirman 32, Jakarta
[email protected]
intiwhiz.com