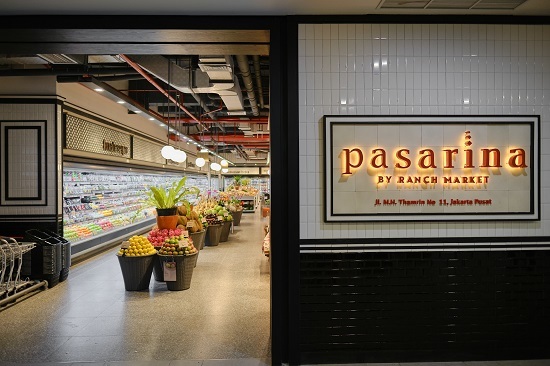 At Pasarina by Ranch Market customers can feel the sensation of entering the meta world just by shopping. /Photos Pasarina by Ranch Market.
Sarinah, with the new look and concept has become a good place for PT Supra Boga Lestari, Tbk, a company that oversees the upscale supermarket chain Ranch Market, to introduce its new brand: Pasarina by Ranch Market. This supermarket brings a digital interaction experience to the store by adapting brand metaverse to bolster premium local products from across regions of Indonesia.
Not without a good reason, Sarinah, which is now a community mall that provides creative spaces, historical and cultural tours and shops, with 100% local products to support and encourage the Indonesian economy, inspired PT Supra Boga Lestari Tbk to take part to support the noble ideas of what was the first and therefore, historic mall.
Reversing the well-known Ranch Market concept of presenting quality imported products, Pasarina does excactly the opposite! Occupying the basement floor of Sarinah with an area of 1,200 square meters, Pasarina offers more superior local products in the form of fresh produce and curated seafood from across the archipelago based on research results and visitor input, with support from the Ministry of Trade of the Republic of Indonesia. Although these local products are still juxtaposed with selected imported products, this supermarket really does provide an experience of the Traditional Meets Modern concept.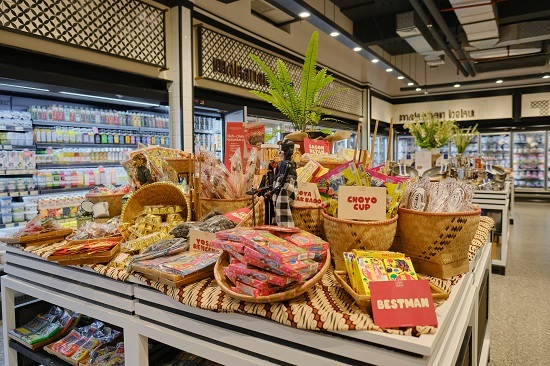 What makes this supermarket different? At Pasarina, you can find basic necessities such as fresh fish from the eastern part of Indonesia's seas such as Maluku, various brands of leaf tea, coffee, soy sauce, jamu, and chocolate that we rarely find in most supermarkets. Here, you can get nostalgic with old renowned soy sauce brand Sate, or tea brands that were familiar in the era of our grandparents, such as Dandang and Jangkar Mulia. One distinctive example is that Pasarina also provides chocolate from Kupang, which not many know that the capital city of East Nusa Tenggara is a producer of quality chocolate with attractive packaging.
Even though it only occupies a small part, a variety of old-school foods and snacks ranging from boulder and bagelen bread, sagon ketan Betawi (sticky rice biscuit), asam keranji (tamarind) to Yosan's legendary chewing gum, which were very popular with generation X children, are an option to treat what you might call "homesickness" for these legendary products. iIn addition there are various traditional toys, such as snakes and ladders, yoyos, and slingshots that will bring back childhood memories.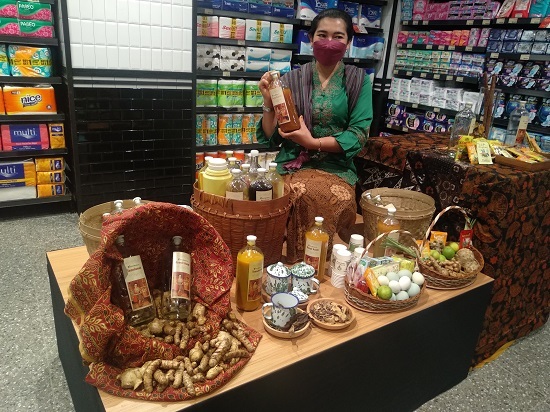 In addition to labeling itself as the first local premium supermarket in Indonesia, Pasarina is also the pioneer supermarket to present Metaverse brand technology in the country through TRUST Life, an application where customers can access the technology right there! In the future the application will also be applied to other brands of PT Supra Boga Lestari, Tbk, such as Ranch Market, Farmers Market, The Gourmet, Farmers Family and Day2Day. This feature was specially developed and prepared by Metaverse Studio Indonesia to create a pleasant – and very unusual - shopping experience.
With such sophistication that makes it the supermarket of the future, Pasarina offers its customers the pleasure of digital interaction using Artificial Intelligence technology with Computer Vision which is able to provide an understanding of three-dimensional locations and provide user coordinates as well as three-dimensional laser scanning technology to scan three-dimensional locations.
The Guidebot, in this feature, is like a personal assistant that will guide customers one-on-one to find out the best location and promotion of the desired product through the help of a robot with Augmented Reality (AR) technology that makes it easier for customers to identify the categories of goods to be purchased. Customers also don't have to wait for store employees to handle it. Currently there are 10 main destinations for the Guidebot function but they will eventually develop all categories in the store.
Customers can scan a QR Code which leads to interactive product knowledge where customers can get complete product-related information. And Gamification also provides an interesting new shopping process in the digital world with games and other interesting activities through the use of Virtual Reality so that visitors can enjoy a "shopping while playing" experience with the latest technology.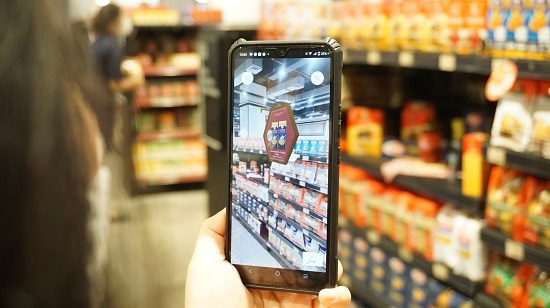 "Our store is an offline store which, as we all know, now competes directly with online shops. How do we deal with it? What distinguishes offline and online stores is that we can get experience in offline stores, there is direct interaction with shopkeepers, customer service, and so on. If online we can only browse. But with advanced technology, we also want to provide a different experience, we don't want to give customers a hard task, they just need to download the application, and they can already know a lot about the available products and provide a unique experience in interacting digital." explained Maria Suwarni, Chief of Merchandising and Marketing Officer of PT Supra Boga Lestari, Tbk.
As part of Blibli.com, virtual shopping for Pasarina products can also be done easily on the e-commerce portal so that people have the option of shopping directly at physical stores or shopping from home.
The presence of Pasarina by Ranch Market not only strengthens Sarinah as a modern shopping center which in its business transformation also embeds technology in its business ecosystem and brand, but also becomes a breath of fresh air for the retail world, especially in the post-pandemic period it can be used as the community's main choice in meeting their daily shopping needs.