Escape traffic and work in your own comfort at the heart of Jakarta, while mingling with fellow digital entrepreneurs at the capital's latest coworking space that's strategically located in Karet Kuningan, South Jakarta. The location is priceless—adjacent to restaurants, hotels and lifestyle venues—and the access simple.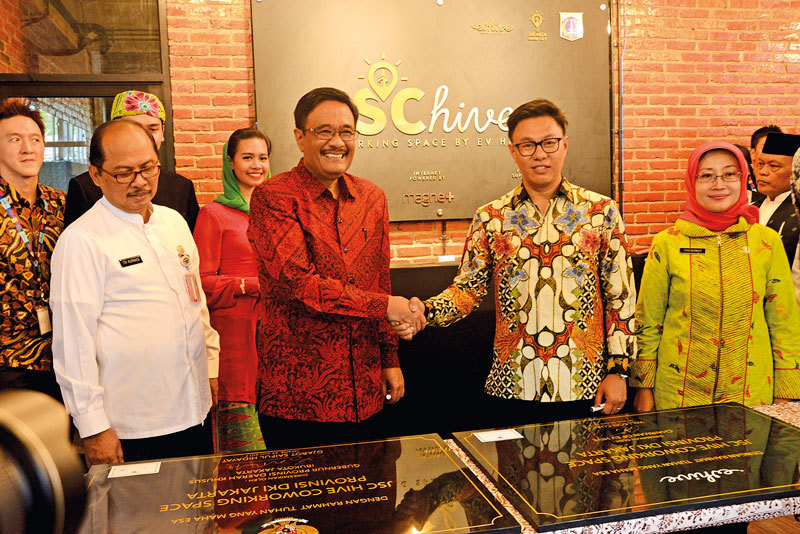 Jakarta Smart City Hive is a community-driven workspace for startups, presented by EV Hive in collaboration with the Provincial Government of Jakarta. EV Hive is a Jakarta-based coworking space designed for entrepreneurs and serves as the hub for East Venture's portfolio companies. In teaming up with the government, the company hopes to boost local tech startups ecosystem. As part of the partnership, members will get help in navigating through the regulatory environment for SMEs as well as how to make it big in the local digital startup ecosystem.
"We do have a strong commitment to help digital startups and we believe that we can help them grow. Eventually, it will lead to better economic growth and fulfil the mission of President Joko Widodo's National Movement of 1,000 Digital Startups Initiative," said Dian Ekowati, Head of Communication, Information and Statistics Department of the Provincial Government of Jakarta.
As a prominent driver of the digital ecosystem in Indonesia, EV Hive hopes to leverage its vision by promoting mutually beneficial collaborations among active startup players and the government. It has support from, among others, StartupJakarta.id as the authorised representative of the Jakarta Startup Community. Those joining the workspace will benefit from advantages such as Smart Economic Zone, Smart Community, Smart Administration, Smart Workspace and Smart Energy. Members also get access to workshops, group discussions and other industry-relevant activities.
JSC Hive is located on Jalan Dr. Satrio No. 7, Setiabudi, South Jakarta. It can accommodate up to 120 people and offers attractive Lounge Membership packages.