Lintas Rel Terpadu (the integrated railroad) or LRT is a new mode of public transportation dedicated to the community in this era when environmentally friendly mobility must become a mainstay. It is predicted that it will become one of the favourite public transportations for Jakarta residents, as well as its supporting cities.
Public transportation in Jakarta is starting to be more widely used by the community, especially Jakarta residents simply because now it is much safer and more comfortable, and as a result, many people use public transportation for their daily activities.
Since it started commercial operations on 1 December 2019, the LRT Jakarta has now become one of the mainstays of public transport for Jakarta residents adding on to the commuter line trains, the MRT, TransJakarta buses, and of course the online motorcycle taxis (which strictly speaking are not public transportation but private services). All of these services are being integrated in an effort to reduce the use of private vehicles, which continue to increase in number, so that Jakarta can be free from traffic jams.
The LRT Jakarta line stretches for 5.8 kilometers from the starting station to the final station (first phase). The route crosses six stations: Pegangsaan Dua Depo Kelapa Gading Station, North Boulevard Station, South Boulevard Station, Pulomas Station, Equestrian Station, and Velodrome Station. The next plan for the extension of the LRT Jakarta route phase 2 is divided into phase 2a from Kelapa Gading route to Jakarta International Stadium (JIS), Sunter for 7.5 km and phase 2b Velodrome - Manggarai for 5.9 km.
Jakarta LRT trains operate at an average speed of around 50 KM/hour and can reach a maximum speed of up to 90 KM/hour. Passengers coming from Kelapa Gading, North Jakarta can save travel time by traveling from Kelapa Gading to Velodrome between 13-15 minutes. If it is integrated with Transjakarta via a skybridge from Velodrome Station to Pemuda Rawamangun Bus Stop and then to Dukuh Atas Bus Stop, it will take about 40 minutes. So, if it is accumulated, the total travel time with the integration of the Jakarta LRT and TransJakarta from Kelapa Gading to Dukuh Atas is less than one hour (+/- 55 minutes).
Currently, the LRT Jakarta has 8 trains. The plan is that 6 LRV (Light Rail Transit Vehicle) trains will operate to serve the community and 2 LRVs will serve as reserves. Each Train consists of 2 connected trains
One LRT Jakarta train can accommodate up to 135 passengers, while one LRV series or one train can accommodate up to 270 passengers both seated and standing. Currently the Jakarta LRT Operation operates 1 series of LRV/1 trainset consisting of 2 trains.
LRT Jakarta LRT service facilities start at 5:30 am to 11 pm every day with ticket fare is flat at IDR 5,000 for one trip. Passengers can buy tickets at the Ticket Vending Machine (TVM) or Passenger Agent Office (PAO), which are manual counters with staff serving the purchase.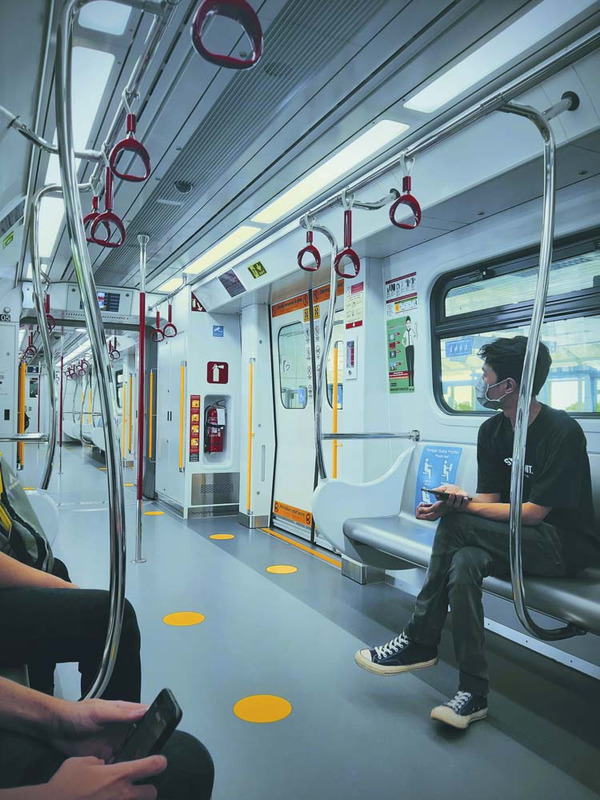 Meanwhile the LRT Jabodebek is not yet operating commercially. The government plans to start operating it for the public right on this year's Indonesia's birthday, 17 August. The progress of the construction of facilities and infrastructure is currently around 90 percent complete.
In contrast to the LRT Jakarta, the LRT Jabodebek line consists of three service lines, namely Lintas Pelayanan (cross service) I Cawang-Harjamukti, Lintas Pelayanan II Cawang-Dukuh Atas, and Lintas Pelayanan III Cawang-Jatimulya.
The LRT Jabodebek will pass through 18 stations located in DKI Jakarta and its surroundings, namely: Dukuh Atas Station, Setiabudi Station, Rasuna Said Station, Kuningan Station, Pancoran Station, Cikoko Station, Ciliwung Station, Cawang Station, TMII Station, Kampung Rambutan Station, Ciracas Station, Harjamukti Station, Halim Station, Jatibening Baru Station, Cikunir I Station, Cikunir II Station, Bekasi Barat Staition and Jatimulya Station.
LRT Jabodebek stations are located in strategic locations ranging from residential areas to business districts. The goal is to make it easier for commuters to transport from and to the capital city or other areas.
There are 2 types of LRT stations, the Interchange Station type, namely Cawang Station and the Typical Station type for 17 other stations. The difference from this type of station is the number of lines, the area of the station and the additional facilities in it. The Interchange Station consists of 3 floors where the 1st floor is the boarding and commercial area, the 2nd floor is the platform area, and the 3rd floor is the commercial area. As for the Typical Station type, it consists of 2 floors, where the 1st floor is the boarding area and the 2nd floor is the platform area. Cawang Station is used as an Interchange Station because it is an interchange station or transit station.
Later, passengers from Harjamukti Station who want to go to Jatimulya Station can stop first at Cawang Station and change trains to Jatimulya Station, or vice versa.
The Jabodebek LRT plans to operate up to 27 Jabodebek LRT trainsets per day where in 1 trainset consists of 6 train units. Thus, there will be 560 Jabodebek LRT trips that will serve 114,000 customers per day. Under normal conditions, 1 Jabodebek LRT trainset has a capacity of 740 customers with a configuration of 174 seated and 566 standing. However, if conditions are congested, the Jabodebek LRT can accommodate 1,308 customers.
For the LRT Jabodebek, it is also planned to develop Transit Oriented Development (TOD), which is a development that integrates urban space design to unite people for activities, buildings, and public spaces through easy connectivity by walking or cycling as well as being close to public transportation services to reach all areas. city. The development of this concept is considered to be able to maximize the use of public transportation, thereby minimizing the use of private vehicles and energy wastage, as well as improving an urban lifestyle or a healthier lifestyle.