Confident but humble, firm but easygoing; those are the most suitable words to describe Maya Miranda Ambarsari, President Director of Elliottii Residence. Maya's reputation as a female entrepreneur precedes her as she has been featured in the glossy pages of numerous high-end magazines and even appeared on their front covers.
Among other business players in the country, she is known for her role as the Director of a gold and mining company. After her company went public last year, she now finally has time to pursue her passion in interior design through her latest venture of Elliottii Residences, premium guesthouses. NOW! Jakarta sat down recently with this charming lady to find out more about what the Elliottii properties have to offer.
You're the Director of a gold mining company, owner of a beauty salon, and now leading a property company. How do you juggle all of these businesses?
I love business. I was a lawyer before I went to Australia to get a Masters degree in International Business. I love to keep myself busy by experiencing many things, my business portfolio started with an advertising and a telecommunications company. In 2004, my husband and I started PT Merdeka Copper and Gold, which is now a public-listed company and later last year I decided to pursue my other passion in design by opening Elliottii Residence. I believe the key to managing the companies is great communication between the entire team, so although my business is diverse I really enjoy every process in developing these companies.
Tell us more about Elliottii Residence.
Elliottii Residence was born out of my love for interior design as I always like decorating home and office spaces. Elliottii Residence consists of five boutique guest houses located in Pondok Indah, Cipete and Cisarua, West Java. Each of them has a different concept and design, but still emphasizes the same in terms of comfort and luxury.
What are the prime facilities of Elliottii Residence?
We are confident to say that Elliottii Residence has everything that guests need. Each property is equipped with a medium-sized swimming pool, 24-hour security and CCTV, butler services and 24-hour check in as guests are welcomed anytime. For business travellers, we also provide conference rooms with complete amenities.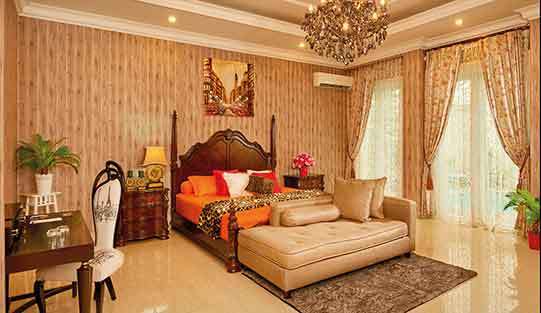 Why is the price range quite low (starting from IDR 440.000 per room) when Elliottii offers such premium facilities in each unit?
A friend of mine once asked me what it was like to live in Pondok Indah. This area has long been known as a prestigious residential area filled with big mansions which seems to be supercilious and intimidating somehow for some people. There are many people who think that living in Pondok Indah is a big privilege they can only dream of. Moved by this assumption, I want to give more than accommodation, but the whole experience of living in a well-designed home with hotel-like premium services at an affordable price so that everyone can have a taste of Elliottii's beauty. So it is not always about profit with Elliottii; as long as the guests are happy, it's enough for me.
What's next for you and Elliottii?
Besides Elliottii, we are in the early process of developing a new property in Puncak at the moment; a condotel called Grand Dafam Cisarua. The design concept is totally different from Elliottii Residence as Grand Dafam promotes a 'getting back to nature' concept. The condotel will cover an area of 1,5 hectares with only 20 percent of the area of land allocated for the building while the rest will be green space. Grand Dafam Cisarua is expected to be ready by the end of 2017.
Elliottii Residence
Jl. Duta Niaga III Blok TN6-8 No.3, RT.6/RW.14, Pd. Pinang, Kec. Kby. Lama, Kota Jakarta Selatan, Daerah Khusus Ibukota Jakarta 12310
Phone : (+62-21) 2765 0302
IG: @elliottiiresidences