With over eight decades in business, Multi Bintang Indonesia has long engaged in sustainable practices. Michael Chin, the company's president director talks about the initiatives and engagements that have helped them keep ahead of the times and follow the highest standards in sustainability.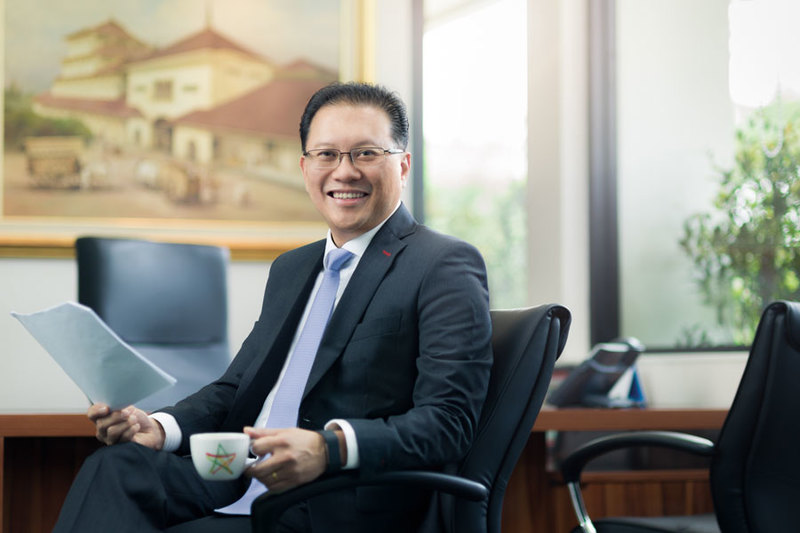 Why has MBI taken such a strong stance on sustainability?
One of the strongest elements for our company, that has been here for more than 80 years, is sustainability. Sustainability is a term that is being used only in recent years. But for Multi Bintang Indonesia, it is very much part of our DNA. At our factory in Sampangagung we have two areas of land, one is for the brewery and we have a separate piece of land for our waste water treatment. 30 years ago we decided to make the brewing process more efficient, and to recycle the waste water. We built a tunnel below the road and built a bridge to replace the road, a double decker bridge. On the top is the pedestrian bridge which I think can take motorbikes and bicycles. There is a deck in the second layer and we have water running through it as we wanted to keep the ecology of the place intact. In Sampangagung before people talked about sustainability we already had it, it was built into our DNA.
We actually called it "Brewing a Better World". We have 6 pillars to our programme including Protecting Water Resources, Reducing Co2 Emissions, Sourcing for Sustainabilit, Responsible Consumption, Growing with the Community, and Promoting health and safety.
So these are the six pillars. This is the framework for all operating companies within the Heineken family.
What are you doing locally within this framework?
Maybe I can share three campaigns with you. The first is the 'Drop the C', the second campaign is the 'Every Drop', the third is the 'Enjoy Responsibly' campaign. For the 'Drop the C' campaign, we want 70 per cent of our energy to be renewable by 2030 globally. In Indonesia we are building a bio-mass facility in Sampangagung where we will collect waste matter to generate electricity. Another initiative we are looking at is in Tangerang, where we are exploring solar technology in collaboration with our sister company in Singapore, Tiger Beer. Their entire brewery in Singapore runs on solar energy, so the tag line in Singapore now is "Tiger Beer Brewed by the Sun." We also have a plan in the future for Bintang to be also be brewed by the sun.
This initiative is to reduce our carbon footprint. Other initiatives are that all the fridges that we place in the restaurants and bars are also energy efficient. We started the process a few years ago. We started in 2014 with 1,000 fridges and in 2016 we had 2,400 fridges that are energy efficient.
The third initiative is the 'Every Drop' campaign. As you know, beer contains 90 per cent water and therefore water conservation is one of our top priorities. Within the brewery in the past four years we have reduced our water consumption by around 20 per cent. If you are looking at stats this is a good thing, our sustainability is transparent. Likewise with the carbon footprint we did not stop there, we started looking beyond, and we look both upstream and downstream.
In the upstream segment there have been a couple of initiatives. We started a couple of years ago with tree planting where our water source starts. We planted 34,000 trees in Gunung Gede Pangrango, East Java and Gunung Welirang, West Java. We choose these two places because that's the source of water to both to Tangerang and Mojokerto. We actually have a volunteer service. Our staff spends time going there to plant trees. Sometimes we organise a team, sometimes over the weekend we open it up to family members so that it is part of educating them. We always talk about stakeholders, we always talk about upstream, we always talk about downstream. So the first point is to reduce water consumption but we can't stop there, we need to take care of both the upstream and downstream.
This is a kind of picture we look at downstream— what people can do right. We also encourage a lot of staff to work on this bio pore project. We decided to start collaborating with UNIDO two years ago, a private-public partnership. So we decided to have joint initiatives under the umbrella of UNIDO. So we get the stakeholders from both these places and the water source, Gunung Gede Pangrango. We have NGOs, the government departments and we have the Ministry of Environment sitting with us. We did a workshop for two or three days in each place. We organise and pay for the facility, the workshop and we also have to give a few presentations, and UNIDO comes to those and they have facilitated the results of the 12 action items.
Tell us more about your programme to protect water resources.
We have established two water alliances to further this cause, in Tangerang as well Mojokerto. In Mojokerto we have established a legal entity because with legal entity we can attract a bigger audience and we can collaborate with many different bodies and institutions. For instance surrounding our factory, there are several places where people collect waste and translate it to a circular economy but the size is too small to operate a proper waste bank. That's why we are creating a consortium for this waste bank to become bigger in terms of volume. Then we can engage the Association of Recycling industries as a source of raw materials. So that's just a small example that this water alliance does. This has become a long term programme.
We know we can't do it on our own. Sometimes there are frustrations along the way and sometimes we start over again, but you know this is a 10-year program and we will continue with it.
I am sure our neighbours Friesland and Nestle have great intentions as well and know what they are doing. But they have different programmes, and it's quite difficult to get into alignment, you need to have a 3-year programme to allow this. The reason we created this alliance is you can see beyond our branding. If you see a lot the initiatives, they are not branded as Multi Bintang.
You also have a strong commitment to responsible drinking. What are you doing in this area?
We understand we are an industry that sells alcoholic beverages and we have a strong responsibility. One of things that we continue to advocate in Indonesia is the 21+ campaign, which is a campaign for legal drinking age. We do that through many different mediums, through our Instagram, you can find something on responsible consumption. We are trying to educate the public. We also use communities, through an Instagram account again like Beergembira. Beergembira is one of communities of beer lovers who are quite active and we always work through them, because we want to be close to those communities. Because we love beer we need to advocate responsible consumption so that people remain safe and return to enjoy again!
You have an excellent Sustainability Report but it's not linked to GRI. Any reason for this?
It is mandatory in the Annual Report so we put all sustainability activities there and on the sustainability index related to GRI. We are basically developing many materials in preparation for following the whole GRI standards in the future.
I think, we always discuss these issues internally, we make sure it is not only just reporting but focusing on actually doing it. So we spend a bit of time on reports, including lot of data because we want the data to reflect what we do. There are a lot of groups involved to come up with this report double and triple check things and everything is brought to me to be signed. In the long term we will align our reporting and our activities to GRI, but for now we are proud of our report.
What about the future of corporate social responsibility in Indonesia?
I think we always adhere to the highest standards, in everything we do, we always try to use the highest standards and sometimes it means it becomes a bit more challenging depending on the country we are working in. So for example, all suppliers have to sign a supplier code, and that supplier code is based on our global standard. Of course the business code in Indonesia is different from the business code in, say Belgium, but for us in the Heineken family our code of business is always the same.
_______
This article is originally from paper. Read NOW!Jakarta Magazine April 2018 issue "Money and Finance". Available at selected bookstore or SUBSCRIBE here.