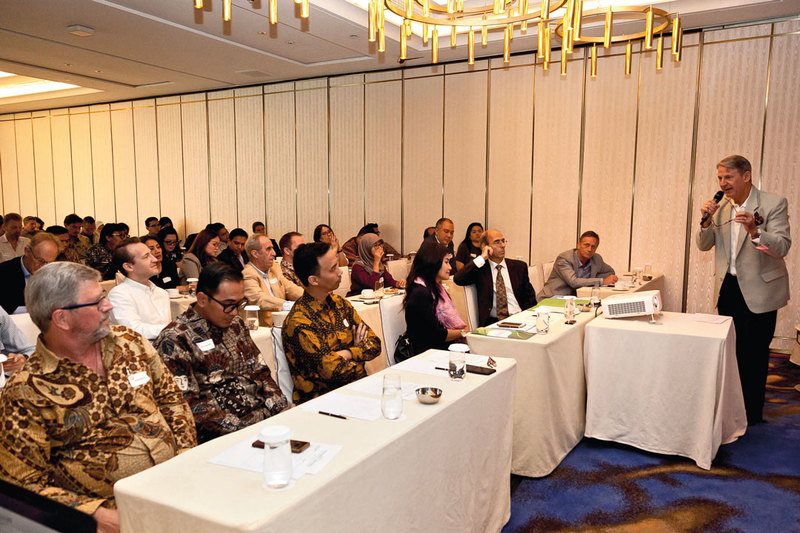 Another MVB seminar was held on 19 September 2019—this time emphasising on sustainable tourism involving key industry players—at Raffles Jakarta.
A number of key tourism figures joined MVB champion, Alistair Speirs, in addressing the issue of sustainable tourism in the hopes of providing a forum for for industry players to exchange best practices and information on sustainability as it impacts tourism. The seminar also facilitated sharing experiences and the building of a real network among tourism practitioners and policy makers for real collaboration in the quest for sustainable tourism in Indonesia. A number of related issues were discussed, starting with the very fundamental subject regarding the significance of tourism to Indonesia.
As one of the world's largest economic sectors, travel and tourism creates jobs and generates prosperity across the world. The sector comprises of a wide range of industries, serves and supports both domestic and international and business and leisure visitors. Companies, large and small, in industries ranging from accommodation and transportation, to F&B, retail and culture and sports and recreation, all create products and services that should inspire people to visit thereby supporting communities and showcasing the wonders that their destination can offer.
The tourism industry in Indonesia has, however, given rise to serious concerns, including social costs and ecological impacts. Many ancient cultures have practically lost their identity, with their societies increasingly orientated to the spoils of tourism. Both the natural and cultural – rural and urban – landscapes have also paid a high price for certain forms of tourism, especially those involving large numbers of visitors. These problems will persist if economic benefit is the only aim, leading to financial gains that lead to cultural and social ruin. It is also important to consider that visitors nowadays are increasingly looking at cultural, environmental and social considerations before even booking a holiday.
The next question is then what can be done about it? Co-hosted by the Swiss Embassy in Jakarta, this particular series of the MVB Seminar was a unique opportunity to raise awareness of the development of sustainable tourism in Indonesia in government, private sector decision-makers and the public, while mobilizing many stakeholders to work together to make tourism a catalyst for positive change.
The seminar featured some of the sustainability sector's top thinkers as well as the government officials creating the policies. Here is a quick overview of some of the productive discourses at the session.
Alistair Speirs, founder of MVB and NOW! Jakarta publication, delivered a wake-up call on what could happen if we continue to insist on increasing members of tourist and offered some examples of places that have avoided this trap. Valerina Daniel from the Ministry of Tourism then followed up with an excellent presentation on the ministry's Sustainable Tourism Destination plan, backed up by a Sustainable Tourism Program and Sustainable Tourism Award Program.
Representing the Department of Tourism and Culture of DKI Jakarta, Hari Wibowo outlined Jakarta's greatest tourism asset, which included shopping, dining, nightlife, spas, golf and the unique 'Thousand Islands'. Country Director of Swisscontact, Ruedi Nuetzi, then followed up by informing the audience about the development of three new destinations and the ways in which their expertise is helping.
AB Sadewa from Panorama Group shared their outstanding effort of 'giving back' to Lombok after the earthquake, helping to create a tourism village that will last, creating a sustainable tourism model from scratch. Yoga Iswara then came forward to explain how the movement Suksma Bali was designed to rebalance Bali after the impacts of tourism. His was one of the instigating movements behind the banning of plastic bags in Bali. Water is another crisis in which Suksma Bali is currently looking into. Didier Perez from PT PIPA further elaborates the issue during his session.
The fact that Bali has a thriving wine producing industry helps the island to be sustainable, Kertawidyawati from Hatten Wines explained. The role of nature in sustainability was then highlighted by Budi Santosa, Director of Development of The Nature Conservancy.
MVB invited Sean Nino from Eco-Mantra. Sean is a young man pursuing his dream of making Bali a better place, and he does this by coming up with practical solutions for the tourism industry that all players can embrace. Vanessa Letizia from Greeneration Foundation told the audience about young 'Eco Rangers' being they eyes and ears defending tourism.
Piet Van Zyl from Positive Impact Forever followed up by sharing his expertise on waste management using a no compromise approach to get waste under control.
The Royal Ambarrukmo Yogyakarta broke the trend of forgetting culture as a focal point in tourism by preparing a beautiful array of cultural offerings to remind us of what is important. All this an more from Khairul Anwar on behalf of the five-star hotel.
The seminar received overwhelming positive comments about the quality and relevance of the presentations, giving hope to the possibility of tourism industry becoming more sustainable in the near future.
Visit www.mostvaluedbusiness.com for more information on the World's Most Valued Business; its vision and mission as well as upcoming seminars and other activities.