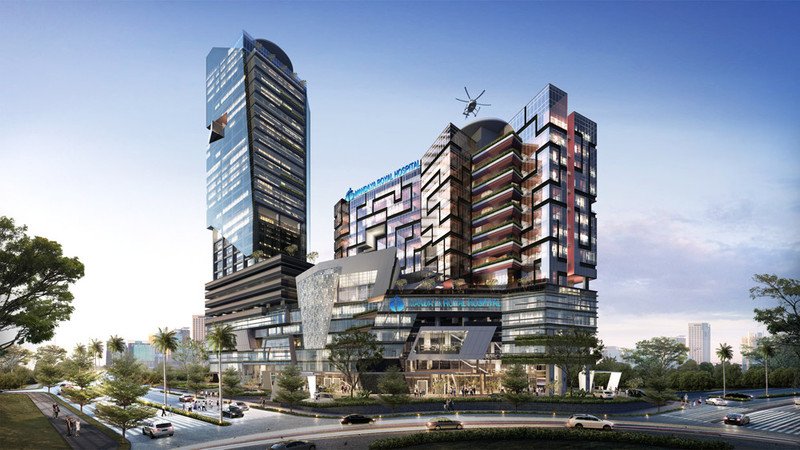 The whole coronavirus / Covid-19 pandemic has brought greater awareness of health and the health system to the population but is the medical system responding? To find out Now! Jakarta's Alistair Speirs went to meet Dr. Benedictus R. Widaja, the President Director of Royal Mandaya Hospital who brings his eight years of working in the UK's NHS to the development of a major 'five star" hospital here in Jakarta
AGS: Congratulations, on the new concept. What gave you the inspiration for this whole development?
BW: We are looking at the hospital as if we are patients ourselves, and looking as a doctor, you always look for the ideal hospital where we really trust ourselves to actually get the right medical treatment. And I find that true throughout my experience, working in the UK, for example, and also talking to Cleveland clinic and all the other hospitals throughout our research, we really identified a lot of gaps between the expectation of what Indonesian patients actually receive and what is actually available. And this is what we call the quality of health care. I think in Indonesia we have two different issues: one is the availability of healthcare itself especially in the rural areas in smaller cities and small towns, but the second is in terms of really good quality advanced health care that is still lacking as well, compared to neighboring countries like Singapore and Malaysia.
And we really identified those gaps. We really dug deep and we talked about the patient and family experience. It's not just about the medical care, but we really start from the beginning, from the hospital design, the architecture itself, how can we support the patient and the family? And this is very important because in Indonesia, you're not just talking about patient experience, the family is always very involved in the medical care of the patient and we really need to look after them, and that's what we are trying to do here. So, from the beginning when we look for the right location for the hospital itself, we know that we want to give the best quality healthcare with advanced medical technologies, that not many hospitals in Indonesia have.
AGS: Why do you say 'A Hospital Like No Other' what makes it so different? What are the "new experiences" for patients and their families?
BW: We really find this location, which we think is the most appropriate in terms of accessibility, from the West of Jakarta, from Jakarta city, from North and South this is right in the middle; the accessibility from the toll road is actually really good. And from the airport itself, because we want to be a national referral hospital because we've got the right doctors, we've got the right equipment for that. It's very easy for patients to actually go to and from the airport. We can pick them up from the airport.
We want to bring all of our experience, the hospitality experience, the construction and the real estate experience in terms of building that high quality real estate in the hospital itself, the building itself, and also in terms of the medical service. So we are trying to combine all of that into one.
And just simple things from the design for example, the Welcome Center is a new concept, I think here in Indonesia, especially in hospital business. So when patients are coming to the hospital, they'll be greeted by a nice Lobby lounge.
We have a Chief Experience Officer with a patient experience team, and they'll be helping the patients, treating the patients as if they are their own family, helping them along the way. So if you have patients from abroad or from out of town, they can go to the Welcome Center, they can get maybe accommodation for families, they can get the transportation for the families, if they want to rent a car and also everything that they need basically throughout their stay with us. In the Welcome Center, we actually employ a doctor, a real doctor, a general physician, because we know that sometimes when you go to a hospital, you don't actually know which doctor to go to.
There are so many other things, for example, we have the latest in Phillips CAT and MRI scanners, but we also have a "Kitty Scanner", it's like a child sized scanner simulator. We are all frightened of large pieces of equipment moving around us, children particularly, so when a child is prescribed a CAT or MRI scan, the Patient Experience Officer will take the child and their favorite teddy bear or doll, or whatever, and put it through the Kitty Scanner, it's very realistic and will show the toy up on a monitor. So when the child goes for his or her actual scan, they know what is going to happen and are less anxious or frightened by the experience. Also, in our Accident Emergency Dept (A&E), we actually have a coffee shop open 24 seven. So the family can actually get hot food at two o'clock in the morning, three o'clock in the morning, whenever they are in need.
Another example in A&E. I'm not sure if you have been to an A&E in Indonesia, there normally is just a curtain wall. So, they just pull the curtain, and this is one of the gaps that we find because in my in personal experience, my mother-in-law was admitted to a hospital in Jakarta and she was very scared. She was very nervous about it because the person beside her passed away, and this actually creates a lot of emotional impact, right? So Mandaya Royal Hospital A&E is one room for one patient, so you have complete privacy. Sometimes this is what the hospital actually forgets. It's not just a medical condition that you need to look after, but it's also the social and emotional impact.
AGS: So let's go onto your background. You said you worked in the UK in the National Health Service, did you qualify from university here or from there?
BW: I graduated 10 years ago from University of Manchester as a medical doctor, and I worked there as a junior doctor as well. So I'm still a general physician in a way, it taught me a lot of things. What I like about the UK system is that although the NHS is free, but they really give a great value services for the patient, value in terms of "if this is what the patient actually needs" in terms of evidence-based medicine they really go all out.
I've been with a surgeon over there, a maxillofacial surgeon to really do a proper reconstruction of the face with everything done, which I think will cost like Rp. 1 billion here. It's a very massive surgery and they will do it for free, because that's something that the patient needs. But whereas on the other hand, if they think that certain medication is more expensive, but it doesn't actually give that much evidence in terms of higher efficacy, for example, they won't do it. And I think that's something that I learned. And also in terms of patient services, the medical nurses always talk about you and about your condition as well.
AGS: Yes, I think the NHS nursing services are really good, very experienced, very attentive.
BW: And I think that's something that is lacking in Indonesia because we don't have nurses with a Master's Degree, or PhD's which in terms of education in Indonesia is still way behind. But that's something that I learned a lot about and something that we want to really implement in our internal training to get our nursing staff to a very good level. Sometimes people ask, do you have good doctors? Of course we have good doctors, but we're not just talking about doctors. We are talking about the whole team.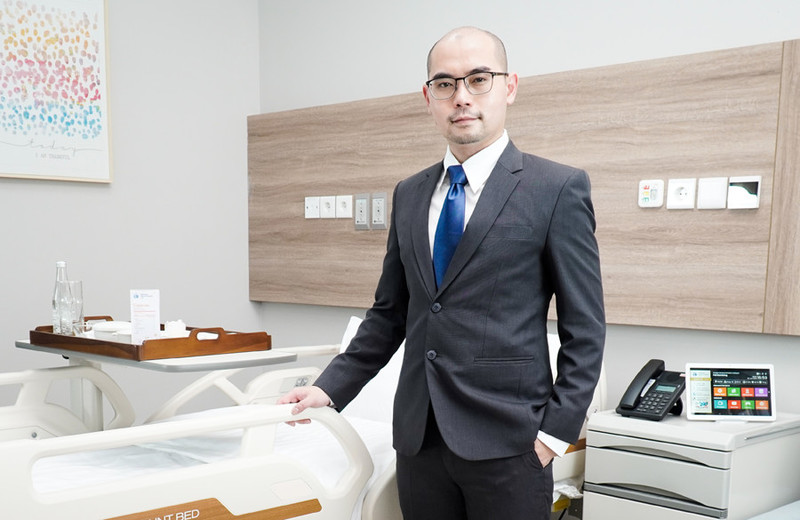 AGS: Absolutely, health care professionals. The nursing staff are very important.
We have got a social divide here whereby teachers are not valued here as much as they are in other countries, nurses, the same. The, shall we call them important, but "lesser" professions, very sad.
BW: Yes, I know in the UK, the nurses, some senior ones, they can be so senior, that they can see their own patients. For example, in a GP, they can see their own patients, see diabetic patients do the stuff where the doctors will only see the more advanced conditions. And I think that's what I'm trying to get, trying to improve the quality of the nurses and the supporting staff as well. For example, the doctors have very little time to see the patients, that's why in our hospital, we are going to have that kind of nurse specialist, just like in the UK. After the patient's seen the doctor, the nurses will come in because we are talking about advanced conditions in our hospital, we specialize in cardiology, in neurology and also in cancer.
And some of the diagnosis is not simple. We are talking about changing a patient's life forever. We are talking about patients who can give birth, and then suddenly we just take everything away because there's cancer of the uterus, for example. And, that really changes the patient's life. And that's what I want to do differently. Our nursing staff will train and they will look after the patients. They will talk to the patients after the doctors have seen them to ask the patient, "Do you actually understand what the doctors told you? What do you think about it? Is there anything else we can support you with?" And we know that part of this experience, breaking bad news better, but breaking bad news includes the whole grief cycle as well.
Patients will be in denial. They won't actually believe that they have got cancer. Is the doctor saying the right thing? And I think this is where our collaboration with, like Royal Brompton Hospital in the UK comes in and we are talking to Cleveland Clinic in the US at the moment to have a collaboration with them as well. Normally Indonesian patients will go to Singapore for that, or Malaysia, they will ask their friends, they don't even know where to go. They will just go to Singapore and look at the list of doctors and you can't just pick and choose whether they will get the best doctor. But what we want to tell them is that we have these collaborations.
AGS: Most of the doctors in some Singapore hospitals are independent as well actually don't have a corporate responsibility. So, a lot of the patients don't understand that.
BW: I've got a lot of friends who are doctors in Singapore. And this is a sad thing to be honest, because most of my friends, ask me which doctor should I go to in Singapore? And a couple of friends in Singapore asked me, "why don't you go to the national skin center, for example, where all the specialists and the sub-specialists will be, that they are the best in treating your condition?". But at the end of the day, my friends would actually go to generalists because they will choose their usual private hospital. So they will take all the patients that they can get, but are they actually the best for the condition? That's the question. Whereas Royal Brompton and Cleveland, they have 60 pathologists looking at just cancer cells. In Indonesia just a comparison, if you can get two pathologists in one hospital, you're considered good. We have three at the moment, better than most of the rest, but to have 60 in one hospital, is outstanding. Sixty doctors just looking at cancer tissues.
AGS: Where are your doctors and specialists from? They surely are the factor that makes the difference?
BW: That's the beauty of it. Our collaborations first with Royal Brompton and second with Cleveland, and can be other hospitals as well, it can be one hospital in Japan. We are discussing with multiple hospitals. But I think choice, that's what we are trying to give to our patients, that they can actually choose for themselves. But of course we guide them along the way. You know, if we need cardiological confirmation, for example, Royal Brompton is very good at it. They have so many doctors, for various sub-specialists in those conditions. And instead of them going to Singapore, getting all the diagnosis, paying so much money, you can come to us, we have this collaboration with talent so we can analyze all the data. We have actually got a machine it's like a digital pathology scanner. So we can get a biopsy sample from a cancer tissue, we can scan it, And instantaneously we can send it to Royal Brompton for their doctors to have a look at it and we can collaborate in terms of a diagnosis.
AGS: Exactly. They're looking at the same thing in digital form so here or there it's the same images.
BW: I think our hospital is one of the first for this kind of collaboration.
AGS: What are you most proud of in the new hospital and why?
BW: I think at the end of the day, we are talking about trust. Business is talking about perception, but we are talking about the trust between our hospital, our doctors, and the patients. And that's the plan, you know we are not talking about the really niche market, those people who would get on their own plane to get a treatment overseas. The population of Indonesia is huge, and the number of people who actually go into Malaysia and Singapore is huge as well. And I think with this pandemic as well, that really opened our eyes. That we need to really improve our quality of healthcare. And I think that's what we are trying to provide here.
So in terms of the comfort for patients and family, we have done that. In terms of the medical equipment, we have purchased medical equipment from Phillips. Really high-end new equipment. For example,, Phillips came to me and they want to use our hospital as their showcase for Asia Pacific, because the equipment that we buy are all high-end equipment. Because at the end of the day, medicine is about diagnosis. And I think that Indonesian doctors are, in terms of diagnosis, the reputation is not that good. It's about diagnosis because once you got the diagnosis, actually the books will answer your question. There is a step by step process of what are you supposed to do after that. But the problem if you got the diagnosis wrong, then you can basically change the patient's life in the wrong direction.
AGS: I know this all too well, having been here for 40 years, I think I have had more things diagnosed than I could possibly have survived!
BW: Basically there are two things, one is our doctors, because of our concept that we have, because of the quality of medical equipment that we have, you know, it's not that difficult to actually get the best doctors in Indonesia, the best of the division of course live in Jakarta because that's where all people want to work at. And we've got all the right subspecialist. It's not just specialists, we've got a pediatric cardiologist, for example, not just adult cardiology. We've got the oncology, OB GYN, not just a normal OB GYN, oncology ENT, for example, to support our oncology center. And those are some of the best doctors in Indonesia. And then the reason why they want to join us is because they really trust our concept.
They know that this is what Indonesian health care really needs. So the other thing is about that collaboration, with all prototypes with Royal Brompton and Cleveland clinic later on to give a sense of security for our patients that this is the right thing to do. And if the patients with this extra diagnosis, can do tele medicine as well with the British doctors or American doctors, and if they want to get a treatment done with us, because sometimes the treatment is not that difficult, once you get a diagnosis. The treatment of chemotherapy, very simple; radiotherapy very simple, but if the condition is very advanced, very difficult, very rare, then we can collaborate and we'll bring the patients, in a virtual sense, to the UK. But at the end of the day, this is about the patient experience. So it's not just about our hospital making money, but it's about doing the right thing for our patients.
AGS: How do you make sure your doctors are getting the best possible training as well? Do they need to be trained overseas to really reach the levels that you're looking for?
BW: In a way, yes. And I think this is, again, going back to the collaboration. The collaboration is not just about second opinions and telemedicine it is also about training. So, just like with Royal Brompton, we can send our doctors for fellowships, for observerships. But to be honest, I think most of our doctors were actually trained in Royal Brompton before. And so number one is we need to get it in terms of the doctors. It's a team of doctors. Of course, it's not just one consultant running the whole thing because you need to get a 24/7 care for our patients. And so the consultants, they will be very highly trained. They are best in Indonesia already.
But we also have the team the second liners, the middle grades, they're consultants as well. But they are the ones who are supporting the doctors. And I think, this might sound very technical, but for example, if I want to say that our hospital is a cardiology specialty hospital, we have the cardiology center. It's not just about the doctors, it's about whether we can get cardiologists, consultants who can be in the hospital 24/7. So that if you get a heart attack, is it better for you to go to the nearest hospital or are you supposed to go to the best hospital? Which has that cardiologist standing by so that you can get a catheterization done within minutes? Because I think that's the key idea.
So in terms of our, our system, for example, we have our ambulance where there is a CCTV, there's a mini lab and also the ECG, we can get the diagnosis for a heart attack, or an STMI. So we can get it done in the ambulance, and then we can bring the ambulance straight to the hospital so that the time for the patients, right from the time they get a heart attack until the table is as short as possible. Because that's life and death right there. That's talking about how much damage has the attack given to the body. And you need to get doctors to be onsite because most private hospitals, don't have doctors on–site. It doesn't need to be 60-year-old, senior consultant, but at least those middle grade consultants, you need to do this on-call system. Same thing for neurology as well, when you get a stroke. Then time is the essence. So that's what we are trying to do.
AGS: You're now talking about healing, how do we reverse the trend from healing to preventing? Because that's, that's, that was the original concept of the NHS. They were going to reduce the reliance on medical services, which hasn't worked very well there. It hasn't worked very well anywhere! But in Indonesia, where as statistics show preventable deaths are huge, are you getting into the prevention side that they are health checks? Telling people, get slim, stop smoking, get exercising and all of that side as well?
BW: I think there are a couple of issues. Most patients, just come to the hospital when they are unwell. I think one reason is about the money. Because in NHS, everything is free. You can get mammography, anytime you want, and they do that. Whereas our system isn't like that, which unfortunately is such a shame because it should be about prevention. That's where the free health system should actually go to. But unfortunately they also do just healing. So it's such a shame, but us as a private hospital, I think prevention is more than just selling medical checkup packages. I think that's one thing I want to say. Most Indonesian hospitals, when we talk about medical checkups, you are just talking about, do you want to buy the gold package or do you want to buy the diamond package or Emerald package or whatever practice they have.
But I think prevention is more than that. Prevention is about creating tailor made systems, for the patients. So what we are trying to do, for example, if there is a diabetes patient, just like if you have a car, you have a service book. And that's what we are trying to do, not just packages where, you get to pay one package, you get such and such done. So we create like a whole service book for them. So that if you are a diabetic, you need to get your eyes checked once a year, you need to get this how many times? Oh, you're diabetic, but you have hypertension as well. So you need different things.
So you need to get certain things and you need to make sure that there's no damage to your system. I think that will be much more beneficial than just selling packages as much as possible - basically do an MRI, do a CT scan once a year. I mean, do you need a CT scan once a year for your body?
We're going have clubs like business clubs, so diabetic clubs, stroke clubs and so on. For our patients, once they join our clubs, there'll be the whole range of services for them. They can get free activities, for example, for the diabetes, they can get that community where they can share knowledge. It's not just about hospital care, this kind of very personal experience that they can share with each other. I think that's part of the club. And another thing about the whole prevention thing once you join the club, you get reminders, how to get your eyes checked, to get your feet checked, for example, and so on.
And I think that's what I really want, Indonesian healthcare to go to, in terms of prevention, because this is what NHS is doing. So once you hit 25, you need to go for a pap smear. Once you hit 35 or 40, you need to go for a mammography. So it's, very, evidence-based, it's not just buying a medical, a package. And I think with this kind of education, hopefully the patients will be much more involved and they know what and why are we doing this?
AGS: Well there still is an old style of patients, around Indonesia, who have been self-diagnosing including their own antibiotics. It's a nightmare. That's why we got these resistant strains because people do that, but that's what we're dealing with. Millions of people who think they know best and millions of people satisfying them with their supplies of fake medicines too! It's dangerous here!
What are you most proud of, of all of these things? What's, the thing you say, that's the one that really I'm so happy to be introduced.
BW: I think the team. The team is one part of the hospital that I'm really proud of and, we really rely on them to be honest, they're the one running the whole show, from our CEO Dr Anna Tahjoo, our Marketing and Patient Experience Officer Ian Cameron, and all the other team members as well. In terms of a new hospital, this is the challenge, we have in terms of hospitality. I think that's the biggest challenge in Indonesia is about the human resource. And I really appreciate that effort. You know, this is a tough time for everyone because we have the target and we have to achieve it.
We set the bar very, very high, because we want to be giving our patients the best journey. And I think, luckily, everyone understands this is the concept and we have a good direction that we are going to go in. And the other good thing is, even the doctors we carry on board, they know what is happening. They know our concept is not easy. When you talk about just a second opinion, we call Royal Brompton and get an expert. Why does this not happen with the other hospitals? Because I think it's not easy for doctors running hospitals to implement the system when the hospital is running, because the doctors will be thinking "I've been doing this for 20, 30 years, I've got my patients, why do I need to do this now?"
AGS: Are you at the beginning of a new trend? Are other people going to follow your trend Maybe they will say "what are the Mandaya people doing? We better think about that too".
BW: To be honest, I think with the big hospital groups the trend is actually for them to go into the tertiary cities. Like Siloam because of the BPJS the new hospitals that they are building, if you see it's more in the cities trying to get the numbers, how many beds are we going to have next year? Because, maybe it's the target right from the investors and so on. I think that's one of the key differences between us and them. We don't want to have many hospitals, because we can't achieve that standard of health care that we are promising to our patients. And I think in terms of doctors, quality management, it's not easy to get the best, to get appropriate ones for our standard. And I think our concept is more about "Let's build a hospital, but when we build a hospital, it must be a very good quality one". You're not just treating, just random diseases, just for money, but really be able to show our patients that we are doing the best for them according to the research.
AGS: Well, you know, one BMW makes the same profit as 10 VW's. So there are two different models there, but I suppose they reach the same destination.
BW: Yes you're right. They're not wrong. But I think this depends where you want to go and as a doctor myself, sometimes that might be a bad thing. I don't know.
AGS: I think from Indonesian perspective, actually, it's good. That more top level shall we call them, hospitals are going down to the smaller cities that's what's needed. It's more needed, shall we say, to get into places which haven't got good care.
BW: That's the plan in the near future. I see us being able to open like 6, 10 hospitals but we do it step by step, make sure that every hospital is according to our standards. We do have plans to build one or two hospitals in the near future, probably in the bigger cities where all the sub-specialists that are where the consultants actually want to be. That's the plan. And hopefully we can get that network, so every hospital will actually have slightly different specialties, tailor made, according to that area itself, like in Jakarta, we know that degenerative diseases is quite a big thing now. So cancer, cardiology, neurology is increasing a lot. But each city is different and have their own problems and we really want to tailor-make to what the region really needs.
AGS: Good. That's it. Fantastic. Keep up the good work.