On Sunday, 9 May 2021, the five-star Royal Tulip Gunung Geulis Resort & Golf celebrated its 5th anniversary and commemorated the new milestone by hosting a 'syukuran' (gratitude ceremony) on Friday, 21 May 2021 at the hotel's LL One Restaurant & Wine Bar.
With strict health protocols implemented, the ceremony was kicked off by MC Keke Tan and accompanied by a special performance by Fandy Santoso, vocalist of Indonesian pop band, Kerispatih. The ceremony was attended by several esteemed guests including the President Director of PT. Mulia Colliman International, Agung Budiman, who shared a few words with those in attendance, along with the hotel's General Manager, Mario Stanic, and President Director of Louvre Hotel Group – South East Asia, Peter Herweck.
All three men expressed their shared gratitude for Royal Tulip Gunung Geulis Resort & Golf's five years of success in serving guests as well as being a 'second home' to employees, all of which wouldn't be possible without the support and cooperation of business partners. They hope that the hospitality and tourism industry will thrive once again after the COVID-19 pandemic.
An Indonesian gratitude ceremony wouldn't be complete without the cutting of the 'nasi tumpeng', traditional ceremonial food that is a cone-shaped rice dish served with vegetable and meat side dishes. In a 'syukuran', the 'tumpeng' serves as a symbol of gratitude, where after prayers are said, the top of the 'tumpeng' is cut and given to the most important person. In this case, the 'tumpeng', which was shaped in the number '5', was cut by Mario Stanic and given to Agung Budiman, who had entrusted the beautiful property to be managed by Louvre – Royal Tulip and all the dedicated employees since the hotel's establishment.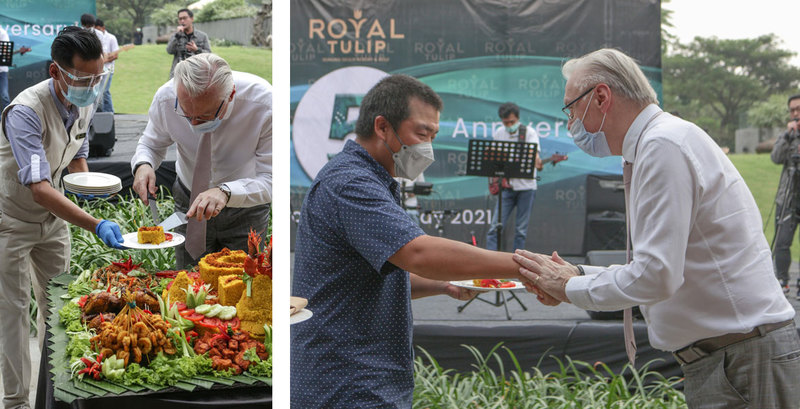 Various dishes were served during the event, which was attended by media colleagues from Jakarta, Bogor and Bandung, Online Travel Agents, Travel Agents, business partners, vendors and suppliers.
On its 5th anniversary, Royal Tulip Gunung Geulis Resort & Golf also gave back to those in need and made donations to Benih Iman Orphanage in Ciawi and Mizan Amanah Foundation in Bogor with a total of IDR 20,000,000. Moreover, the hotel also held various quizzes with many enticing prizes through its official Instagram handle @royaltulipgg. The winner of the quiz is entitled to a 5-consecutive-night stay which can be used for five consecutive years until 2025.
About Royal Tulip Gunung Geulis Resort & Golf
Royal Tulip Gunung Geulis Resort & Golf features 173 guest rooms consisting of six categories: Deluxe, Executive Deluxe, Studio, Executive Studio, Junior Suite and Royal Suite. Located an hour away from downtown Jakarta, the hotel features three dining outlets including LL One Restaurant & Wine Bar, FIRE Grill & Bar, and Breeze Louge, which offers an eclectic selection of culinary offerings, ranging from Indonesian classics to international favourites. Facilities available include The Spa by Royal Tulip, a sauna room, 3 swimming pools, a fitness centre, and a Zen Deck.
For more information, please call +62 251 756 3800 or email [email protected]
Royal Tulip Gunung Geulis Resort & Golf
Jl. Pasir Angin, Nagrak, Kec. Sukaraja, Bogor
+62 251 756 3800
[email protected]
royaltulipgununggeulis.com