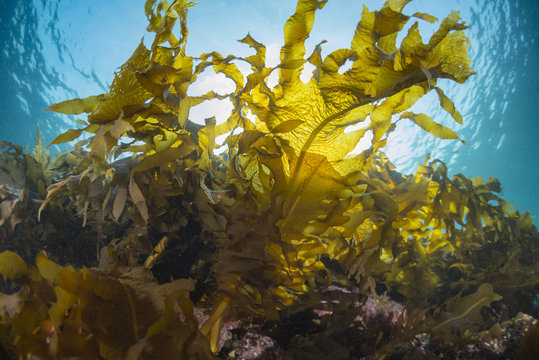 Indonesia's largest company, Astra International has selected six villages in the Tanimbar Islands District in Maluku Province as participants in Astra Prosperous Villages Program (DSA) 2021 for entrepreneurship development in seaweed cultivation, to try to improve the lives and livelihoods of the people there. This works well within the Maritime Affairs and Fisheries Ministry's plan for increasing seaweed cultivation which is noted below.
Tanimbar Islands district head Petrus Fatlolon signed a joint work agreement with the director-general of village economic development and investment, villages, Disadvantaged Regions and Transmigration Ministry, the Tanimbar Islands regional government, and PT. Astra on the 2021 DSA program on July 22, 2021, head of the Tanimbar Islands District's Village Community Empowerment Service, Paulus Arnol Sabono, informed.
"This is part of the implementation of Astra's CSR (corporate social responsibility) entrepreneurship program in the form of village community-based entrepreneurship development," Sabono said in Saumlaki on Saturday. The program aims to optimize the local potential, village's superior products, and improve villagers' welfare, he added.
The six villages where the program will be implemented are Lelengluan, Risol, Ritabel, Kelaan, and West Lemdesar in the North Tanimbar sub-district and Awear Rumngeur village in Wuarlabobar sub-district, he informed.
Astra has entrusted Ocean Fresh with providing assistance and training to the six target villages, he said.
The program will focus on strengthening village entrepreneurship institutions, namely village-owned businesses (BUMDes), and developing the village's superior product, which is seaweed, he added.
"In addition, they will be given access to capital and seaweed marketing, as well as (guidance on) the development of the right innovations," he said. Sabono said he hoped the DSA program would benefit the people of Tanimbar.
Seaweed, much like the grass on the ground, is often underestimated by people. This is despite the fact that the commodity has a variety of uses in their daily lives. Indonesia is blessed with abundant seaweed reserves. The seaweed habitat in Indonesia is known to have reached 1.2 million hectares, making it the largest in the world. In fact, Indonesia's seaweed reserves are estimated to account for 8.6 percent of the total biota in the oceans.
Seaweed can not only be used as a food, it can also be used as a raw material in the cosmetics industry, such as for making gels. It can even be put to medicinal use by the pharmaceutical industry. According to the Director General of Marine and Fishery Product Competitiveness at the Maritime Affairs and Fisheries Ministry Artati Widiarti, seaweed innovation can be used to tackle several global issues such as plastic waste and climate change, which can be an opportunity for entrepreneurs in the marine sector.
For instance, seaweed can be processed into bioplastic, which can be used to replace the plastic packages presently in use, she said. Research has shown that the use of asparagopsis taxiformis seaweed in the feed of ruminants, such as cows, can reduce methane gas emissions, she noted.
Widiarti said that she has, on several occasions, urged the public and entrepreneurs in the marine and fishery sector to be more invested in exploring the potential of seaweed.
Indonesia is rich in macro-algae, with 89 familia, 268 genus, and 911 species recorded in its oceans, based on data from the Institute of Sciences' Oceanography Research Center, she pointed out.
Red algae (Rhodophyta) is among the seaweeds that grow in the largest profusion in Indonesia's oceans, with 265 species recorded so far, followed by green algae (Cholorophyta) with 201 species, and brown algae (Ochrophyta) with 146 species.
Such a variety of seaweeds is a blessing that must be taken advantage of to support the nation's economy, provide jobs, raise foreign exchange, as well as provide food and nutrition, Widiarti said.
To this end, the ministry's Cultivation Director General Tb Haeru Rahayu has stated that his agency is committed to raising the production of seaweed commodity since it has a broad market, both domestic and international, to boost the economy.
Due to this broad market, seaweed can be the nation's primary commodity for cultivation, he said. Especially since Indonesia is the second largest seaweed producer next to China, with exports reaching 195.574 ton in 2020, valued at US$279.58 million.
The ministry has improved the performance of cultivated seaweed seed through a variety of innovations to create quality seeds. It has also managed to develop seed using plant tissue isolation method and will continue to improvise for other species such as the saccule strain, he said. In addition, it has also developed seaweed cultivation areas by optimizing promising land located in Indonesia's eastern regions, such as East Nusa Tenggara, he added.
In the seaweed cultivation areas, seaweed villages will be built using eco-friendly technology in order to sustain and raise the prosperity of citizens. By utilizing and emphasizing synergy between innovation and industry, KKP believes that Indonesia can become a main player in the world seaweed industry.
Challenges
Despite the promising potential, there are a number of challenges to cultivating seaweed. For instance, processing seaweed for products, such as food, cosmetics, as well as spices, can produce a large amount of waste, the ministry's head of research and human resources Sjarief Widjaja said. Processing of gracilaria and cottonii seaweed produces 8,174,150 cubic meters of liquid waste and 62,506 tons of solid waste per year. This is why, in the effort to process seaweed, we should not create new problems, both for the industry and the environment, Widjaja cautioned.
The large amount of waste generated while processing seaweed can be recycled for other uses. For instance, liquid waste can be used as liquid fertilizer, while solid waste can be used as a raw material in ceramics, particle boards, fertilizers, and even light bricks.
According to executive director of Maritime Research Center for Humanity, Abdul Halim, the policy for implementing maritime sector innovations, such as producing bioplastic from seaweed, needs to be accompanied by other technical training measures to allow residents to cultivate it on a large scale. The accompanying measures must be undertaken with the right approach that is also sustainable.
By focusing the program on increasing public's technical knowledge and developing citizens' prosperity, the program will be more accurate and beneficial in the future. Due to the variety of benefits that seaweed provides, let us hope that it could not just assist in the nation's economic recovery, but also contribute significantly to the global economy.
We are delighted to see that this program is being supported by Astra International and we hope that this hidden potential for both nutrition and wealth creation can be accelerated for the good of the people as soon as possible .