Most Valued Business, in close cooperation with The Embassy of Sweden Jakarta and Business Sweden organised a highly successful seminar on 1 and 2 October in Raffles Hotel Jakarta to take the conversation on where and how we should live and work now and in the future.
Marina Berg, the Swedish Ambassador to Jakarta said "In a Smart City, innovations, digitalisation and environmental and climate technologies create opportunities for meeting our society's challenges in an efficient and sustainable way. Meeting the urban challenges and improving the quality of life for urban citizens requires an integrated and holistic approach to urban development. Since the mid-1990s, Sweden has managed to combine economic growth with decreasing levels of emissions. Sweden has reduced the dependency on fossil fuels and Sweden is ranked as number one in the SDG Index. This is the product of innovation, cooperation, entrepreneurship, political leadership and legislation and this is the Triple Helix – interactions and collaborations among academia, industry and governments. Sweden is keen on engaging in a dialogue and in cooperation with partners around the world, and our cooperation with Indonesia already plays a special role to this end."
Erik Odar, on behalf of The Swedish Trade and Investment Council said "The world-renowned Swedish companies and public institutions taking part in this program are here to demonstrate their commitment to even further increasing business collaboration and investments in Indonesia, particularly on smart city and infrastructure. Through the dialogues facilitated these two days, we will strengthen existing relations, build new ones and create an even stronger connection that will benefit both countries.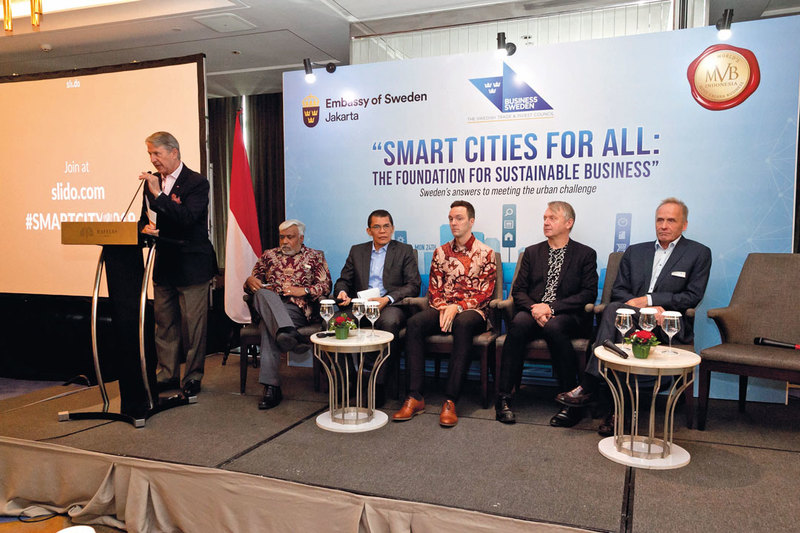 Alistair Speirs, Chairman of MVB said "MVB is fast becoming a serious partner in promoting the whole concept of sustainability. In this year alone we have co-hosted a sustainable Architecture, Design and Circular Economy Seminar, a Sustainable Fashion, Textiles and Retail Seminar, and a Sustainable Tourism Seminar."
"Now we are proud to be working with Team Sweden to try to help Indonesia to plan and execute Smart City creation—another critical area for Indonesia's future. Sweden has the expertise and the experience to help Indonesia to move quickly. Let's all work together to make ideas into reality! And the only way to do that is to listen to experts, to talk to experts and to become an expert!"
The Seminar was divided into two daily sessions, each with opening speakers, followed by presentations by top Swedish Companies then followed by workshop sessions where all participants could get involved and interact with the speakers and panellists.
The main sponsors and speakers from Sweden were:
Swedish Energy Agency "The Swedish Energy Agency is a Swedish governmental organisation with an overall responsibility of promoting sustainable energy systems through the use of renewable energy, energy efficient technologies, a smarter end-use of energy, and mitigation of climate change."
Scania "Scania's services and solutions for public transport are tailored for all urban centres, including emerging markets and fast-growing smaller to medium-sized cities that are just developing their infrastructure. Scania's approach is to prioritise cost and CO2 efficiency, as well as user-friendliness, quietness and safety."
Ericsson "Ericsson is one of the leading providers of Information and Communication Technology (ICT) to service providers. Ericsson's segments include Networks, IT and Cloud and Media. The Networks segment includes various generations of radio networks, as well as small cells and microwave products. The focus in the IT and Cloud segment is to help telecom operators and selected enterprises through the digital transformations ahead."
White Architects "White is one of Scandinavia's leading architectural practices and amongst the ten largest in Europe. White has grown exponentially from its beginnings in housing, now covering a wide range of sectors including education, healthcare and commercial. The practice also commands a very broad spectrum of expertise including architecture, master-planning, urban design, project management, landscape, interior design and project design. As pioneers in the environmental area, White's projects are visionary examples of sustainable architecture, without sacrificing the aim to understand the clients and users, presenting them with attractive solutions."
H&M "In terms of sustainability, by 2030 H&M aims to use only recycled or other sustainability sourced materials and by 2040 it wants to be 100% climate positive. In Indonesia, H&M has partnered with Indonesian arm of French consumer giant Danone, bottled water brand aqua, and one of its most sustainable suppliers, to turn plastic waste into clothes."
Bombardier "Bombardier is a global leader in the transportation industry, creating innovative and game-changing planes and trains. At Bombardier, our solutions integrate seamlessly into a city's multi-mode transport infrastructure. One of our key strengths is combining our global experience with local knowledge to deliver the 'best-fit' mobility solution to cities worldwide."
"Some of the solutions that forward-thinking cities are embracing today include energy-saving train, fully automated and driverless next-generation monorail and rubber-tired systems in tunnels, high tech, high capacity metros and single-deck concept commuter train."
SKF "SKF has been a leading global technology provider since 1907. Our fundamental strength is the ability to continuously develop new technologies – then use them to create products that offer competitive advantages to our customers."
"The focus of SKF's technology development today is to reduce the environmental impact of an asset during its lifecycle, both in our own and our customers' operations. The SKF Beyond Zero product portfolio is the latest example of what SKF has to offer in this area."
The Seminar focused on the major topics of the day in Indonesia: Solving the pollution crisis, improving connectivity, smart mobility and urban planning. Active discussions on all points were pressured between participants and experts.
The highlight of the seminar was a special appearance by the Governor of West Java Bapak Ridwan Kamil, who gave a brilliant overview of his vision—and action—in taking West Java, Indonesia's most populous province, into the 21st century.
Thanks go to all who gave their time and expertise and all who contributing their thoughts and time to making this a real success.