The issue of sustainability is becoming more and more important, including in the fashion industry, which is the second highest contributor to pollution after oil companies.
Sustainable fashion, also called eco fashion, is a part of the growing design philosophy and trend of sustainability with the goal to create a system, which can be supported indefinitely in terms of human impact on the environment and social responsibility.
The Swedish fashion industry invests substantially into research, striving for more sustainable ways, and has thus become a trendsetter in this field. Sweden's biggest fashion retailer H&M, for instance, launched its Conscious Label in 2011.
During Jakarta Fashion Week 2018, which was held in late October at Senayan City, the Embassy of Sweden in collaboration with the Swedish Fashion Council showcased three brands, namely Hope Stockholm, House of Dagmar and Uniforms for the Dedicated, that all implement sustainable ways to produce clothing.
The three brands impressively show that a team of designers has the power to endorse sustainable clothing by highlighting environmental, social and economic issues - and are hopefully an inspiration for Indonesian designers within the fashion industry to follow in their footsteps.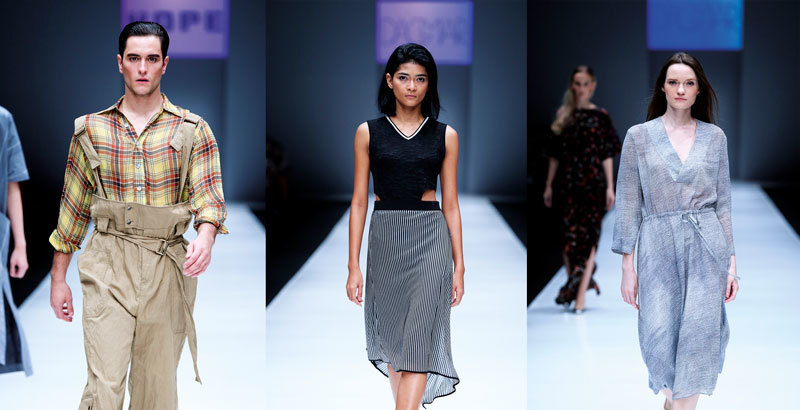 Hope Stockholm
Swedish fashion label Hope was created in 2001 by designers Ann Ringstrand and Stefan Söderberg. The brand's main characteristic is to accentuate the personality of its consumers by producing high-quality garments, as well as a focus on true product engagement and a consistent style. With its Spring Collection 2017, Hope Stockholm introduced the use of a double label that can be used by both men and women. It is Hope's mission to introduce unisex clothing, regardless of gender. Hope Stockholm presented its ready-to-wear line at Jakarta Fashion Week, which was characterized by organic garments.
House of Dagmar
Mostly known for its graphic details and timeless pieces, House of Dagmar not only focuses on using environmentally friendly material for its fashion lines, but also shows concern for the people behind the label by championing fair production methods. By creating a pleasant working atmosphere and giving awards to fashion makers, House of Dagmar helps to improve the welfare of their workers. At Jakarta Fashion Week, House of Dagmar presented a number of designs with asymmetrical and sartorial elegance.
Uniforms for the Dedicated
Since its establishment in Sweden by a collective of snowboarders and various creative minds in 2008, Uniforms for the Dedicated has been a major player in modern streetwear. The fabrics are primary based on organic, bio-based, or recycled fibers, showing a high awareness to the environment. At Jakarta Fashion Week, Uniforms for the Dedicated showcased designs that were made from unique materials such as biopolymers - polymers that are biodegradable - as well as ready-to-wear pieces made from durable material in order to support the longevity of clothing.
Photos courtesy of Jakarta Fashion Week 2017