Recently, The Dharmawangsa hotel introduced The Dharmawangsa House, the first wedding programme in Indonesia where couples can celebrate their big day in this elegant location.
Considered one of the city's elite locations, The Dharmawangsa may be among the best choices for the bride and groom looking to celebrate their love at the venue which emanates both tranquility and elegance at a hotel which replicates an Indonesian mansion with grand flowing architecture.
The Dharmawangsa House wedding is structured to create an intimate yet splendorous wedding and caters up to 2,000 people. They could have a wedding celebration by inviting guests to the Nusantara Ballroom, Nusantara Garden and Pool garden, The Courtyard, as well as at Jakarta Restaurant and BImasena lobby Lounge.

Nusantara Ballroom. A multipurpose function room with unique mixture of traditional style, idyllic ambiance and modern refinement to ensure each event can be individually tailored to meet requirements.
Nusantara Garden. An extension from Nusantara Ballroom to accommodate more guests. Majapahit Lounges (The Caviar Lounge, The Library, The Tea Lounge and The Bar) A space defined by serene simplicity featuring a magnificent 14th century House Temple where four doorways lead to four lounges, bathed in natural light. Each has its own resplendent theme and character.
Pool Garden. At Pool Garden, romantic setting with unparalleled view of shimmering water from the pool combined with the exceptional culinary experience and excellent service will create lasting memories of one's wedding day.
The Courtyard. An al fresco venue dedicated to coffee lovers who wish to unwind while lingering over various top rated coffee blends and light treats in greenery surrounding.
Jakarta Restaurant. A contemporary interpretation of old Jakarta presents traditional Indonesian, Asian and contemporary Western cuisine throughout the day in relaxing yet stylish and social atmosphere.
Bimasena Lobby Lounge. An ideal venue to meet friends and families in warm and homely ambiance, beautifully decorated in wood interior.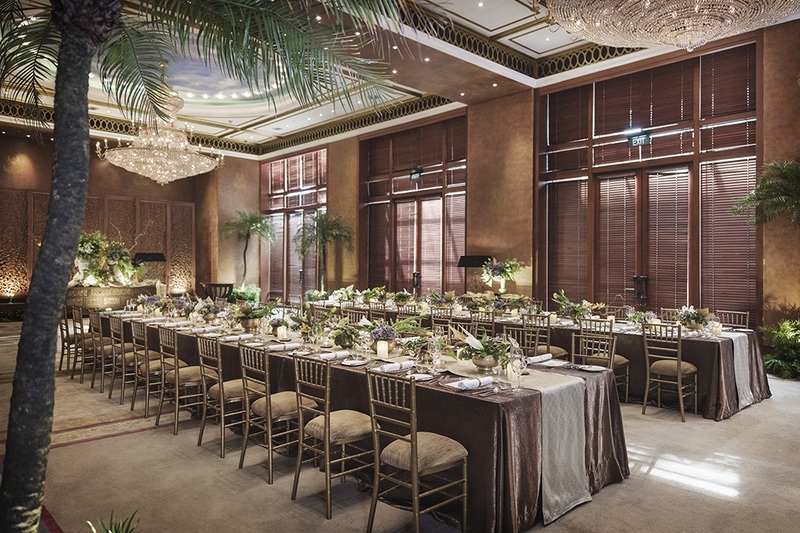 Novi Samodro, the General Manager said that the wedding programme is inspired by the majestic castle weddings that have been trending among world-class celebrities.
"We've combined a unique mixture of traditional style, idyllic ambiance and modern refinement for a personalised celebration from beginning to end. Our skillful and dedicated event team focuses on listening to the couple's vision to help them create a completely bespoke and fascinating experience," Samodro said.