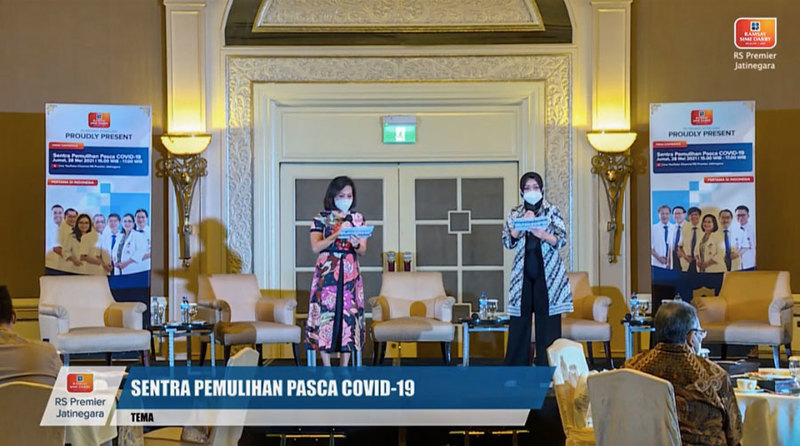 It is known that approximately 63.5% of COVID-19 survivors still show worrying post-COVID symptoms, from coughing, heart palpitations, sleep difficulty, loss of appetite and smell, feeling weak to more serious medical problems, these conditions are known as Long COVID Syndrome.
Some patients who have recovered from COVID-19 show sequelae that vary from: (1) Mild symptomatic symptoms to respiratory dysfunction due to various causes; (2) Exacerbated with blood clotting or cardiovascular problems; (3) Symptoms in central neurology or peripheral complications; (4) Physical, emotional and psychological disorders.
On Friday, 28 May 2021, RS Premier Jatinegara (Premier Jatinegara Hospital) established a Post-COVID-19 Recovery Centre, the first in Indonesia, for comprehensive handling of the condition of COVID-19 survivors, which provides integrated one-stop services based on patients' needs, personalised patient care, supported by adequate rehabilitative programmes. Post-COVID patients will receive the right help for mental, physical and social recovery to prepare them to return to their regular daily activity and productivity such as work, school and other activities. This was revealed by Dr. Ida Bernida Sp. P, FCCP, one of the Pulmonary Specialists at RS Premier Jatinegara.
At the Recovery Centre, patients will be treated by a multidisciplinary team of specialist doctors, depending on the patients' needs. One of the specialists that play an important role in the Recovery Centre is the medical rehabilitation specialist. Therapeutic plans and exercises provided to patients recovering from COVID-19 will be designed in a personalised manner, starting from functional capacity test exercises, respiratory muscle function tests, and muscle and extremity strength tests.
According to Dr. Yaya Sudibyo Sp. KFR, a Physical Medicine and Rehabilitation Specialist at RS Premier Jatinegara, physical exercises provided will be tailor-made according to patients' needs, from stretching, breathing, aerobics and strengthening.
Additionally, the physical condition of the patients does not go unnoticed at the Recovery Centre. Psychologist Dr. Anastasia Sri Maryani, Mpsi, stated that people who have recovered from COVID-19 has the potential to experience serious mental shocks and disorders, starting from anxiety and depression to other mental problems. Some of the psychological services provided here include counselling, meditation, relaxation, balanced food, vitamins and more.
The integrated handling provided at the Recovery Centre is available to all COVID-19 survivors across Indonesia. Currently, service hours are every Monday, Wednesday and Friday from 3pm – 6pm, which will then be adjusted to the visiting patients' needs.
Dr. Levina Avissa, Operations Manager of RS Premier Jatinegara, revealed that they believe that when COVID-19 survivors and patients are medically assisted in their recovery, it will optimise their conditions so that they may return to being active and productive through this Recovery Centre. The sooner Indonesia recovers from the pandemic, the sooner Indonesia's economy will recover.
For more information, please contact via WhatsApp at +62 8111 637 666 or visit ramsaysimedarby.co.id
RS Premier Jatinegara
Jl. Jatinegara Timur II No. 9, Rawa Bunga, Jatinegara, East Jakarta
+62 8111 637 666
ramsaysimedarby.co.id