Airline to Help Increase Tourism to 10 Domestic Destinations and Attract More Foreign Visitors
For those looking to get a head start on their vacation plans this year, the Garuda Travel Fair (GATF) 2018 phase I is back. From 6 to 8 April at Jakarta Convention Center (JCC), this year's GATF will highlight more domestic destinations as well as the opening of more international flights.
The theme this year is "More For Less", and is designed to make the travel planning experience a lot easier. The exhibition offers ticket promos to vacation packages both for local and international destinations. 40 travel agencies, 7 travel agents for the umrah pilgrammage period, hotel booths, tourist attraction vendors, travelling equipment companies and many more are expected to participate.
In support of the government's tourism development policy, Garuda Indonesia will offer special packages to "New Bali"— 10 destinations promoted by the Ministry of Tourism. By developing the quality of access, accommodation and attractions, Garuda Indonesia has direct flights to Lombok, Mount Bromo, Labuan Bajo, Borobudur, Lake Toba, Morotai, Kepulauan Seribu, Belitung, Wakatobi and Tanjung Lesung.
"Garuda Indonesia supports the government target to increase tourism by as much as 20 million visitors. This year, GATF will be held in 28 cities and provide 3 million seats and will provide quality in our fleet of 148 airplanes," Nina Sulistyowati, Director of Marketing & IT said during a press conference.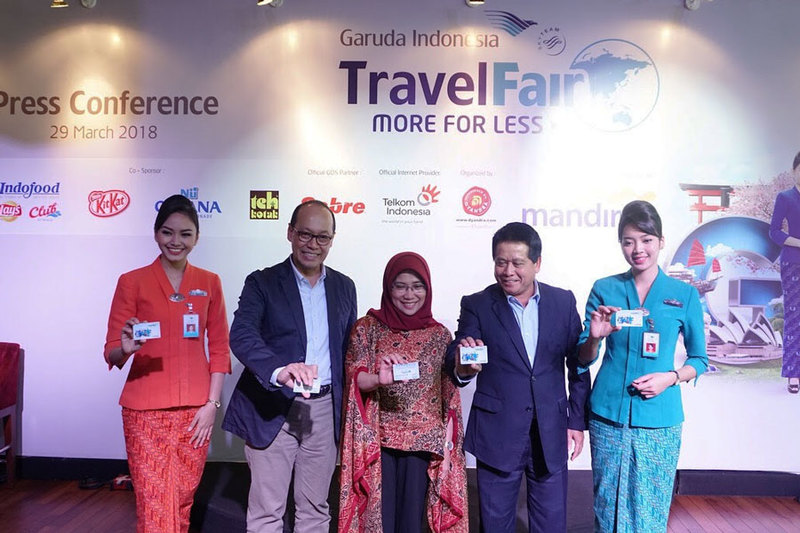 Garuda Indonesia has launched new domestic routes from Jakarta to Sorong to make it easier for tourists. The airline has also opened a new direct flight from Denpasar to Mumbai, India. The offers also include a round-trip ticket from Jakarta to London starting from IDR 7.2 million, Hong Kong starting from IDR 2.3 million, Seoul starting from IDR 3.1 million, Osaka starting from IDR 2.7 million, Labuan Bajo starting from IDR 1 million, Raja Ampat from IDR 2 million. There are additional offers from the airline.
This year, GATF has focused on international destinations among its 22 existing routes overseas and has partnered with 19 international airlines. With this increase in service, Garuda hopes to boost international arrivals in Indonesia.
"The presence of Garuda Indonesia in engaging international arrival has been continuously promoted by making a digital experience of enjoying GATF online from the official website. We also offer international tourists the opportunity to come here," Sigit Muhartono, Director of Cargo Garuda Indonesia, said.
This year, Garuda Indonesia is partnering with Bank Mandiri to support the transaction by facilitating payment, offering discounts and installments. Garuda Indonesia has 14 programmes where guests can take advantage of attractive travel pices including 50 per cent redemption of GarudaMiles for discounted tickets and happy hour periods when deals are at prices that are lower than usual.
For more information, visit www.garuda-indonesia.com.