The Ministry of Tourism continues to work hard to get visitors to come to the country following the series of earthquakes that rocked Lombok island in West Nusa Tenggara recently. It is determined to reach its target of 17 millions foreign tourists this year.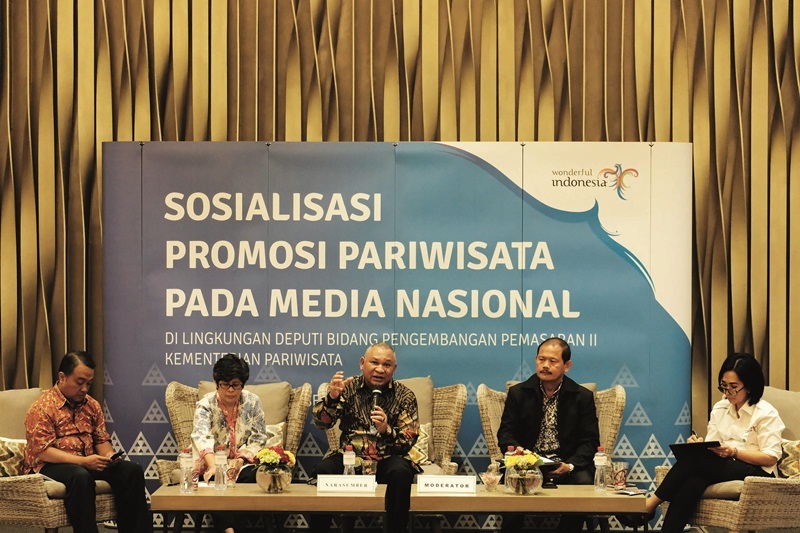 Through open discussion with members of the national media in a special gathering titled "Socialization of Indonesia Tourism Promotion to National Media" in Movenpick Jimbaran Hotel, Bali on 5 September, Deputy Assistant of Marketing Development Field II Regional I of Ministry of Tourism of Republic of Indonesia, Vincentius Djemadu, said that the big impact of the earthquake forced almost every country to issue travel warnings for Indonesia. He noted that this meant the country's tourism must move quickly.
According to Djemadu, one of the strategic ways is for the Ministry to aggressively promote other destinations which are similar to Lombok such as Labuan Bajo in Flores, East Nusa Tenggara and Manado in North Sulawesi.
"The two destinations have similarities in culture and marine attractions. Beside that, they are easily reachable. Moreover, there is direct connectivity from Bali," Djemadu said.
The Ministry is now focusing on the two big international events: the Annual Meeting of Board of Governors of the International Monetary Fund (IMF) and IMF-World Bank Annual Meeting which will be held between 8 and 14 October in Bali. The government hopes these meetings will strengthen Indonesia's tourism. An estimated 115,000 delegations from 189 countries are expected to attend.
Welcoming the events, the Ministry has cooperated with tourism industries associated with the Indonesia Travel Agents Association (ASITA) and has prepared more than 60 tour packages to Indonesia's seven superior destinations including Bali, Lombok, Yogyakarta, Banyuwangi, Toba, Tana Toraja, Komodo-Flores and Sumba. The packages have been discussed in the Spring Meeting in Washington, USA to the member countries.
The event is expected to contribute to the target of 17 million foreign tourists visiting this year. The cumulative achievement of foreign tourists visiting Indonesia in the January to July 2018 period, according to the Central Statistics Agency, was 9.06 million visitors, or an increase of 12.92 per cent compared to the same period in 2017, which was 8.03 million.