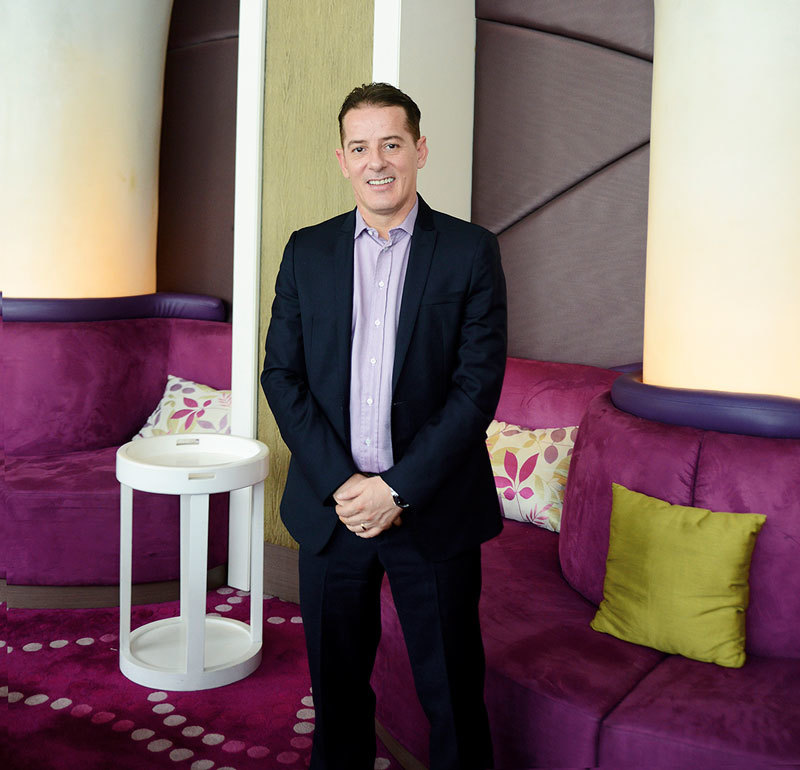 The General Manager of Mercure Serpong Alam Sutera, Cyril Mas, was in a good mood when we visited his hotel on 18 April. "Today is my birthday," he said as we sat down at the hotel's restaurant, Mint & Pepper. Earlier in the morning, the Frenchman had received a surprise party from his colleagues, a sign of the closeness between him and his staff who he refers as 'talents'.
Friendly and likes to smile - these were our first impressions when we met him. And this wasn't only because of his birthday. Cyril always knows how to talk to people, which is actually one of the reasons he became hotelier.
"My parents managed a restaurant, so I am familiar with this kind of business. I worked in many places before I joined Mercure Serpong Alam Sutera in 2016, and although I had briefly worked in other fields, the hospitality industry always felt like my home that kept calling me back," he said about his professional journey.
Cyril's commitment and success in turning Mercure Serpong Alam Sutera into a reputable, acclaimed hotel was shown when it won the Adikarya Wisata 2016 award by the South Tangerang Government as the best hotel in the region.
"We were very proud to receive this award for the second time last year. We feel that our hard work has paid off and it motivates us to do better every year, not to winning another award but for the sake of giving our guests the best service - even beyond what they paid for."
It is no exaggeration to say that Mercure Serpong Alam Sutera is an important player in the Tangerang market. Strategically situated in the heart of BSD City, right next to Living World Mall, and only half an hour from Jakarta, the hotel is an ideal choice for both business travelers and leisure seekers. Comprising of 171 spacious and stylish rooms, the hotel is designed with a modern approach that emphasizes comfort and practicality. Its comprehensive MICE facilities cater to all guests' business needs while other amenities like the grand swimming pool and all-day dining restaurant attract families on the weekends.
"I think our location is very advantageous; it's in a good distance from Jakarta's chaotic streets but very close from the BSD business and entertainment centre. BSD is growing fast. There are many prestigious universities, schools, hospitals, shopping malls as well as offices here, so it wouldn't be surprising to see more hotels opening up soon," Cyril told us.
In order to keep up with the rapidly growing demand, creative innovations are needed, and therefore Cyril and his team prepare the best ammunition to make sure Mercure Serpong Alam Sutera is always on the top of its game.
"The biggest challenge of working in the hotel is that you have to adapt to the market very quickly. For instance, digital marketing is extremely important today," Cyril explained. "Before make a booking, people will check the hotel's reputation on the internet, especially from online travel forums like Trip Advisor. Therefore, we try to be very reactive with guests' comments on this forum. I also introduced a new policy recently that guests can post their experience while staying with us on our Facebook page, and we will respond immediately if there is any complaint or request. This way, guests will be assured that they are taken care of, and we can always improve our services."
Before we ended our chat, the 44-year old shared with us his birthday wish and his secret to staying young.
"I hope that I and all the talents here in Mercure Serpong Alam Sutera can grow together, so if one day I have to leave, they will still be able to run the hotel well," he said with a smile. "Other than that, I am a happy man. I'm not a very demanding person as I am always satisfied with what I have today."
Mercure Serpong Alam Sutera
Jalan Alam Sutera Boulevard Kav. 23
Serpong, Tangerang Selatan 15325
T: +62-21 29 668 668
E: [email protected]
www.mercureserpongalamsutera.com