With a mission to fuse local cultural values with modern coffee experience, Starbucks is now luring coffee lovers around Labuan Bajo.
True beach junkies are no stranger to Labuan Bajo, a thriving port city located on the western top of the Island of Flores and a stepping point to unlocking multiple arresting getaway spots around the eastern part of Indonesia. The city of Labuan Bajo is currently a hot destination thanks to the newly revamped airport and a number direct flight from Jakarta.
In addition, Starbucks have recently arrived in Labuan Bajo, making the city an even more desirable hub for travellers looking for their next adventure.
"Today marks another milestone for Starbucks as we expand our store portfolio to 403 stores in 32 cities. As part of our 17th anniversary celebration, we are proud to welcome our customers in Labuan Bajo. We hope by being here, in the 10 New Bali destination, tourists now can enjoy their nice cup of coffee to begin their adventure trip in Labuan Bajo," as explained by Anthony Cottan, Director, Starbucks Indonesia.
The new Starbucks outlet at Labuan Bajo is designed to absorb and enhance the local community's heritage, with highlights place on tenun pattern displayed in the storefront area, community tables, and side partition. Multiple different woody undertones and patterns make up the weaving of this traditional fabric in the form and shape of coffee farms in Flores, with detailed mountains in the background.
Anthony further added that the idea is to combine Starbucks' modern features with the local culture to create an inviting, comfortable, and locally relevant hangout that smoothly blends with its surroundings. Further resounding this objective, Starbucks Labuan Bajo employs eight, fully trained local baristas to help promote welfare and encourage the growth of coffee culture among locals.
Although the Labuan Bajo store is located in a small city, Anthony emphasized that the store would offer the Starbucks Experience found all over the world. "It's important to say that this store in Labuan Bajo is gonna serve all the drinks you'd find in Jakarta, Singapore, Hong Kong or New York. We try to bring a world-class experience to Labuan Bajo."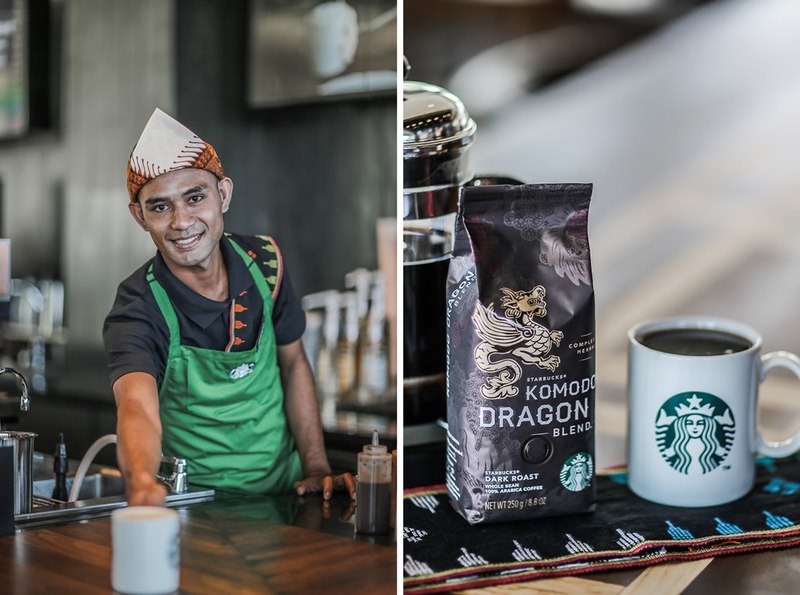 Starbucks Labuan Bajo is located at Labuan Bajo Marina and Executive Port, and offers 100 seating capacity among locally sourced and manufactured furniture. Customers in and around Labuan Bajo can now enjoy the Starbucks Experience from 7am to 10pm every day.
"We will continue to innovate and create local relevancy, all while meeting the evolving needs of our customers across Indonesia," Anthony excitingly shared.
This venue participated in the 2019 BRBCA. See the winners here!