100 long term guests in The Residence (serviced apartment) gathered at Kudus Hall The Sultan Hotel & Residence Jakarta, on 16 February to celebrate Valentine's Day and welcome the year of the pig for Chinese New Year. The guests, who have lived at The Residence for five year were joined by corporate clients.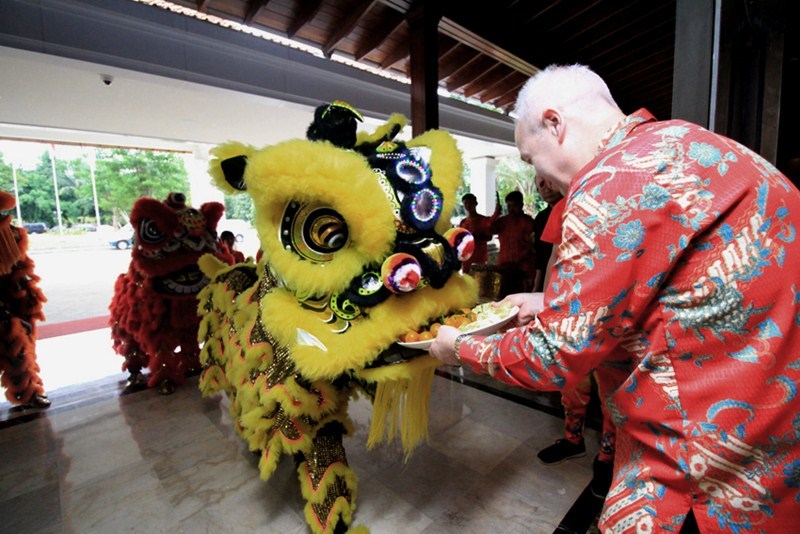 It was an elegant evening and in the space known for its beautifully crafted ceiling inspired by the city of Kudus, Central Java. Guests enjoyed lion dance and Chinese music performances.
To make the party even merrier, the Executive Sous Chef, Eric Kusnadi, presented a delicious array of Chinese dishes including Yee-Shang, Fried Noodles, the signature dish Nasi Goreng Kampung (Traditional Fried Rice served with Chicken Satay, Fried Chicken, Fried Shrimp, Crackers and pickles) and a tempting dessert corner in Valentine decoration set up.
The event was supported by Utomo Corp which includes Antony Morato, IMAC shoes and Eden Park Paris brands.
The Residence serviced apartment has more than 200 rooms divided into one bedroom, 2 bedrooms and 3 bedrooms. It has separate swimming pool from the hotel which allows for a more private, quiet feel.