Taiwan Tourism Bureau and Taiwan Visitors Association recently opened the new Taiwan Tourism Information Center.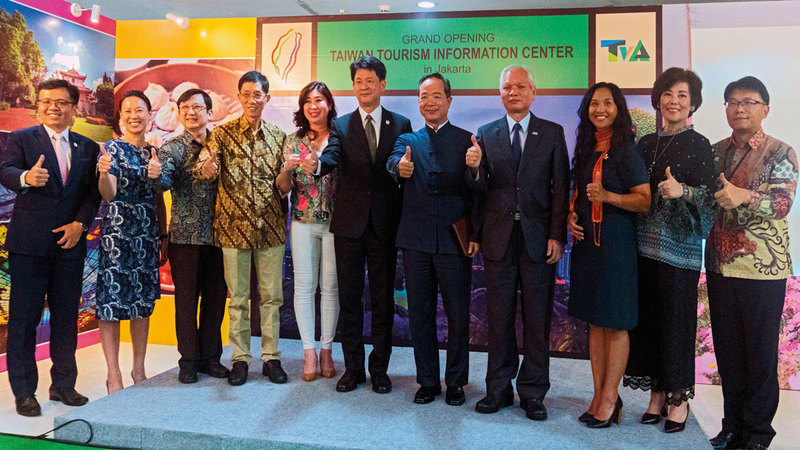 Located at Intiland Tower, Level 1 along Sudirman protocol road at the heart of Jakarta, the new and improved Taiwan Tourism Information Center is expected to bring easy access and convenience to Indonesians looking to discover travel particulars to Taiwan.
During the launching event in late July, Director of International Taiwan Tourism Bureau, Mr. Ease Huang, explained, "The establishment of the new Taiwan Tourism Information Bureau in Jakarta is the manifestation of the Taiwanese government in encouraging and welcoming Indonesian tourists to Taiwan."
Ambassador John Chen, in his role as Head of Taipei Economic and Trade Office in Indonesia, delivered a warm speech at the launching event, which was welcomed positively by attending travel enthusiasts, members of the media as well as Taiwan and Indonesian nationals.
Further, Ms. Fanny Low, Director of Taiwan Visitors Association, shared the readiness of her new line-up at the Taiwan Tourism Information Bureau to help tailor attractive tourism packages to ensure they are both appealing and enriching to all types of different travellers. The new bureau is set to constantly engage with commercial airlines, travel agencies, trip organisers and other related parties to promote travel to Taiwan.
Taiwan and Indonesia here enjoyed very amicable diplomatic relations over the years, and there are more than enough attractions going on in Taiwan that readily appeals to Indonesians. These include well-groomed cultural and historical sites like the Chimei Museum in Tainan or the National Taichung Theater in Taichung, numerous halal restaurants spread in many major cities, endless night markets, sophisticated shopping centres and many more.
It is a known fact that tech advancement is one of Taiwan's focal point of development. However, tourism has always been one of the nation's strong focuses as well. Recent developments have made it even more attractive for Indonesians to visit Taiwan.
One of these includes the development of Halal tourism, and initiative that's been a huge success that MasterCard named Taiwan the third best Muslim-friendly destination among non-Muslim countries. There currently more than 200 halal certified hotels and restaurants throughout Taiwan at the time this article is writing, with the number increasing constantly.
For those qualified, visas to Taiwan are completely free of charge, and are obtainable through a seamless online application process that takes, at best, 24 hours to complete from initial data submission to issue of online visa.
With the slogan of "Ayo Berkunjung ke Taiwan" (Time to Visit Taiwan), everyone is invited to discover Taiwan's arresting landscape, its friendly people, delightful culinary offering, fun-filled tourist attractions and many more.
Taiwan Tourism Information Center
Intiland Tower, Level 1
Jalan Jend. Sudirman Kav. 32
T: +62 21 5790 1338
IG: @taiwantourismbureauid
FB: @TaiwanTourismBureauID
www.tva.org.tw