Since its opening in 2015, Raffles Jakarta has quickly earned a reputation as a hotel that brings together business and art, leisure and style.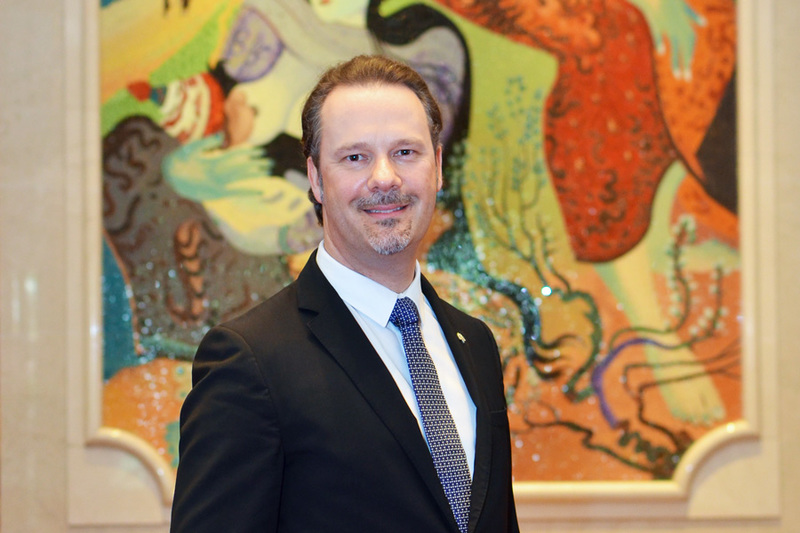 Yves Mudry, Raffles Jakarta's General Manager, has been at the helm of the hotel for one year. Originally from Switzerland, he attended hotel management school in Lausanne. His path led soon led him to Bali - some 20 years ago - and he has stayed in the region ever since, taking up posts in Thailand, Cambodia and Vietnam.
NOW! Jakarta spoke to Yves Mudry about his vision for Raffles Jakarta and his love for Southeast Asia.
How does it feel to be back in Indonesia after 20 years?
I remember my time in Bali fondly. At that time, Bali was still very unique and mystical. Nowadays, it is definitely more busy. Bali was my first introduction to Southeast Asia, and it is great that after two decades I had the opportunity to come back to Indonesia, this time to Jakarta. I was stunned when I arrived because so much has changed since the last time I was here - for the better.
What is it that fascinates you most about this region?
The sense of hospitality in Asia is genuine. For a hotelier, it is great if you have the opportunity to work, grow and evolve in a certain country or region where you feel comfortable and appreciate the people you work with.
Secondly, Asia is also one of the key development areas in the world, in terms of new properties and hotels. The pipeline of new projects is huge. It's an exciting time to be in this region as there are many opportunities.
What do you think makes Raffles Jakarta stand out from the other hotels in the city?
There is a lot of storytelling in this hotel. We have an arts concierge who takes our guests around the property to highlight the link between the history and design of the hotel as well as the art museum next door. The hotel's owner is very passionate about arts, and he particularly fond of Hendra Gunawan, so you can see his artworks all over the hotel.
We are an oasis in the middle of the city. We may be young but we have 130 years of heritage behind us - when Raffles Singapore was first established. Until today, it is still the main reference for the Raffles brand as it is synonymous with luxury, heritage, style and service.
We are home to one of the largest ballrooms in the city, which is around 2500 square meters, and attracts many guests for weddings and high-profile events and functions. Raffles Jakarta is also attached to a mall that provides more facilities like a theatre, the cinema and a variety of shops. It's very convenient.
What is your vision for Raffles Jakarta during your tenure? Are you planning to implement any changes?
The competition is definitely fierce. We constantly have to reinvent ourselves. Every year, we create talking points - we have to be able to offer something new to the market. In 2016, we opened the Raffles Spa, which has won numerous awards since. One year later, we came up with Events on Two, a spectacular venue that takes private dining and exclusive gatherings to a new level. Currently, we are working on a different project, the Raffles Lounge, which we will unveil later this year. It is important to have these talking points in order to be able to stay on top of the game and remain one of the market leaders in Jakarta.
Life in the hotel industry can be very tiring. What do you usually do to relax?
Working in the hotel industry is not a job - it is a lifestyle that you need to embrace. I usually like to start my day with sports. Early in the morning, I head to the gym to exercise. Afterwards, I feel relaxed and focused and can dedicate my time fully to my work and my team.
In my spare time, I like to play golf. I also like to discover new things. On the weekends, I explore Jakarta to see what's new, as well as other places in Java and across Indonesia.