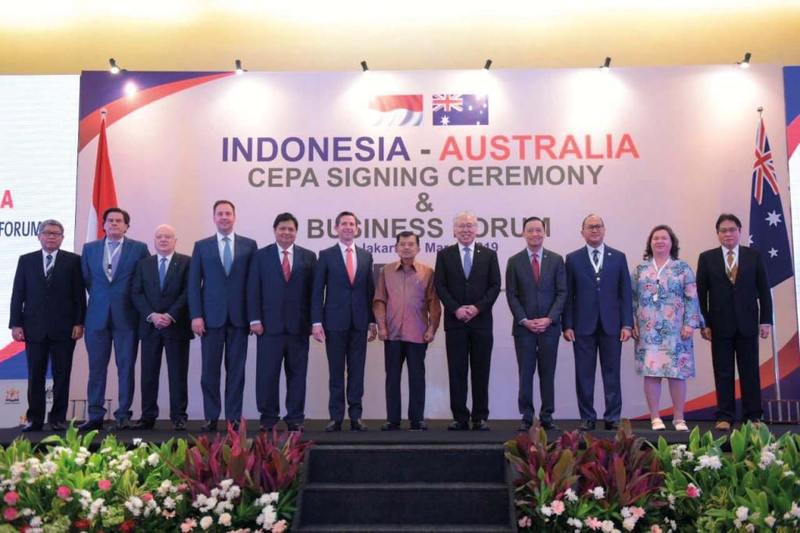 The Indonesia-Australia Comprehensive Economic Partnership Agreement (IA-CEPA) is expected to be a milestone in unlocking the potential of bilateral economic partnership between the two countries. The advantage of the agreement includes zero tariff, and extensive commercial export imports, as well as human capital partnerships to optimise the benefits of the bilateral partnerships between Indonesia and Australia.
In early August, more than 300 participants joined in an online streaming event organised by Indonesia Australia Business Council (IABC) Bali where the comprehensive presentation from speakers informed business communities to understand further about the bilateral agreement of IA-CEPA.
Ida Bagus Rai Budarsa, the President IABC Bali, and Anthea Griffin, Australia Consul General of IABC in Bali, NTB, and NTT urged Indonesian and Australian stakeholder in joining the agreement to empower the economy in both countries as the current performance of bilateral relationship remain low despite its close geographical proximity. "We need to be more active on socialisation of the IA-CEPA free trade agreement. We need to make sure that Indonesia businesses will be fully aware and take part in the massive opportunity of the implementation of IA-CEPA," Budarsa said.
Ni Made Ayu Marthini, Director for Bilateral Trade Negotiations at the Ministry of Trade of the Republic of Indonesia gave the full explanation of IA-CEPA on how, what to cover and lots of information for all details to be able to maximise the agreement into business practice. "Through this agreement, I hope Indonesian investors and business community will have more assurance, ease to access, convenience as the economic activity is warranted by the IA-CEPA. We also will supervise businesses that need guidance on adjusting to IA-CEPA in order to optimise the benefit for us in the future," Marthini stated.
IA-CEPA contains clauses on bilateral free trade, investments, skills training visas, investor arbitration, e-commerce, and intellectual property protection. Indonesia, under the agreement, will remove tariffs from nearly all Australian products exported to Indonesia while all Indonesian products exported to Australia will be free of tariffs.
Australian firms would be permitted to hold a majority stake in Indonesian telecommunications, transport, health, and energy firms. Additionally, the number of work holiday visas issued to Indonesians annually would be increased from 1,000 to 4,100 (later to 5,000 by 2026), and Australian universities would be permitted to open campuses in Indonesia. The deal also includes protections against discrimination and expropriations and prevents software developers from being forced to hand over their source code to sell their products. Additionally, Australian businesses were granted exceptions to an Indonesian regulation requiring online marketplaces in Indonesia to store data locally.
Todd Dias, the Head of the Economic Trade and Investment Section at the Australian Embassy in Jakarta shared on Australian point of view on things to be prepared for Indonesia businesses to start to work with Australian, couple of success stories was shared and inspired the audience.
"This partnership is designed to be fully beneficial. We have a comprehensive platform to get to know about the mechanism for Australian players. RIght now, as the pandemic restricts many economic activities, we can prepare and put all into place so we are ready when the international border is open," Dias addressed.
The IA-CEPA is a bilateral agreement signed between Australia and Indonesia in March 2019, ratified by Australia in November 2019 and Indonesia in February 2020. The agreement contains a free trade agreement removing tariffs from nearly all products traded between both countries, in addition to loosening investment regulations in Indonesia for Australian firms and increasing the quota for Indonesians seeking vocational training in Australia.