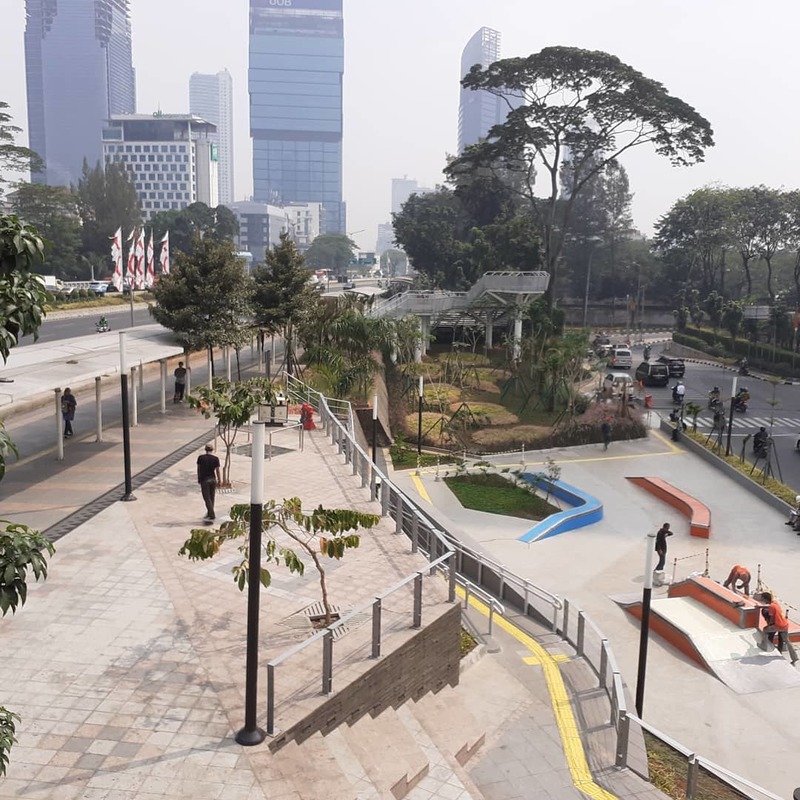 The new transportation hub in Dukuh Atas allures Jakarta's creative community to express urban creativity in a lively atmosphere.
Since the local government has made Dukuh Atas as a city transportation hub that connects commuters from different parts of the city, this area is now a pit stop after rushing office hours and a meeting point for the urban creative community looking for instagenic spots or, skating park and street entertainment.
Situated on a 2,000 sqm area under the sky bridge linking Transjakarta bus stop from Dukuh Atas I and Dukuh Atas II, Taman Spot Budaya (Cultural Park) is established in contouring terrace-style where one could sit down with friends or take over the park for skateboarding. The staircase is also an audience seat view when an art performance is held at the mini-amphitheater. Other communities frequently using the space include cyclists, BMX communities, as well as book club, poets and street artists.
Take the stairs to the highest platforms to have a perfect spot from a protruding viewpoint overlooking Jakarta skyscrapers and park's scenery. As the sun goes down, the crowd flocks to the area to enjoy twilight hours as rows of starry lamps set in the floor and under the railing illuminates a lively atmosphere of the park, inviting anyone to take selfies or just appreciate the pretty setting while waiting for a train. It's pleasuring to the eye.
Across the street, Kendal Underpass is now available for pedestrian and community gatherings, easily accessed from multiple public transportations. Formerly known as U-turn ramp, Kendal Underpass shifts the function as a tunnel that connects MRT, Commuter Line, Airport Train and Transjakarta. At night, the atmosphere at Kendal Underpass is lit up by skateboarders and street musicians playing in the tunnel area. It's humble entertainment for anyone after long hours of working in the day. The wall of Kendal Underpass is painted with different muralists that depict vibrant artistry manifesting Jakarta's heartbeat. The lighting on the ramp changes colour every few minutes, creating a natural dramatic ambiance for street performers who take over the area.
Taman Budaya Dukuh Atas is among the city government's infrastructure projects to establish more green open space in Jakarta. Since Basuki Tjahaja Purnama initiated the development to child's friendly park (RPTRA), Governor Anies Baswedan continue to establish more parks with IDR 1,5 trillion on the budget. It's an attempt to create a walking culture among local inhabitants and reduce hazardous air pollution in Big Durian.