Since the pandemic has pushed the trend of urban farming and gardening, the community started to see this particular hobby during self-quarantine to become a much bigger movement. Some of us might be just starting to explore this activity and learn to do it at home.
It's not too late to start creating green space in our home today. In fact, Jakarta offers the latest edutourism space in Ragunan where everyone can discover the horticulture world and learn together with the community about cultivation.
Introduced by the Jakarta city government, Agro Eduwisata Ragunan is designated to provide platform in outdoor for community to explore their creativity on the development of urban farming and plant cultivation as well as exchange knowledge related to agriculture within the sizeable area of 2,2 hectares
Officially open for public in mid-January 2021, Agro Eduwisata Ragunan is a collaborative project between Ragunan Agricultural Consuling Centre or Balai Penyuluhan Pertanian (BPP), Department of Food Security, Marine, and Agriculture of DKI Jakarta, as well as the Ministry of Agriculture.
Previously known as producer and supplier of agricultural products for community nearby including members of Family Welfare Empowerment (PKK), and Children's Friendly Park (RPTRA), BPP is now transformed into a large space for the public. The area is meant to facilitate a larger group not only to those who live in South Jakarta but everyone can stop by to enjoy spare time within the location full of lush greeneries and a shady atmosphere from its natural canopy.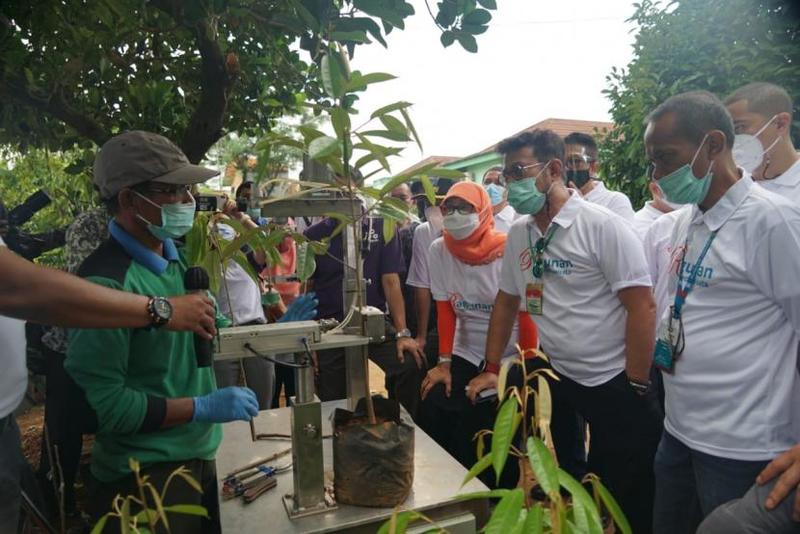 Here, one can learn about planting and farming starting from seeding to harvesting. Individuals and families could involve in specific programmes including the cultivation of plants for food, medicine, as well as growing other productive plants that could produce fruits and vegetables.
The visitor also could discover different methodology of plant cultivation with a more modern and advanced agricultural technology that could generate economic value despite the limited space in the city. The facility could support technology to do hydroponic, microgreens, edible flower. Inside, one can also explore the biofloc technology for marine farming as well as biopore for land conservation.
Bringing the concept of permaculture, the edutourism site is micro-ecosystem intended to be sustainable and self-sufficient where collective movement could utilise the space to create food security in the city especially during crises. Hopefully, the member of the community could mimic this concept to establish a community garden around the location where they live.
Ministry of Agriculture Syahrul Yasin Limpo said that Agro Eduwisata Ragunan is the pilot project that could model the concept of permaculture in the city with multiple values such as production, education, innovation, business incubation, conservation, and tourism.
"We need good intervention to make land more productive. By introducing this edutourism site, we can show the proof that farming can be done basically everywhere including in Jakarta," Limpo said during the launching of Agro Eduwisata Ragunan on 15 January.
"It's an investment and we can use this to enhance our capacity in urban farming and to start one in our house so we will be more resilient by having independent food source during food crises," Limpo added.
Jakarta's Deputy Governor for Tourism and Culture Dadang Solihin mentioned the city is committed to exploring the development of agricultural edutourism in Jakarta by converting 12 locations to establish a similar site around the Capital.
"We keep synergizing with the Ministry of Agriculture to achieve the target in establishing a total of agricultural tourism destination here in Jakarta. In the future, we hope that Jakarta residents don't need to go anywhere to enjoy nature and learn agriculture," Solihin stated at the same event.
Today, Jakarta residents could visit the site for free until the management will announce the commercial use in which the retribution will be used to develop other agricultural tourism in Jakarta in the near future.

Agro Eduwisata Ragunan
Balai Penyuluhan Pertanian (BPP) Ragunan
Jalan Harsono RM, Poncol, Ragunan
South Jakarta 12550