COVE at Batavia PIK is the latest hangout spot in town. A commercial retail street and seaside recreational activity centre that presents a sensational selection of shopping and culinary venues from various top brands with the added extra of sea view!
After successfully presenting Urban Farm that focuses on sustainable living, Pantjoran preserve Chinese authentic culture and culinary heritage, and Pusat Sepeda (bicycle center) to accommodate urban healthy lifestyle, now Pantai Indah Kapuk launches a modern retail design concept that adapts to the lifestyle of today's consumers who are more enthusiastic about open space destinations.
Located on a seaside area of Golf Island in Batavia PIK, COVE is a space for expression and aspirations of the younger generation where various backgrounds of lifestyle, culture, and entertainment can blend in a modern ambiance, and also explore some of the journey and historical essence of the capital city.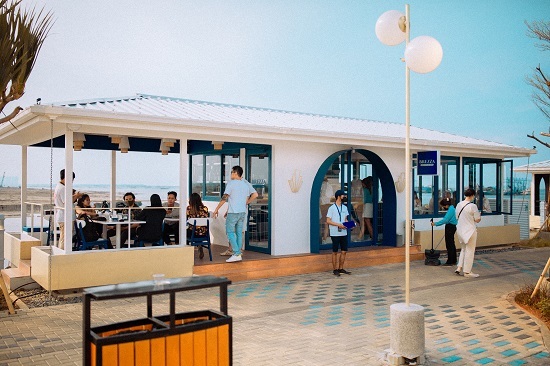 Aimed to be part of the global tourism map as well as a main destination for people to spend their leisure time, COVE provides a well-known lifestyle venues that can't be found in other places, such as F&B conceptor GIOI which presents Talassa by GIOI, a restaurant that gives a different dining experience in which guests can enjoy their food on a phinisi boat while enjoying sea views and sea breeze.
Foodies can also enjoy various comfort foods from numerous brands, such as Sushi Hiro, Cosmic Dog, Gelato Secrets, Hiyoten, Hot Stuff, La Brezza, Living Stone, Ringan Jakarta, Oyster Dealer, Okayu No Ohsho, Pancious Go, This Earth, 3 Mongkis, and many more brands are in preparation to join.
F&B brands that are well known in the South Jakarta area, such as Ask for Patty, Lawless Burger, and Pizzza Dealer, for the first time open a new outlet in the North Jakarta area, at COVE.
Each tenant provides indoor and outdoor dining areas, even if perhaps not too large but quite comfortable to enjoy the food and ambiance.
Standing on an area of 4,555 square meters, COVE is a small part of PIK which has the attraction of the seafront which is also equipped with a beautiful bridge and a performance stage to create a romantic atmosphere like in Venice.
COVE opens everyday from 7 am to 9 pm. The best time to visit is in the morning while exercising or in the afternoon before sunset.