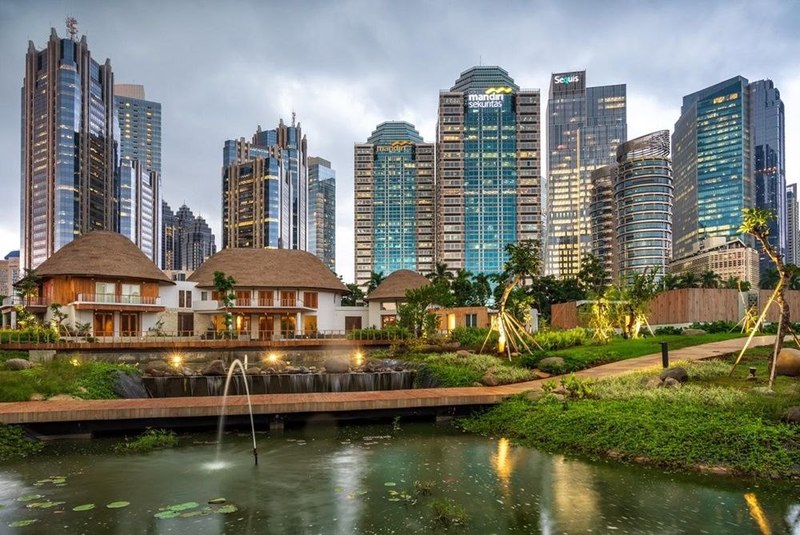 In the midst of densely populated areas and towering skyscrapers, Hutan Kota is a city gem in the centre of Jakarta that offers a tranquil atmosphere to relax and breath in some much-needed fresh air. Located at Gelora Bung Karno Sports Complex, the largest city forest covers 4,5 hectares area where communities could run multiple activities and appreciate nature more.
Hutan Kota is a green hub perfect for an instant getaway to nature under lush greeneries. Whether having a picnic with families, running a yoga class or just lying on the grass to relax, Hutan Kota is an eco-friendly destination available for anyone who wants to escape from the city's hustle and bustle.
Plataran Indonesia manages 3.2 hectares of the entire Hutan Kota with an aim to integrate nature, culture and heritage in one area. The green compound is fundamentally built with sustainable urban development, which also carries a mission for human empowerment and cultural preservation. Designed by architecture Hadiprana, the city forest combines green open space and indoor areas suitable for multiple purposes.
Light of Nusantara is the identity of Hutan Kota which embodies the value of the Indonesian archipelago, which hopes to invite anyone to visit. There are 17 totems in the area, each representing Indonesian heroes. In the surrounding, eight Alstonia Scholaris (Pulai tree) and 45 Terminalia catappa (Ketapang tree) are planted to create a shady environment.
Hutan Kota by Plataran also has three main areas with two restaurants: Plataran Tiga Dari and Melati Glass House and Pidari Coffee Lounge with its own rooftop for afternoon caffeine time. With this unique configuration, Plataran also opens the venue for MICE functions able to accommodate weddings, exhibitions and corporate events.
Plataran Tembok Ekspresi, Plataran Pet Playground, Majapahit Tribute Park, Plataran Putri Dewi Amphitheater, Nusantara Exhibition Plaza, Pancasila Pond, Plataran jogging track, basketball half cage court are among the top spots available for the public to enjoy.
For those wanting to visit Hutan Kota, it's within easy access via public transportation, including Transjakarta and MRT. Hutan Kota is also located in close proximity to the surrounding area, even accessible for pedestrians who want to go to the shopping centre FX Sudirman, Sudirman Business District (SCBD) and sports stadium.
With the ambition to create a city park equivalent to Central Park, New York, Hutan Kota illuminates the city with the hope to make urban jungle greener. Framed by a panorama of dynamic skyscrapers and city lights, Hutan Kota is a verdant oasis that offers a breath of fresh air and it's now a lung for the redemption of the polluted city.
Hutan Kota by Plataran
Gelora Bung Karno Sports Complex
Jalan Jendral Sudirman, Kav. 54 - 55, Senayan, Central Jakarta
T: +62 811 1556346
IG: @pl.hutankota
FB: @hukankotabyplataran
www.plataran.com/venues-dining/hutan-kota-by-plataran