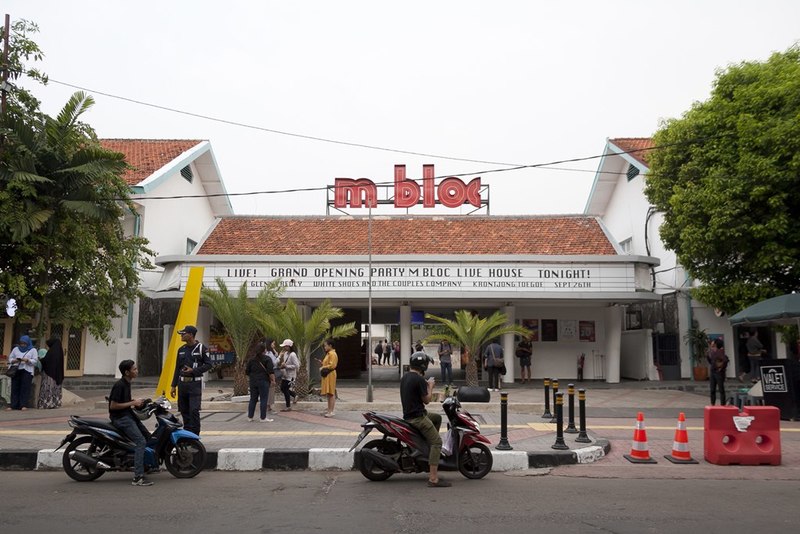 The spirit of the creative community shines through the new settlement in Sisingamangaraja, South Jakarta with the arrival of M Bloc, a hub that attracts anyone who looks for some food, coffee, music, local goods and entertainment. M Bloc is a smart transformation from the unoccupied 6,500 square-metre building area of what it used to be known as Peruri, state-owned enterprise for a banknote and money-printing in South Jakarta.
Through the partnership with banknote company, M Bloc carries a big mission to live up the soul of Blok M in the 1950s which is also known as a centre of the creative community including Jakarta Blok M Jazz (JAMZ) and Bulungan Theatre group.
Old Dutch Batavia architecture spans through the facade of 16 small-medium spaces that accentuate a vintage look of M bloc's emblem which's designed in New York Broadway theatre-style. These tenants offer myriad of local artisan products from food and beverage, books, to vinyl records. At the front, one may recognise Tjikini and Temu Coffee that opens its door at M Bloc, providing the same offering especially their caffeine beverages in old-school charm. Ample Indonesian cuisine is offered at Katong, Mbok Ndoro, and Padang to Go.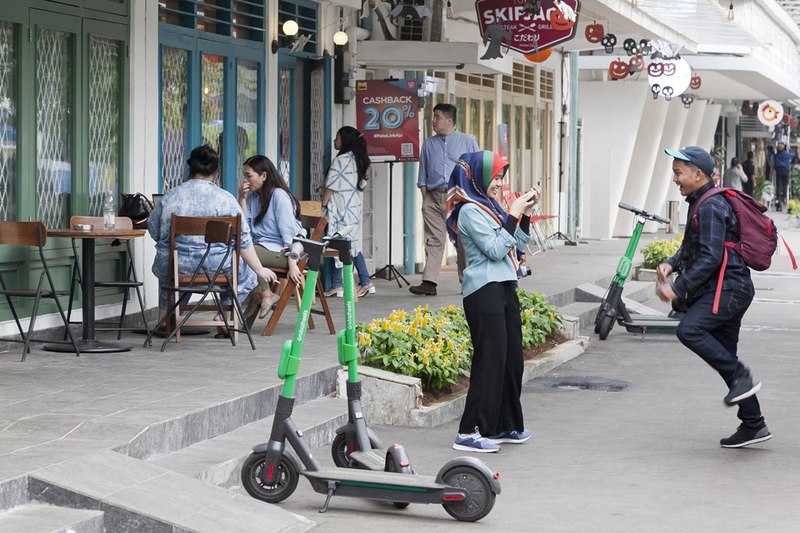 Taste the traditional elixir beverage at Suwe Ora Jamu, served in stylish packaging. The more exciting culinary spot is on the making to provide more diverse food and beverage options at the Space. Inspired by the origin of the building, cafe-restaurant Oeang makes up the biggest space in the former minting warehouse and turns it into a chic hangout corner with a shady atmosphere.
Apart from cafes and restaurants, M Bloc is also the destination to connect with communities as Mata Lokal facilitates a space for small exhibitions, discussions with s urban creatives, designers, artists, poets and architects. Those looking for a book club, Post Santa is definitely a go-to spot for writers. Located in the same block, Unionwell is a purveyor for men's lifestyle with its barbershop, menswear products, motorcycle culture, packed in under one roof. Step into Connectoon, a pop culture hub for Indonesian comic enthusiasts. Next to it, discover stacks of music catalogue from all generations at Demajors. Showing support to cashless transaction, tenants at M Bloc only receive payment using e-money, debit and credit card.
During the weekend, the crowd comes flocking to watch a concert featuring local indie musicians and artists who perform in Live House, a refashioned 450 square-metre space for multiple purposes that require acoustic setup. Since the opening on 26 September, 109 groups of musicians and artists are scheduled to perform at Live House within a year. Street Art, literature, and urban farming are among the ongoing development to the addition of the current attractions.
Led by Handoko Hendroyono as a CEO, M bloc is a collaborative partnership along with other big names in the local creative scene including Jacob Gatot Suradja, Lance Mengong, Mario Sugianto, Glenn Fredly and Wendy Putranto.
Along with multiple supporting partners, Hendroyono aims to nurture creative culture by curating local creators who are registered as tenants and featuring artists who perform on stage. Strategically located close to the Transjakarta bus stop and MRT Jakarta station, the team at M Bloc aims to habituate walking culture as the lifestyle hub doesn't provide parking lot in the area.
Whether stopping for coffee during remote work or hang out with friends while seeing the concerts, M Bloc resonates its charm to reach the potential of the creative community which emerge to be a favourite urban destination in Jakarta.

M Bloc Space
Jalan Sisingamangaraja 37 AH
Melawai, Kebayoran Baru, South Jakarta
T: +62 813 8272 5474
IG: @mblocspace
FB: M Bloc Space
[email protected]