Pasar Mayestik has, over the years, morphed from being a central market to a repository of just about anything one might need.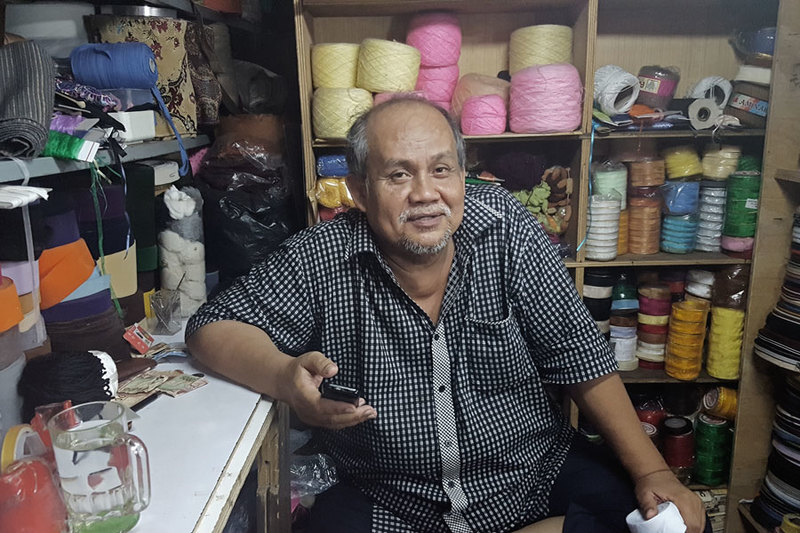 Pasar Mayestik as we know it today is a magnet for textile shoppers, but it began as the central market of Kebayoran Baru, the satellite town planned by the Dutch for civil servants and white-collar professionals. Ground was broken in March 1949, only months before the end of the Dutch restoration government; construction was completed by the new Indonesian government in 1955.
With its restaurants, cinema, open-air stalls, and shop houses including a pharmacy, a laundry, a hardware store, and various general stores, Pasar Mayestik quickly became the commercial hub of South Jakarta, as well as an upscale community center where South Jakartans went to watch a movie or took their out-of-town guests to Sunday lunch.
The cinema is long gone – it was replaced by Toko Buku Anggrek. The laundry is gone, as are most of the old shop houses, although a couple of hold-outs remain like the hardware store, Toko Besi Bude, on Jl Tebah III.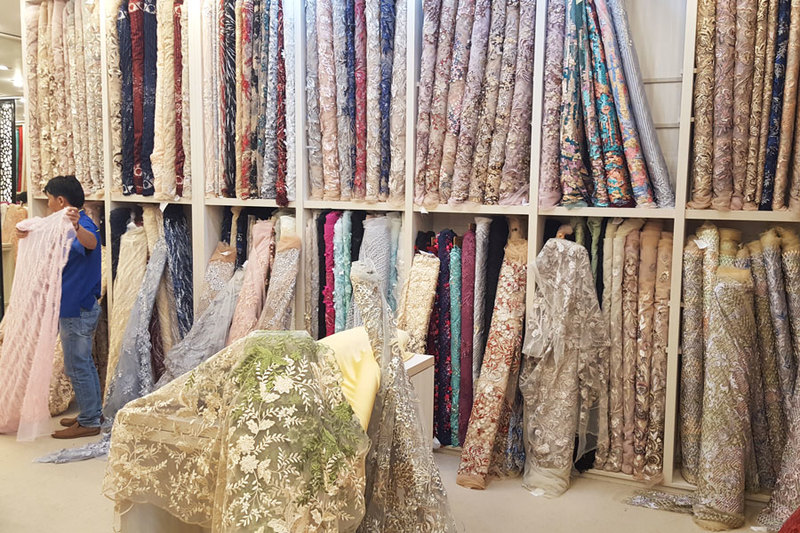 In 2012, the small stalls and muddy roads comprising the traditional market were replaced by an air-conditioned ten-storey building. The food market, with its vast selection of fresh fruit and vegetables, dried staples, meat, spices, and bakery goods, is now in the basement of the new building.
In the semi-basement vendors sell glass and plastic wares, beauty products, tools, kitchen and laundry items, wedding gift packages, and handicrafts. The ground floor, mezzanine level, and first floor feature ready-to-wear clothing, shoes, jewellery, fabric, and traditional textiles. Tailors and embroiderers who will copy any garment or design a stunning new one can be found on the second floor.
Lovers of traditional textiles are inevitably drawn to Irfana Batik & Tenun (Mezzanine 140, Blok A) where Pak Protasius from Kefamenanu, West Timor, is always willing to pull out his entire selection of beautiful ikats from Flores and Timor or let you browse the ready-to-wear jackets and batik shirts.
The range of fabrics and haberdashery on offer in the new building and in the many shops around it is so extensive that it is easy to be overwhelmed. Everyone has their personal favourites, but here are a few iconic shops that should not be missed:
Toko Maju, the legendary haberdashery that extends from Jl Tebah V No.2 to Jl Tebah IV, is a labyrinth of narrow corridors and multiple floors that carries everything for sewing and textile handicrafts: ribbons, fabric, lace, elastics, zippers, thread, feathers, buckles, synthetic dyes, sewing machine attachments, crochet hooks, knitting needles, yarn, beads, sequins – to say nothing of 900 different kinds of buttons, which Pak Hasbi, the owner, personally dyes into a rainbow of colours.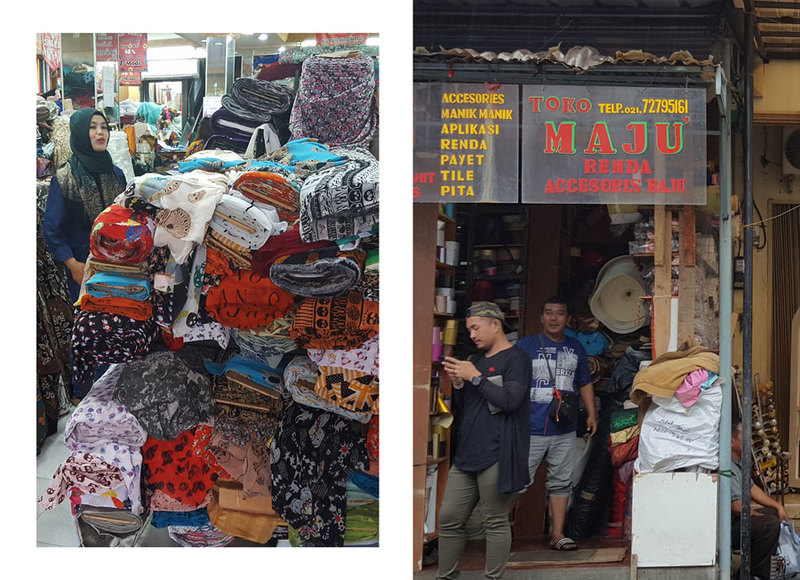 Buttons have always been Pak Hasbi's passion. As a schoolboy, he used to drop by the Sarinah on his way home to admire the buttons. In 1982, he started his first stand in Pasar Mayestik, selling buttons, needles, and thread. The business grew and grew, and in 2004 he moved to his present location, where he continued to expand into three adjacent buildings.
Pak Hasbi's customers, including many Indonesian designers, come from all over Jakarta, because they know they will find exactly what they need at Toko Maju. Upstairs, Pak Hasbi's wife, Ibu Nafrida, designs the Muslim fashions she sells in her boutique, Toko Mario, in the new Pasar Mayestik building (Mezzanine 141-142, Blok A). She also takes orders for elegant kebayas.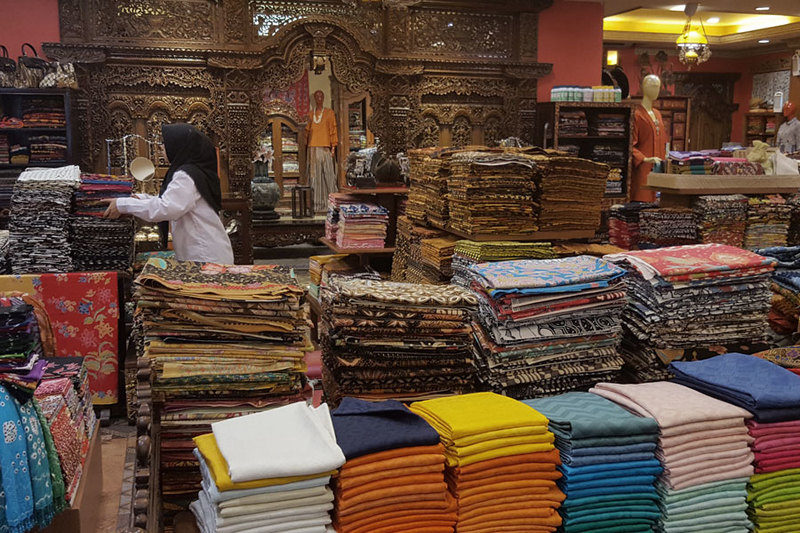 Next door to Toko Maju at Jl Tebah IV No.1 is "Nick" Interior and Decoration, which makes custom-order duvet covers, sheets, pillowcases, comforters, and curtains, and also upholsters furniture for a wide range of Indonesian and expat customers. Around the corner at Jl Tebah II No.1, Batik Budhe sells batik from all over Indonesia from inexpensive block-printed batik to hand-drawn masterpieces.
Also on Jl Tebah II, the modern, four-storey Fancy Textile sells every imaginable kind of fabric, including a huge selection of lace, silk, crepe, songket, and embroidered fabric for that special evening gown, as well as a variety of cottons, linens, and batiks (Fancy is now at Jl Tebah II No.46, but will move to Jl Tebah II No.4 in August 2018).
The list could go on and on, so best you discover your own favourites. Come early (shops open at 9), as things get crowded later; many shops close for lunch and Friday prayers.
_______
Text by Marianne Scholte. This article is originally from paper. Read NOW!Jakarta Magazine April 2018 issue "Money and Finance". Available at selected bookstore or SUBSCRIBE here.