Ancol Dreamland, located in North Jakarta along the city's waterfront, first opened to the public in 1966. It has evolved significantly over the years, with new recreational spots and hotels being added gradually to make the resort destination more appealing. Dunia Fantasi (Fantasy World), often referred to as Dufan, is a theme park at Ancol boasting more than 40 rides and attractions. NOW! Jakarta's editorial team recently made its way to Ancol to see if Dufan is still worth a visit.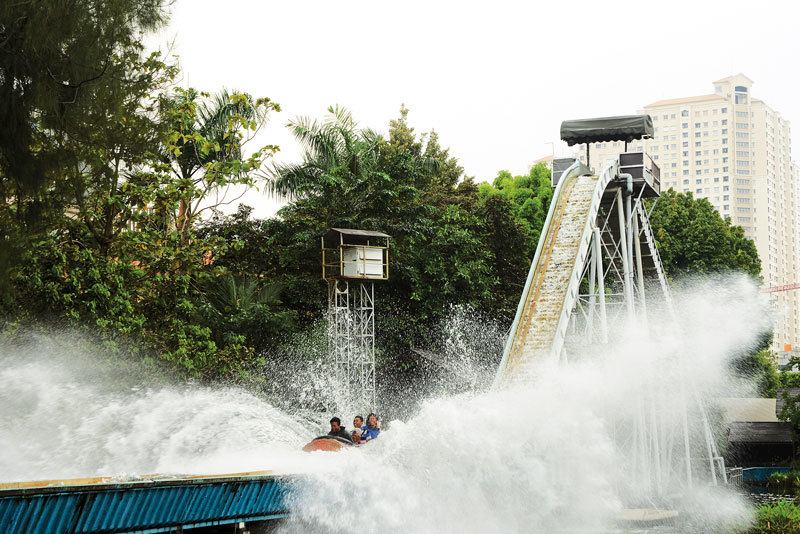 Dufan was built in 1984, and in some ways, the theme park still conveys that 80s vibe – which is not necessarily a bad thing, but some of the rides could do with a general makeover. The "Istana Boneka", for instance, Dufan's local version of Disney's "It's A Small World", feels particularly outdated (and some of the dolls look a little bit creepy), whereas the flume ride "Niagara Gara" is an unexpected adventure, not because the ride is that thrilling – besides the large drop at the end, basically nothing happens – but mainly because the boats creak and squeak as if they are going to crack any minute.
If you like water rides, you should try out "Ice Age Arctic Adventure" (bring a jacket, because it is quite chilly). The river raft "Arung Jerman" is a lot of fun as well, although it seems to have only one purpose: make everyone as wet as possible – and we are not talking about a few drops of water, but soaking wet here. In fact, Dufan even put up some changing booths close to the exit's ride, and if you hadn't been warned before and didn't bring fresh clothes, a couple of nearby shops sell dry t-shirts and pants.
The theme park also features some thrilling rides for adrenaline junkies, specifically the "Tornado", which spins you in all possible directions, the roller coaster "Halilintar" and the free fall tower "Hysteria" that shoots you up in the air (the towers are 60 metres high), only to stop for a split second and lets you fall back to the ground. If you dare, keep your eyes open, as the view from above is quite stunning.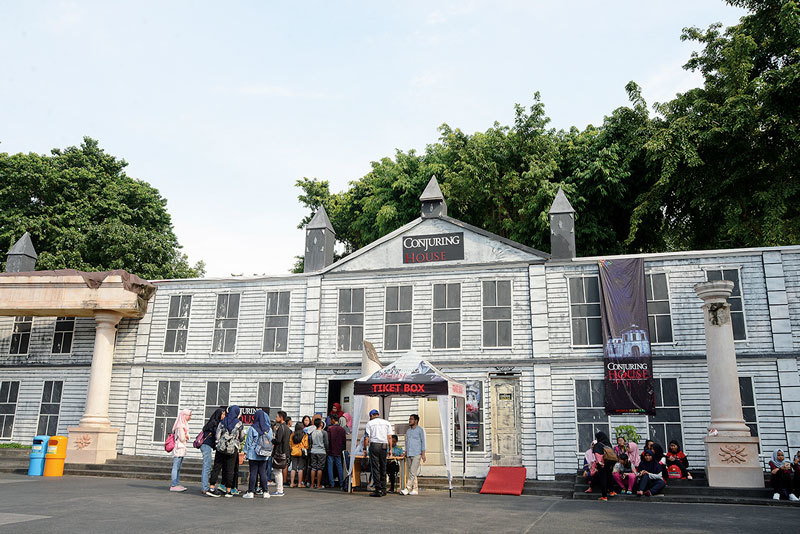 Of course, if it is a panoramic view of Jakarta you seek, you can always head over to the Ferris Wheel "Bianglala", which is a relaxing ride for the family (unless you are afraid of heights). Other attractions that fall into this category are the swing carousel "Ontang Anting", the merry-go-round "Turangga Rangga" and the "Hello Kitty Adventure".
The latest attraction in DuFan is the "Conjuring House", and yes, it is as scary as it sounds. The tagline "It's the nightmares your nightmares have" sums up the experience very nicely: the house consists of 10 different rooms, each home to a ghost either from Indonesia's folklore – such as Pocong and Kuntilanak – and some known from horror films, like Valak from The Conjuring.
As the rooms are dark, narrow and stuffy, it is no easy feat to walk through. The real horror comes from not knowing whether the ghosts will approach from the left, the right, from behind or from the front. Some of them come at you screaming, but it is the ones that remain eerily quiet that are the most frightening. It's a difficult scenario: you want to escape one room as quickly as you can because one of the ghosts is creeping up behind you, trying to grab your shoulder (or your leg, if it is the one crawling on the floor), but at the same time, you don't want to continue walking because it is unclear what awaits in the next room. This one is not for the faint-hearted.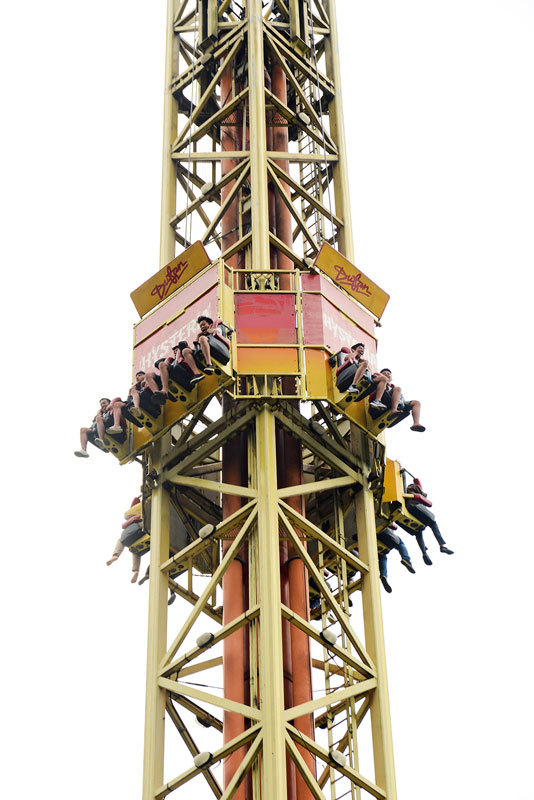 The front staff says that one will spend between 5 and 10 minutes inside the house, depending on how fast you run, trying to escape – the NOW! Jakarta team came out again after 5 minutes with shaking hands and racing hearts, never ever having felt so much relief upon seeing the "Exit" sign.
Of course, there is always the chance to leave through the emergency exit since each room has a hidden door that leads to safety and freedom, but here is the catch: you have to ask the ghost where that door is located – and who wants to actually interact with those creepy figures? Nah, better keep running and hope for the best!
The "Panic House", also a relatively new attraction at Dufan, invites adventure seekers to sit down in front a big screen in moving, bumpy seats, as the film takes them to a mansion inhabited by zombies and other menacing creatures. However, after a visit to the "Conjuring House", the "Panic House" is a piece of candy in comparison.
Even after more than three decades, a trip to Dufan is still worthwhile, especially if you are going with friends or family – the more, the merrier. We recommend visiting during the week, as it gets quite packed on Saturdays and Sundays, resulting in long queues for the popular rides. If you are willing to invest a little extra money, buy the Fast Track Pass that allows you to jump the queue.
Ancol has more to offer than just Dufan, such as Atlantis Water Adventure, Sea World Ancol, the art market Pasar Seni, Ocean Dream Samudra, a golf course and a number of restaurants, some of which are located directly by the beach – but it is only Dufan that is a one-stop shop for adventure, thrills and entertainment and attracts throngs of visitors, no matter their age.
Dunia Fantasi
Jl. Lodan Timur No. 7
Ancol, North Jakarta
Opening hours:
Monday to Friday 10 AM to 6 PM
Saturday and Sunday 10 AM to 8 PM
Entrance fee:
Weekdays: Rp. 200 000
Weekend & public holidays: Rp. 295.000
T: +62-21 2922 2222
www.ancol.com