Colourful slides, swings and stairs, a happy environment filled with laughter, running and jumping around - this is exactly what playgrounds are all about. But many educators and psychologists agree that playgrounds provide benefits beyond the fun. Bringing your children to playgrounds, they argue, helps improving their social skills, nurture their creativity and ease problem solving.
At playgrounds, children are allowed to create their own games, furthering their imagination and creative fantasy. Unlike at school, there are no strict rules to follow, and therefore children can explore their surroundings freely. Being somewhat unrestricted affects the kids' brain and emotional development as it helps them to build self-confidence, experimenting with emotions and releasing emotions from trauma. It is no exaggeration to say that a simple trip to the playground often can be more profound and far-reaching than modern technology-based games.
Since Jakarta is a city notoriously known for its heavy pollution, many people prefer to stay indoors rather than battle unpredictable weather outside. Lucky for us, the capital provides a wide variety of entertainment for all of us, including our kids. For this edition, we have put together the best indoor playrooms in Jakarta that will keep your little ones happy even when it's raining cats and dogs outside.
KidZania
When it comes to creativity and interactive play, Kidzania deserves to be on top of the list. KidZania allows kids between the ages of four and twelve to engage in role-playing by mimicking adult jobs and activities in a realistic educational environment.
Here, they can experience what it is like to be a fireman, police officer, journalist or doctor and even get paid for their work. The indoor theme park is a city built to scale for children, complete with buildings, paved streets, vehicles, a functioning economy and recognizable destinations in the form of "establishments" sponsored and branded by leading multi-national and local brands.
Pacific Place 6th floor
Sudirman Central Business District (SCBD) Kav. 52 – 53
South Jakarta
T: +62-21 5154888 ext. 100
www.kidzania.co.id
---
Houbii
Situated in Pondok Indah, Houbii is "Jakarta's first urban adventure park". Suitable for kids aged six to sixteen, the park is divided into two areas, namely the Trampoline Area and the High Maintenance Area.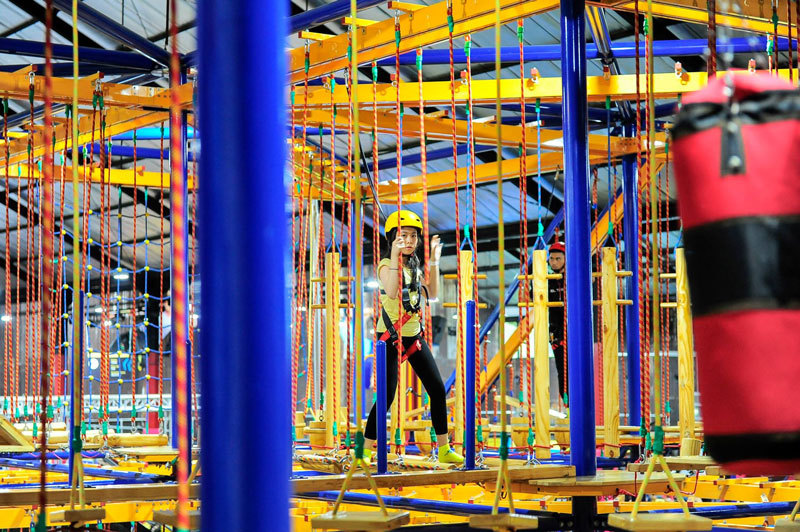 The juniors can train their adventurous spirit on the ropes course, tumble tracks, rock wall as well as the ninja course in the Trampoline Area. Those who prefer a more laid-back time can enjoy the airbag, free run or wall run in the High Maintenance Area.
Jl. Metro Pondok Indah Blok 3, South Jakarta
T: +62-21 2765 4571
www.houbii.com
---
Pinisi Edutainment Park
The Pinisi Edutainment Park is a playground for kids aged between two and sixteen that combines art,culture, innovation, science, technology and environment in order to give kids the opportunity to explore their potential talents through a series of interactive exhibitions and activities.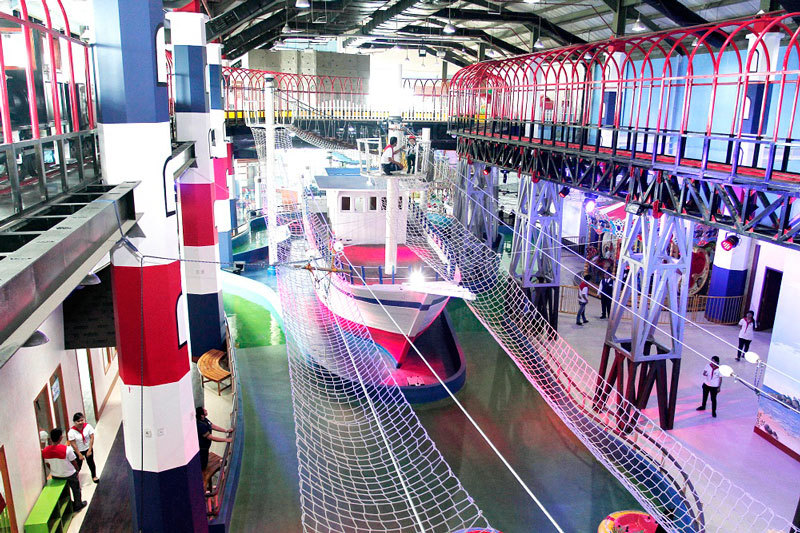 Located in a spacious area of 6000 square meters, there is much to explore in Pinisi,from its riding games like the bumper boat, Pinisi boat, carousel, flying fox and choo-choo train to wall climbing and toycyber games as well as the 4D simulator. Your kids can also join various workshops where they learn more about traditional dance, making batik and the musical wonders of angklung and gamelan.
Pasaraya Blok M, 9th & 10th Floor
Jl. Iskandarsyah II/2
Kebayoran, South Jakarta
T: +62-21 7226060
www.pinisi.co.id
---
Wowzonia
Located in Lippo Mall Kemang and occupying an area that spans across 1100 square meters, Wowzonia is family entertainment center affiliated with Amazonia Singapore. The playground promises one-of-a kind attractions that cannot be found anywhere else in Jakarta.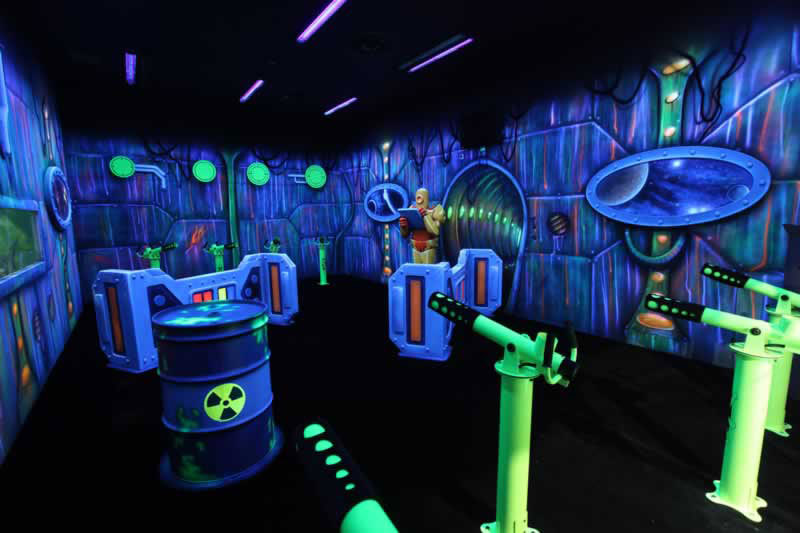 Your loved ones will lose track of time easily when they enter the three-dimensional glow golf area, space ball or jungle gym area. Wowzonia also welcomes you to host special events like birthday parties or family gatherings.
Lippo Mall Kemang, Level 3
Jalan Antasari, South Jakarta
www.wowzonia.com
---
The Magical Garden
As the name suggests, the Magical Garden is an indoor edutainment park modeled as a magical land where children can let their imagination run wild and play joyfully with various attractions available: cannon balls, trampolines, spider tower games and the flying fox challenge, to name just a few.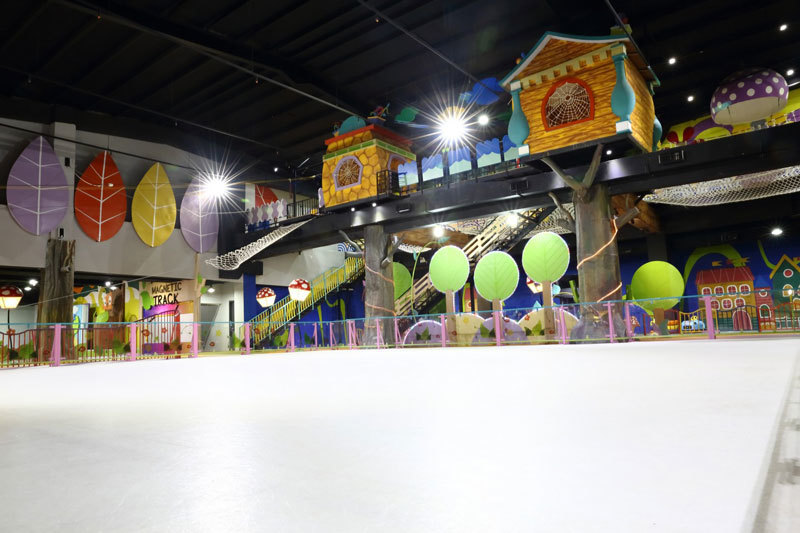 This playground also offers an ice rink that is open for skating as well as a Penguin ice arena for first-timers who want to find out what is it like to walk on ice.
Alam Sutera, 2nd
Level Mall Alam Sutera
Jl. Jalur Sutera Barat, Alam Sutera, South Tangerang
T: +62-21 2985 3838
www.magicalgarden.co.id
---
Miniapolis
An indoor playground for children below twelve, Miniapolis is filled with vibrant colours and quirky elements, appealing to kids' vivid imagination. Here, children can get 'wild' and try out many exciting games, from Mr. Crick Express, Carlo Carousel, Wish Garden, Hideout, Doodles, Trampoline to Bounce Slider, and many more.
When they are done with playing, you can take your children to the kids gym or to shop in the toy stores and clothing outlets that are located around the playground area.
Plaza Indonesia, Level 3
Jl. MH Thamrin Kav. 28-30, Central Jakarta
T: +62-21 2992 0000 Ext 5912