Javara's Sekolah Seniman Pangan hosted a cooking event with a prominent Papuan chef. The event also highlighted the food crisis in the province.
On 9 December, Sekolah Seniman Pangan (food artists school), an initiative of Javara Indonesia, hosted an event which aimed to transform farmers into premium food entrepreneurs in a creative "farm/food-preneruship" approach. Charles Toto, a cook from the region was the special guest of honour during the programme "EksploRasa (explore the taste)" which had the theme "Jamuan Hutan Papua" (Papua's forest banquet). During this event, the school's beautiful garden in Vida Bekasi, West Java was transformed into a Papuan-style kitchen complete with the aromas of delicious, grilled food.
The event was led by the Founder and CEO of Javara Indonesia, Helianti Hilman who has often cooperated with Charles Toto who belongs to the Tepra tribe in Jayapura, Papua.
Toto sources ingredients from the forests of Papua. He is also a founder of the Jungle Chef Community which provides hospitality training for more than 200 local residents so they can cook for tourists who visit Papua using ingredients they've foraged from the forests of their fertile homelands. from the mountains to the beach, to put a Papuan twist on international favourites.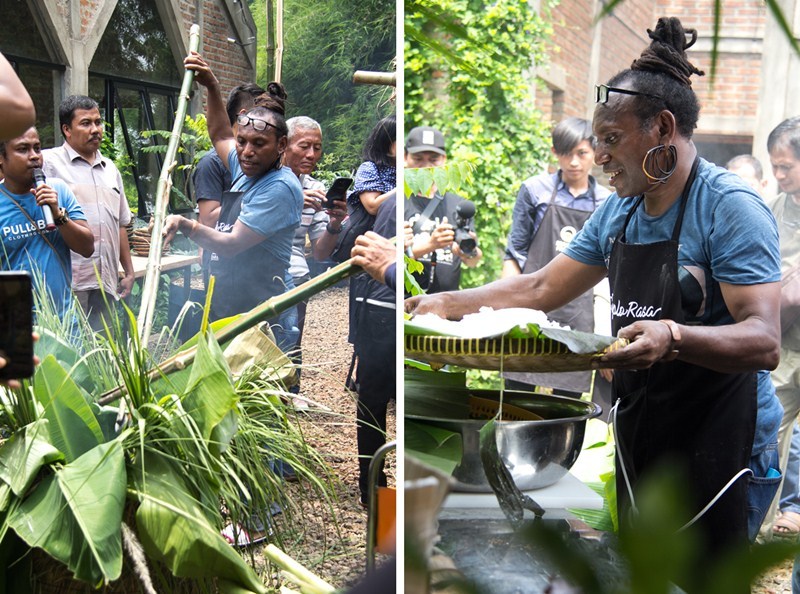 As a "jungle chef", his name is probably not as popular as many celebrity chefs. But his special talents and his knowledge of food sourced from the forests, along with his work promoting and preserving Papua's culinary culture has provided him extraordinary experiences, including cooking for famous public figures like Mick Jagger, Melinda Gates and French's singer Zazie as well as foreign researchers, explorers and documentary film makers who visited forests in Papua.
Toto also highlights traditional Papuan ingredients such as sago and invites those from outside the province to enjoy the wealth of natural resources in Papua.
"Jamuan Hutan Papua" presented a unique experience of an age old ritual cooking methods from Papuan tribes who use hot stones which known as bakar batu (burning stones). The tradition of entertaining guests with lavish food is usually performed on various occasions, such as the inauguration of tribal chiefs, birth, a ceremony celebrating daughters who have started cooking, harvest, and on resolution of conflict.
According to Chef Toto, bakar batu began as a process where stones were stacked on a crackling fire. After that, the community prepares a ritual where pigs are slaughtered by archers. If the pig dies immediately, it's a sign the event will be successful. Women prepare the seasonings, spices and the food of course.
During this event, Chef Toto demonstrated two methods of Papuan banquets which are commonly performed by ethnic groups in Papua, including the Dani, Yali and Lani people in the valley of Baliem, and the mountainous region of Papua in general and some ethnic groups in the south of Papua like Marind tribe in Merauke.
"Papuan cuisine is indeed different with other regions in Indonesia. It does not use many seasonings and spices but aromatic leaves. Three are three methods of cooking bakar batu in Papua. It started from the historical journey of the Papuans. For them, fire is their source of life. Guests are served ipere (sweet potatoes) which are cooked with burned-hot stones," Charles said.
In the mountainous region, the main meat used in bakar batu is pork while in the south, it is is kangaroo and deer, while Biak uses fish. Chef Toto tried to highlight each region with substitutes like chicken and beef to replace pork, kangaroo and deer.
First, Chef Toto started to fill the tailor-made furnace with seasoned-chicken, purple sweet potatoes, breadfruit, taro, fish and aromatic leaves. Of course, all the equipment was designed to resemble authentic cooking practices where cooks would dig a deep hole in which to burn the stones.
All the dishes were piled up with aromatic leaves, such as gedi which are commonly found in North Sulawesi, lime leaves, and banana leaves, then pressed with burned hot stones and covered by grass and tree barks.
Here, Chef Toto and Helianti Hilman also introduced rare food sources which can be found in the Papua forests and lands like salt produced from the nypa plant, black salt from the terubuk (Saccharum edule) plant, which, when cooked, exudes an aroma of beef, kadok leaves (wild pepper leaf) and breadfruit leaves from which tea is produced and used in cooking.
Representing the southern region, Chef Toto cooked sagu sep which is popular among the people of Merauke. Toto said that sagu sep is a Papua's pizza made from sago mixed with coconut slices and topped with large slices of beef.
"With the inclusion of various new food products, the young generation in the Marind tribe nowdays don't always eat this food (sagu sep) and tend to consume new food. We can't refuse it. The only thing we can do is bring the message that what we consume from our lands so far are the best sources and more healthy than food from outside Papua," Charles Toto explained.
The bakar batu process does not use any chemicals and steam is not allowed to escape. The food is, therefore, cooked well with a lot of flavour.