Tea is not as popular as coffee in Indonesia. This is quite unfortunate because even though tea has become a daily drink, there are still many people who don't know how to brew it correctly much less choose a good quality brand. It's International Tea Day on 15 December and NOW! Jakarta spoke to tea expert Ratna Somantri about the virtues of the beverage.
Please tell us about the tea plantations in Indonesia
The majority of Indonesia's tea plantations, more than 70 per cent, are in West Java. The rest are in Central Java: Yogyakarta, East Java, Bengkulu, North Sumatra, West Sumatra and South Sumatra. None in Kalimantan and Aceh; in Sulawesi the plantations don't produce tea anymore. There's a new plantation in fertile land in Tabanan, Bali owned by PT Bali Amerta which also has three tea shops in the island, named Brew Me Tea.
What's an interesting feature of Indonesian tea?
Although it lies in the same tropical land and archipelago, each tea plantation produces different taste, even though they are the same variety. For example, Oolong in Banten and Bengkulu are totally different in taste and characteristics even with the same seeds. It's because the lands are different. Tea from plantations in Wonosobo has a different flavour than tea from West Java. Most people don't know this; they think it's only the case with coffee and wine.
Why don't we know this?
It's because most of us usually buy tea in the supermarket which sells blends. We don't have the chance to buy single origin tea produced by one plantation. So, we only get a blended taste of the tea, not the typical taste of the plantation, or of the region. It's difficult to find single origin tea in the market.
You also hold a position on Indonesia's Tea Board. Where is Indonesian tea in the global market?
Yes, I'm still helping the Indonesia Tea Board as a Head of Promotion. If we talk to the industries, they say, 'we're still slumped or we're still in bad condition…'. Well, it's true and there is much homework to do. But we have to see it from both sides. Indonesia's tea industry is not prosperous yet, and there are still many tea plantations that are in a poor state.
But it doesn't mean prospects are bad, because some tea plantations have received international awards for their good quality. The Black tea brand Bankitwangi from PT Bukit Sari plantation in Cianjur regency, West Java received "AVPA Gourmet Product 2018", an award from Teas of The World International Contest held by Agence pour la Valorisation des Produits Agricoles, an organisation based in Paris. Organic oolong tea from Halimun mountains in Banten, has been receiving gold medals for three years from the North American Tea Conference. That's the positive side, isn't it?
The problem is they still facing difficulties to sell the product in the name of the country. Broadly speaking, Indonesia is still considered a tea producer for blends. So far, they're just happy because their tea bought in large amounts with good price. But what is happening now, if their tea sold as commodity, prices don't rise when production costs get more expensive. At the end, we realise that we can't sell the tea as a commodity only, but we have to have a brand identity too.
So, what is the advise from the board?
The Indonesia Tea Board works from upstream to downstream and the biggest role for mass production tea. The board also cooperates with the Ministry of Trade and we are bridging communities of tea farmers, so we talk about policy issues extensively, such as import and export tariffs, how to reach the European market with tight requirements and other cases like anthraquinone. This year, with friends from tea plantations which produce specialty tea we created the Association of Indonesian Specialty Tea, because this was not yet touched on by the board. Specialty tea is our future asset and the identity of the character of Indonesia tea. In the SIAL Interfood (21-24 November) in JIExpo Kemayoran, we hosted various events to introduce Indonesia's specialty tea to people where we showed that tea is also trendy and a modern drink.
What are the current trends in tea?
I have identified that people now tend to like blended tea with many additional ingredients. And also people like something with exotic touch and mention a place of origin. I call it new origin tea. For example, there are teas from Hawaii, Scotland and the U.S. They sell at a higher price because they are unique and available in limited places, unlike Chinese tea where people can find anywhere across the globe. And then, there's the functional benefits of tea. People will look for tea with additional benefits, such as energising tea, So, it has to tell a story behind the product or brand.
Why is coffee more popular than tea?
The image of tea itself is indeed aristocratic, feminine, intimidating and expensive if you see many tea cafes or shops, which tend to be designed in an exclusive manner. Coffee shops—and "coffee people"— look more relaxed and open. Tea's image has to change and be more accessible to the millennial generation. Tea can be made complicated, like tea ceremonies in China, Japan and Korea, or can be made aristocratic and expensive, like afternoon high tea in hotels, but tea can also be made more social and have a broader reach, such as through bubble tea and related beverages in malls or other places. In Hong Kong, people really like bubble tea using their local tea and people are willing to queue for it.
What are most concerned about as a tea culture develops here?
Many people don't know much about tea. Many products which contain no tea at all spread in markets and small shops and people buy them and they think they are drinking tea, but it's only flavour and sweetener. There's no tea at all. They even can't differentiate what is true tea and what is not. First, we have to know what tea we're drinking, and what quality tea it is and what you're drinking. People have to appreciate tea as one of their country's products. They can look at how China tea farmers are so rich and prosperous. It's because the people themselves can appreciate their products.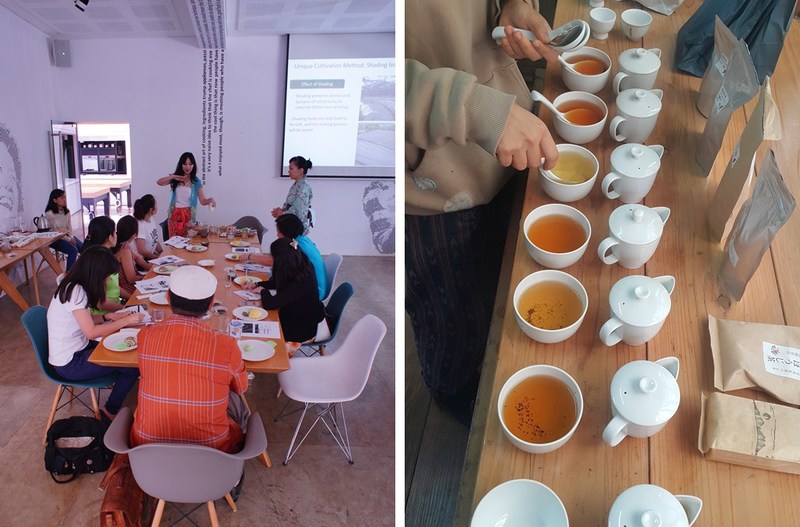 What's your favourite tea and can you share the right way of brewing tea?
For me, the tea must have complexity. When we smell and brew the leaves we can smell the aromas, floral or fruity. I like oolong tea from Indonesia, Taiwan and most of the countries and green tea from Indonesia, Japan and China with good grade. I don't like concentrated tea. For black tea I like Darjeeling from India. And if you want to make tea, just simply make sure the tea is filtered and not too concentrated because it causes constipation and makes our kidneys work hard.
What are the best places to drink tea in Jakarta?
If you want to enjoy good tea in a modern space, Lewis and Carrol on Jalan Bumi is a good option. If you want a more classic ambiance and enjoy the brew consistently, you can go to TWG. While for enjoying the blend tea between Indonesia products and from overseas, the option is Tea Et Al, but the staff don't describe the products well.
_______
This article is originally from paper. Read NOW!Jakarta Magazine December 2018 issue"Festive Issue". Available at selected bookstore or SUBSCRIBE here.