The F&B industry is one of the fastest evolving markets in the world, and not even a global plague can change that fact. Restaurants and bars everywhere are rapidly adapting to new conditions—implementing meticulous health protocols to ensure the safety of those dining in without compromising the dining experience they offer. These fine establishments in Jakarta are doing exactly that.
VIEW Restaurant & Bar at Fairmont Jakarta has always exude spacious luxury and inviting décor, making its transition to the emerging healthy and safety protocols seamless and easy. Other than the staff being fully equipped with precautionary health gears and digitalised menu, the restaurant is as warm and welcoming as ever; table spacing and seating positions have always been comfortably loose. Speaking of menus, Chef Patrese Vito has recently launched new and innovative dishes for discerning diners. The perfectly medium cooked Kiwami Wagyu main course and the beautifully plated Valrhona Bali 68% Sakanti comes highly recommended along with the delicious new menus.
You can look forward to many more offers and interesting packages from the hotel's F&B venues, such as the Tribute to Indonesia, which highlights fascinating local creations from two of Indonesia's iconic chefs, Mandif Warokka and Chandra Yudasswara. The special National Day promotion lasted until 5 September, but there will be more exciting collaborations in the future.
Visit fairmont.com/jakarta for more information
---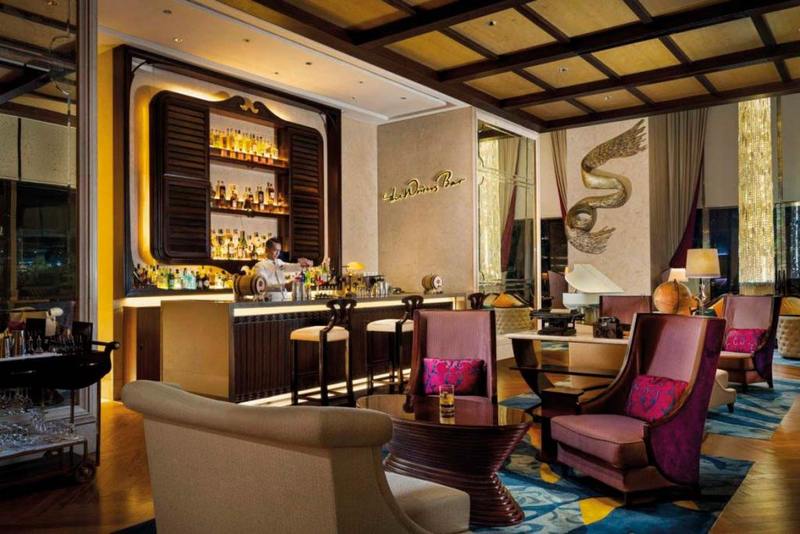 Step into the classically luxurious The Writers Bar at Raffles Jakarta and get inspired by this chic, modern restaurant's artistic charm filled with Indonesian history, literature and artefacts displayed elegantly to enhance your dining experience. The main allure of The Writers Bar is its fine cocktail experience. Inspired by the glory of the prohibition era and beyond in which cocktails rose to global renown, expect a unique beverage experience with bespoke service by roaming bartenders serving legendary cocktails from the 1920s.
As far as personalised dining experience go, you can't go wrong at The Dining Room, an artsy space with lots of room to accommodate any dining experience that hosts regular exciting dining collaborations. From 2 to 13 September, Locavore Bali will occupy the open kitchen as they show Jakarta why they deserve a spot at Asia's 50 Best Restaurants. Every evening from 16 to 27 September, The Dining Room welcomes you to try the Taste of The Forgotten Craft, a set menu inspired by the ethno-culinary history of Indonesia, served family style.
Visit www.raffles.com/jakarta for more information
---
Your suave, furry friend is back! Mr. Fox, a chic and sophisticated restaurant and bar by ISMAYA group located at the heart of the city returns to invite everyone to embark on a culinary journey through a wide range of flavours inspired by his travels around the globe. Mr. Fox's comfortable and homey ambience is unchanged as the restaurant adopts proper health protocols to allow diners an amazing experience while staying safe. In addition to adequately trained and equipped staff, digitalised menu and distanced tables and seating arrangement, Mr. Fox packs clean cutleries in a recyclable paper bag along with sanitizing wipes, napkin and a manual on the restaurant's new normal policies. If you haven't already, do try some of the signature dishes, like the Roasted Broccoli or the modernised version of Soto Betawi.
Visit ismaya.com/eat-drink/mr-fox for further information
---
Many Jakartans have missed the dining experience at Jakarta & The Courtyard at The Dharmawangsa Jakarta, a beloved establishment that takes inspiration from a contemporary interpretation of old-school Jakarta. Now with a new and improved face after adopting all the necessary protocols to stay in business, Jakarta & The Courtyard restaurant is excited to welcome diners again among its classical charm. You can expect to enjoy traditional Indonesian, Asian and contemporary Western cuisine throughout the day in a relaxing yet stylish and social atmosphere. Enjoy Jakarta & The Courtyard's renowned dining experience once again without a worry on your mind about safety, because everything is already taken care of. The opulent hotel's other signature restaurant, The Courtyard, is also planned to reopen with a new concept menu this month.
Visit the-dharmawangsa.com for more information