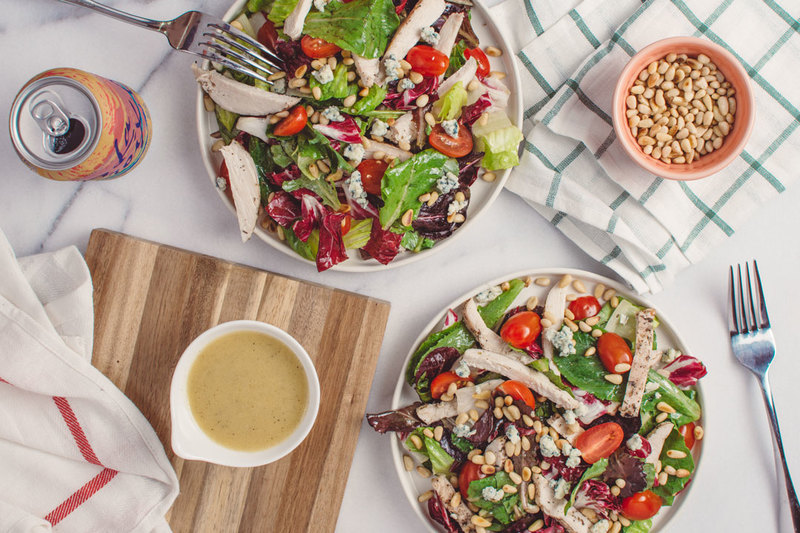 Here we are in 2020, and if you are looking to overhaul your diet, particularly for those who crossed over with the intent of being healthier, here are some simple suggestions to help you eat healthier. As we are going with intent instead of a full-blown resolution, I'm not suggesting a complete food upgrade from the get-go, but more of a gradual step-by-step change on a smaller scale that you can easily adjust into.
Consider more Protein
Protein is a key building block for skin, hair, nails and bones and it also helps preserve muscle mass as we age, which helps keep metabolism running at full speed.
Aim to include at least three ounces (a deck of card's worth) of fish, poultry or lean meat with each meal, or at least a ½ cup of beans or lentils. For breakfast, consider egg whites, cottage cheese, Greek yogurt or peanut butter on whole wheat toast.
Fibre Focus
Aside from protein, fibre is another nutritional winner. It's packed in nutrient-rich foods, like fruits, vegetables, beans and legumes, and it gives you a feeling of fullness without contributing any calories. A quick and easy way to boost your fibre intake is to incorporate two fruits and vegetables into your day as snacks. For other fibre-boosting strategies, try sprinkling fibre-rich chia seeds on top of your favourite cereal or yogurt.
Up Your Plant Game
Plant-based diets can help reduce the risk of heart disease, type 2 diabetes, cancer and obesity. You can start plantifying your favourite meals by replacing meat with beans or swapping meat for veggies in lasagne and other pasta recipes, or consider chickpeas in place of chicken in salads and dishes, like a "chickpea" masala dish instead of chicken masala.
Suppress Sugars
A diet high in added sugars can spell trouble for your waistline and health. Research suggests no more than six teaspoons of added sugar consumption each day, or about 100 calories for women and less than nine teaspoons a day, or about 150 calories for men.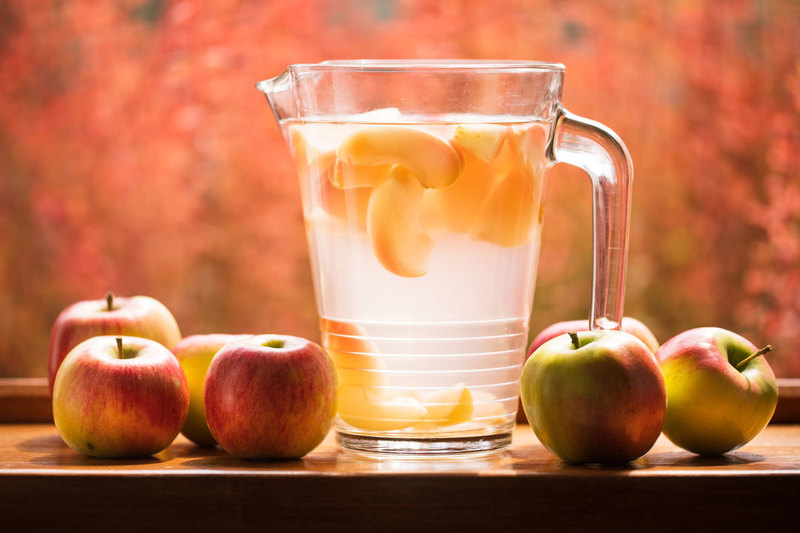 Stay Hydrated
Sometimes when you feel hungry, your body is just dehydrated. Drinking water and staying adequately hydrated can help stave off hunger and prevent symptoms of dehydration, including fatigue and dizziness. While there's no definitive evidence that eight glasses of water each day is the 'magic' number to aim for, it's certainly a reasonable goal. Keep in mind that water-rich fruits and veggies, along with tea, coffee and milk, all count toward fluid needs.
No doubt you've noticed a significant shift into the recently trending plant-based movement, which has been proven by science to be more beneficial for your health in the long run. That said, we are not underestimating the importance of animal protein source. Balance is key.
Where, you ask, might we find a place to get appetising plant-based food accessible enough to fit into our busy daily routine? These are three up-and-coming healthy eating restaurants that will only get bigger in 2020.
Gain Traders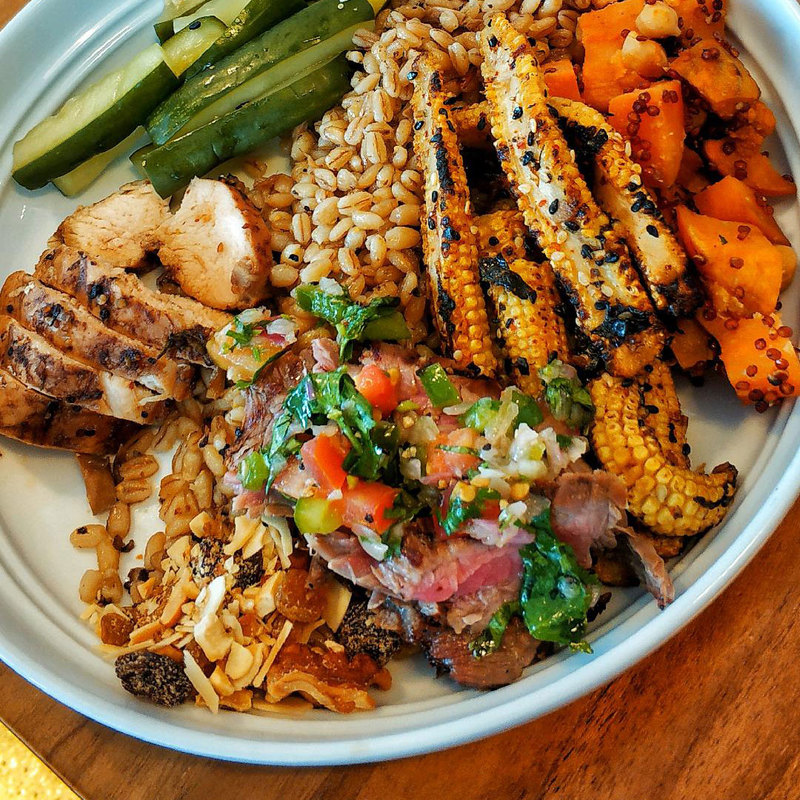 Grain Traders revisits the concept of healthy eating and infuse a breath of fresh air by presenting the possibility of numerous combinations, while at the same time dispelling the myth that clean, healthy eating is expensive and does not taste as good. For those who have never been, you go in and head straight for the healthy buffet where you can choose your base carb, protein, two kinds of vegetables, topping and your dressing. Price depends on your chosen protein, either IDR 100,000 for tuna or IDR 115,000 for beef.
My plate consisted of barley risotto mushrooms, sous-vide chicken breast with balsamic dressing, roasted sweet potatoes with miso butter, furikake corn, housemade cucumber pickle, basil & balsamic vinaigrette for dressing and mixed nuts and raisins for topping. That's easily 800kal at least, without that simple carb that we all love and hate, only nutritious, complex carbs and plenty of proteins and fibres. Nutritious, healthy and straight up delicious.
Follow @graintradersid on Instagram for more information.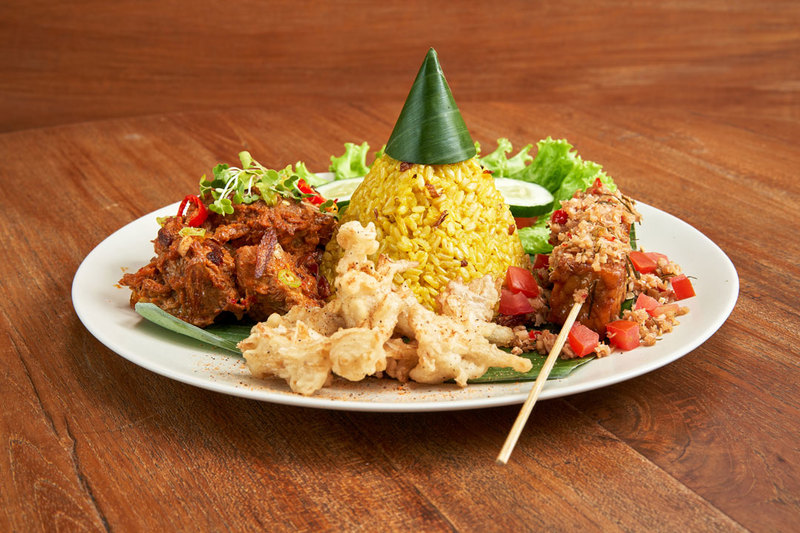 Burgreens
This dish is entirely made up of plants. Fully appreciating the fact that some food, like rendang or burgers are just too delicious to abandon, Burgreens challenges the boundaries of veggie swapping by creating menus uncanny of the original, meaty-but-not-so-healthy dishes. The Vegan Rendang Platter, one of Burgreens' signature, consists of vegan rendang made of shiitake fibres and soy protein, tempeh skewers with sambal matah, crispy oyster mushroom and salad with yellow spiced brown rice. That's around 698kal and zero meat. The rendang even has that fibrous-tender texture and comes with a perfectly balanced sauce. Another favourite signature is the Mini Trio burgers, which plates three smaller veggie burgers with a 'patty' of mighty mushrooms, served with beans and cheese and spinach chickpea for a nice, meat-free deliciousness.
Follow @burgreens on Instagram for more information.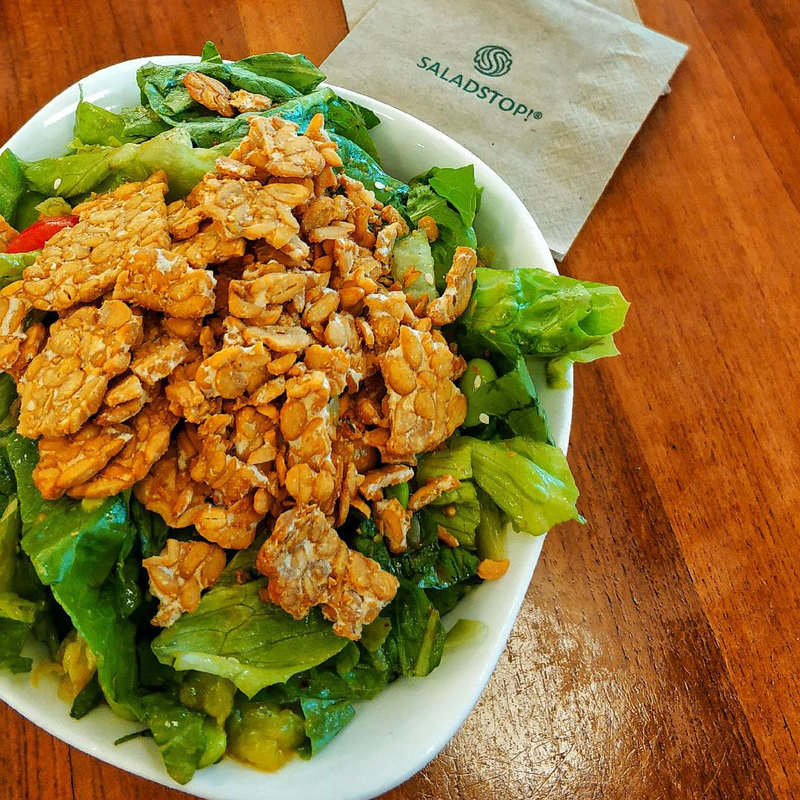 Saladstop!
Now this one is for those always on the move. The idea of Saladstop! is to bring healthy, wholesome diet to everyone regardless of their packed daily routine. And they manage this by believing that truly eating well is a basic human right. With the help of ingredients guaranteed fresh, both locally served and imported, Saladstop! aim to introduce the salad culture as a healthy option for clean dieting. I tried one of the signature salads, the Tuna San. Romaine lettuce, tuna seared to perfection, avocado chunks, edamame, sweet cherry tomatoes, fresh mandarin orange, sesame seeds topped with wasabi honey soy dressing. 344kal and no dairy, no meat, no nuts, no sugar. If this isn't healthy then I don't know what is.
Follow @saladstopid on Instagram for more information.