After many fine dining events throughout the year, Les Chaines des Rotisseurs Jakarta Chapter made a break from conventional wisdom and hosted a casual dinner at the newly opened restaurant Up in Smoke and One Eyed Jack on 23 October.
The two restaurants are located in the same compound, and are owned by our very own South Jakarta Bailli, Linda Tan. Up in Smoke specializes in artisanal smoked and grilled meat whereas One Eyed Jack is a Modern Japanese Izakaya. Executive Chef Rapha Menchaca, a long time Nobu veteran from Nobu New York and Malibu combines modern innovative techniques and traditional wood fire grilling to produce unpretentious, rustic soul food at its best.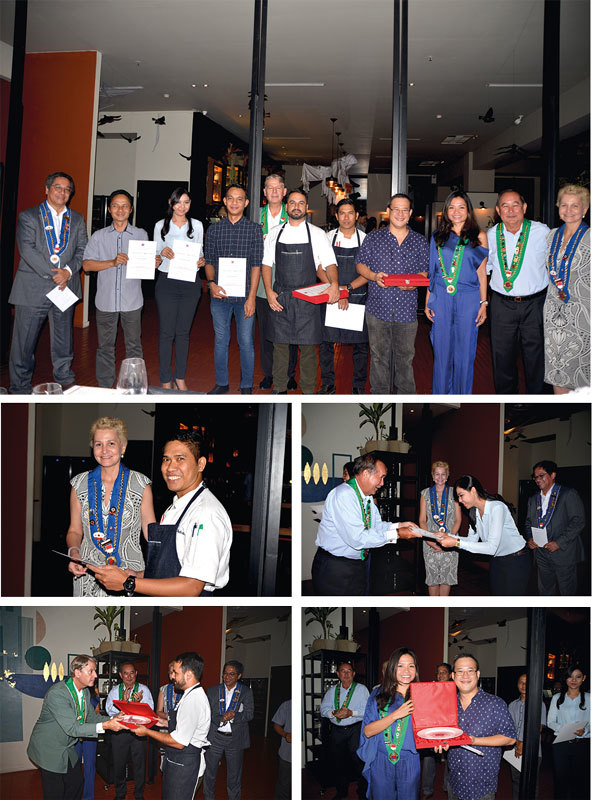 The dinner was a lovely affair in warm and relaxed surroundings. Guests gathered at the bar for cocktails overlooking the wood fire grill and open kitchen. The tailor-made menu for Chaine was a perfect balance of seafood and meat.
The savory flavor of the smoked salmon chowder was brilliantly paired with the sweet gewurztraminer and created impeccable balance of flavor. The grilled quail was amazing - some guests became so engrossed in the dish that they started rolling up their sleeves and used their hands to clean every bit of meat there was. Next came the generous serving of prime rib, a huge slab of beautifully cooked meat served with horse radish creme fraiche, it was sensational!
The dinner was a great success, and it was a nice change from our customary formal settings. A special thank you to our Jakarta chapter Bailli, Alistair Speirs, as well as councils Bob Yanuar and Gilles Marx for volunteering their time and efforts to organize such a fabulous event.